What's in The Ticket today – and your plugs
The perfect combination: music, movies and The Ticket
Obvious Child: director Gillian Robespierre on a movie that deals with a woman choosing to have an abortion in an area where women have accesss to abortion services.
Irish bands and record deals: after years of Irish bands taking the DIY approach to releasing music, more and more acts are now signing deals with international labels. So who are they signing – and why?
Night Moves: the couch-hopping Kelly Reichart talks about how eco-terrorist drama with Jesse Eisenberg and Dakota Fanning is nudging her closer to the mainstream
Basement Jaxx: Felix Buxton on "Junto", the band's first album in five years
New Found Sounds: the monthly new Irish music podcast from Aoife Barry
Plus CD reviews (including "Pay Close Attention", Ty Segall, Laura Mvula, Basement Jaxx, Esben & The Witch, Relics, Phox, The Kooks, Opeth, Ben Glover, Ahmad Jamal & Yusef Lateef, John Coltrane, Fásta etc), film reviews (Sin City 2, Lets Be Cops, As Above So Below, The Cabinet of Dr Caligari, The Grand Seduction, If I Stay, Million Dollar Arm, Mystery Road, Obvious Child, Night Moves), games, apps, listings, movie quiz, news and much, much more.
That's your winning Ticket in The Irish Times today in print, online and the best of The Ticket on the app.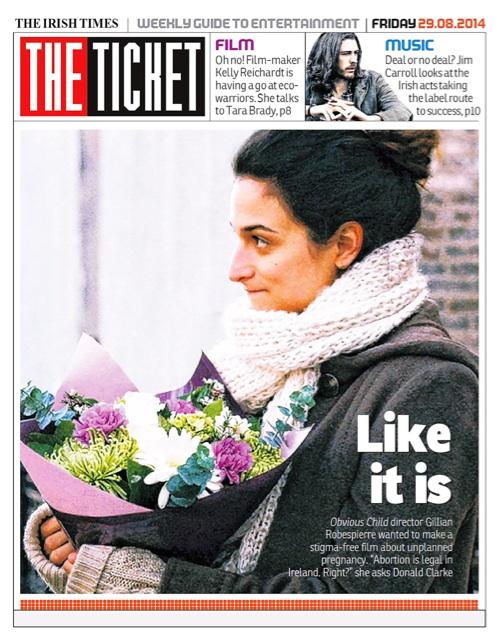 Banter at CultureTECH plug: Banter will be heading to Derry on Friday September 19 for a Culture Night out as part of this year's CultureTECH festival. Joining us at the historic St Augustine's Church in the heart of the city on the night will be Jamie Byng (publisher and managing director of Canongate), John Leland (New York Times journalist and author of Hip: The History), Steve Carson (Head of BBC Northern Ireland Productions and formerly Chief Editorial Advisor and Director, Factual Group at RTÉ) and Hannah Donovan (co-founder and design Director at This Is My Jam and previously Head of Creative for Last.fm)
Banter at Kinsale Arts Festival plug: Banter returns to the Co Cork town for our third visit in a year as part of this year's Kinsale Arts Festival. Joining us on Saturday and Sunday September 27 and 28 will be Rory O'Connell, Mary Reynolds, Iarla Ó Lionáird, Pat Collins, Sully from Cully & Sully, Kieran Murphy from Murphy's Ice Cream and Nuala O'Connor. Full details on times etc here.
Banter podcast plug: check out all 26 podcasts from the Banter team to date – including interviews with award-winning authors Eimear McBride and Donal Ryan, the awesome John Grant, social campaigner Peter McVerry, film-maker Gerard Barrett and actor Jack Reynor, David Gray and many more plus discussions on Dublin media, alternative spaces and where the money is at in the GAA – here. Subscribe via the iTunes store or, for Android users, this link. The Banter podcasts are produced by Tanya White
The OTR plugs service is now open for business. Please feel free to plug and recommend stuff away to your heart's content, but remember some simple rules: (a) declare an interest where one should be declared, (b) plugs are accepted on the whim of OTR and may be edited for length/clarity/common sense and (c) plugs which mention a commercial sponsor are really ads and will probably not be published in this slot. If you're looking for us, we're in a shed in a field in Co Laois again.