The re-up breakfast roll. Now with 11 new ingredients.
(1) Know the way some of you are gagging – gagging, I tell you – to get the first official word on the Electric Picnic line-up? Remember how this was promised "early April" and "next week"? Well, that ain't going …
(1) Know the way some of you are gagging – gagging, I tell you – to get the first official word on the Electric Picnic line-up? Remember how this was promised "early April" and "next week"? Well, that ain't going to happen. Festival launch now takes place April 15, people.
(2) I'm guessing that a lot of On The Record readers went to see Animal Collective in Dublin's Tripod last Friday. Just a guess, you know. Anyway, there are reports on the show here, there and everywhere (and you can also peruse a really swell review of their London show). If you have anything to add, please do so below.
(3) Me? I was at the Gaslight Anthem, who rocked Webster Hall in New York last Friday. I missed them when they were in Dublin due to this and that and have been really keen to see them because "The '59 Sound" is such a blast so much respect to Thomas and Pedro (we shall miss him lots) for hooking up the ticket to the sold-out show. I was hugely impressed by what I saw and heard – man, these dudes can play. It's an old-fashioned, ragged punk-rock rattle from start to finish which, yeah, owes a few beers to the Boss, but not in a way which is a particular virtue or a vice. They've only released two albums to date, and frontman Brian Fallon is really just learning the ropes of frontmanship, but I reckon this one has legs. Maybe we could get them, The National, The Hold Steady and Titus Andronicus to play a Brucepalooza gig in Dublin on July 10? Better than Stone Pony, right? Hold that thought.
(4) There are ghosts in the Twit-machine. Here's a reminder that those you're following may not be those you think you're following, if you know what I mean. Plus, excellent piece by Markham from a week or two ago on the blogging-versus-Tweeting wrestling match.
(5) Yesterday saw the giant Virgin Megastore on New York's Times Square go out of business and its sister-shop on Union Square will be pulling down the shutters for good in May. Virgin's vanishing act from NYC is another chapter in the ongoing ballad of the music retail sector. In the end, the measures taken by these shops to diversify in recent years – trying to flog DVDs, games, books, clobber and lunchboxes with decals of cartoon characters on them as well as CDs and vinyl – was just not enough to pay the rent and the overheads. Both shops will be missed, especially by those folks happy to potter around a record store at midnight. I've also fond memories of seeing a fantastic in-store performance from Elvis Costello and Burt Bacharach in the Union Square shop about 10 years ago or so.
(6) So what's the future then? While the Big Apple indie shops seem to be doing OK (Other Music and Sound Fix seem busy, though there's far less music in Kim's than in years gone by), one way forward could be found on Brooklyn's Fulton Street on Saturday afternoon. Two dudes were flogging CD-Rs of soul, funk and gospel nuggets from a pram at five bucks a pop. You can't buy CDs anywhere on Fulton Street right now (the closure of Beat Street probably helped to put paid to that) so these two old boys have decided to jump in. Business for their boots was brisk, too. Maybe this is the future – two lads selling indie and dubstep CDs from a barrow on O'Connell Street?
(7) Museum encounter of the week: Department of Eagles playing at the Museum of Modern Art midweek to launch their new video for "No One Does It Like You" as directed by Patrick Daughters. Beautiful sounds and melodies which more than made up for me missing them at SXSW. Here's the video, y'all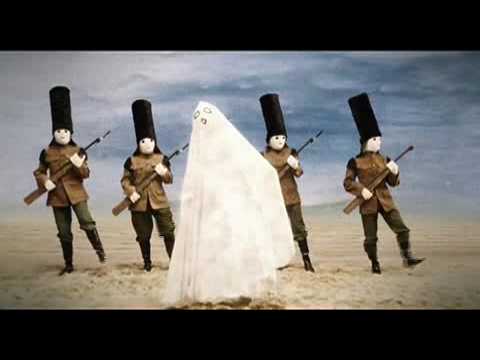 (8) Duck! Irish Times restaurant reviewer – and snarky reviewer from ace TV show The Restaurant – Tom Doorley has joined our blogging circle. Check him out here
(9) Anyone for popcorn? Really dug Goodbye Solo, the new flick from Rahmin Bahrani about a sunny Senegalese taxi-driver called Solo, a sulky good old boy called William and their encounters on the streets of Winston-Salem, North Carolina. Hugely thought-provoking movie with winning performances all round. For those looking for a remake of Speed on the streets of New Orleans featuring Aidan "Tommy Carcetti" Gillen as a cackling madman blowing up things and John "wrestling dude" Cena as a fat-neck cop trying to stop him blowing up things, the Renny Harlin-directed 12 Rounds is for you. This second-rate, fairly dumb, predictable slap-bang-wallop opened in the US without any advance previews whatsoever and you could see why. Future shocks: there are a ton of remakes on the way which may or may not be good news. The new State of Play reworks the awesome State Of Play TV series, with Russell Crowe taking over from John Simm as the journalist who's as mad as hell and is not going to take it any more. Let's be charitable, though, and reserve judgement on that and also on Tony Scott's redo of The Taking of Pelham One Two Three with John Travolta and Denzel Washington for now. I mean, hey, they both could be good, right? Right?
(9) Check-check-check-it-out. Community Skratch is a bunch of Galway-based DJs and producers promoting hip-hop and DJ culture in the wild, wild west. For the third year in a row, the Community Skratch Games will bring together DJs from all around Ireland and Europe for a scratchvaganza from April 8 to 12. Loads of workshops, showcases and battles to look forward to – more info here
(10) A date for your diaries: Friday April 3, 10am, this blog. I shall say no more other than you'd be an eejit to miss it. Bring coffee and popcorn. Tell your friends. Pull a sickie. Trust me, it will be worth it.
(11) And finally, let's start the working week with some beautiful music