Shut Up & Play the Hits: a requiem for LCD Soundsystem
The best gigs-on-film are often nothing like the gigs you experience in real life. Real gigs are messy affairs. Even when the band are on fire up on that stage, kicking out the jams as if their lives depend on …
The best gigs-on-film are often nothing like the gigs you experience in real life. Real gigs are messy affairs. Even when the band are on fire up on that stage, kicking out the jams as if their lives depend on it, those of us in the audience get distracted. You try to keep your attention on the stage, but stuff gets in the way. You have people pushing past you on the way to bar, your view is blocked by people with camera-phones, you get distracted by a chatty friend or your attention wanders when you see someone you think you know in the distance. You never have the same experience as the audience watching those gigs-on-films.
What's so interesting about Shut Up and Play the Hits, Will Lovelace and Dylan Southern's document of LCD Soundsystem's last ever show at New York's Madison Square Gardens last year, are the times when it moves from the stage to the audience. You're right in the heart of the action and yet, even the camera moves away from the stage and takes in the crowd, you can see that people are distracted by what's going on around them. It's a bit like scenes from the Beastie Boys' Awesome: I Fuckin' Shot That!, a crowd-sourced flick from the same venue back in 2004. That's what live shows are all about in reality.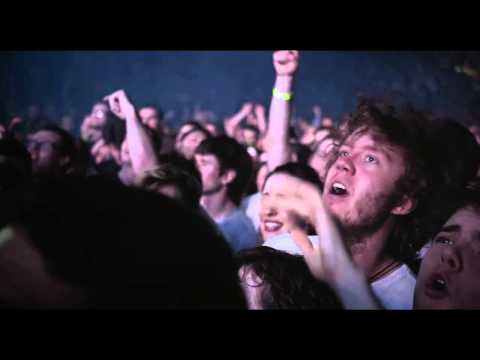 What's so striking about Shut Up and Play the Hits, though, is that there's not enough live music in it. Sure, the full show will be part of the DVD release, but the film, which opens in Irish cinemas this Friday, contains as much yakking as gigging. Be it Chuck Klosterman's lengthy interview inserts (I thought my questions to interviewees were occasionally on the lengthy side, but Chuck takes the biscuit, dunks it in a latte and runs a marathon with it in this regard) or the various ruminations by James Murphy on what it all means, you don't quite get as much onstage action as you'd expect. When they do come, they're a relief, especially "Us vs Them" and "All My Friends". But even then, they're interrupted by more ponderings (see "Losing My Edge").
It's a shame because, as we can occasionally see here, LCD Soundsystem were one hell of a live band in their pomp. That three night stand of theirs at Dublin's Tripod back in late 2010, their last ever shows here, are still recalled with a tingle, live shows which had heat, soul, funk, fun, energy, width and depth. I remember thinking at the time that this may be the closest we'll come to watching Talking Heads in their prime.
Then again, it is a requiem for a band and its followers, which explains the sad notes which dominate the film. Bringing any band to a close, especially one with such a chequered history, is always emotional. Even though Murphy is doing so of his volition – he's the one who wanted to stop at the height of things – you can see the realisation of what he's done dawning on him as the film progresses. While it's interesting that the directors didn't see fit to include any interviews from the other band members on what they thought of the decision, it reinforces the fact that LCD Soundsystem was always Murphy's vehicle and he did all the steering. Watching him in the deserted DFA office the morning after the show or visiting the lock-up storing the band's instruments and stage equipment, you catch sight of a man beginning to adjust to the ramifications of his big decision. No wonder it's so damn sad.
One of the moments which received a hearty cheer in the Lighthouse cinema in Dublin last night was when Klosterman asked Murphy about the band's biggest failure. Not getting to Dublin because of the volcano, was Murphy's reply. After the jump, an interview from the archives with Murphy as he stood on the side of the road in Spain contemplating the fact that Eyjafjallajokull had scuppered his plans and talking about "This Is Happening", L.A. mansions and bringing the LCD Soundsystem story to a close.

Even the best-made plans and carefully drawn-up schedules for a high-profile album release are no match for a cranky Icelandic volcano.
James Murphy is at a truck-stop in the middle of Spain waiting to get something to eat before driving onto France. He sounds a little bewildered at how his week has turned out. After all, Spain was not on the agenda for this week.
Today, he should be in Dublin to play two sold-out LCD Soundsystem shows to promote new album "This Is Happening" and talk to a bunch of Irish journalists. But that pesky ash-cloud from Eyjafjallajokull meant those shows were cancelled. Instead, Murphy and the LCD entourage found themselves flying to Spain instead of Ireland and then hot-tailing it up the continent to make London shows. At least, his phone is still working.
"This Is Happening" is the third album to come this way from LCD Soundsystem. In some ways, the if-it-ain't-broke-don't-fix-it mantra applies as the album contains more "Sound Of Silver"-like euphoric grooves about life and living with side helpings of sardonic snarl (no-one in modern pop does sardonic snarls like Murphy). The overall moods, though, are deeper than those to be found on the predecessor, as Murphy peers towards the horizon and begins to think about the future.
Maybe this had something to do with the fact that "This Is Happening" came to life in a mansion in Los Angeles. "It seemed funny to do it in LA", reasons Murphy about this location. "I think LA is funny anyway. The studio I normally go to in Massachesusts was closed so I couldn't go there and I was scrambling to find a new place to go. I don't like change, I don't like new places and I especially don't like new studios because everything is not exactly how I want it to be so I decided to go west."
Initially Murphy thought he'd save money by moving to California – "I mean, things are supposed to be cheaper out there, right?" – but that didn't quite work out. "It turns out that it's not cheap when you go off and rent a mansion and have 20 people working with you. I'll know better if I do that again."
But if this was going to be his LA phase and his LA album, he wasn't going to hold back. "I wanted to have a 1974 Hollywood rock'n'roll experience. I had this great image in my head of me wearing a white suit and wandering around in this beat-up, ramshackle mansion high up over the city.
"Yeah, everybody who was working in the house had to wear all-white. If you had come out to do an interview, I'd have made you wear all-white. We had 10 or 20 people wandering around all the time dressed in white. People passing by probably thought we were a cult."
At first, Murphy had no idea what he and the other musicians would produce out in LA. "I went out there with an open mind", he says. "For me, the environment comes first. I'm not a very spontaneous person so I need to create the space which helps me be creative. I was totally happy to be working in that mansion."
A change of scene, though, didn't mean that Murphy was going to lie back and let it all hang out. He brought the same tensions and anxieties which have been a part of his musical life in his baggage to La-La-Land.
"I'm not a laidback person at all", he says. "I'm very tense, but I was trying to let myself do stuff and see where it would take me. I've got to a point in my life and career where I've learned how to calm down a little about stuff so I'm not super-worried and stressing about if something is going to work out and preventing myself from having a go. I've begun to trust my instincts a little more so this record may be a little calmer – a little – than previous ones."
Murphy, who almost became a writer on the Seinfeld TV show after he left university, says he was always like this. "Even before this music stuff started taking over. I've always worried about doing a bad job.
"The fact that this whole, I don't know, success has happened after so many years is actually a blessing. If all this happened when I was younger, I don't know how I'd have reacted. I'd have freaked out, I suppose. But now, I've already lived a pretty complete life before music came along and took over so I wasn't relying on it."
In the middle of recording sessions for the new album, Murphy headed off to do another gig when "Greenberg" director Noah Baumbach asked him to do the soundtrack for that film. "I certainly was not in the market for soundtracks", he stresses. "What happened was I met Noah and I like his movies and he asked me to do the soundtrack and it sounded like fun so I went off and worked on "Greenberg".
"Noah didn't want a score and I was down with that. I hate all that moody, spacey surround-sound shit. I wrote a bunch of little songs that are not directly about the movie and Noah liked them and they made sense with the movie."
This wasn't the first time that Murphy found himself working on two projects at once. "Halfway through recording "Sound of Silver", I went off and did the "45:33" mix album for Nike which helped me with recording "Sound of Silver". I'd hit a few problems and I found that going off to do something else was a really good way of working that out.
"I thought doing the "Greenberg" soundtrack would have the same effect, but it didn't really because it was so unrelated musically. I thought it wouldn't take that long to do a movie soundtrack, but if the editing takes months, the soundtrack takes months.
"It wasn't a hindrance, but it wasn't a help either. I thought I needed a break, but when I got back to working on "This Is Happening", I realised I hadn't needed one at all. It was just a weird twist and I ended up with two albums yet again and a lot of frustrated and pissed-off people at my label."
Murphy is adamant that this will be the last outing for LCD Soundsystem. The problem for him is that being in a band who adhere to a rigid album-and-tour cycle is just not what he wants to do.
"I want to retire the band", he says. "I don't want to become just another band and I want to stop being a professional musician in the way I am now. Right now, it's make an album, make a single, make a single, go on tour. I don't want to do that.
"When I was 30 I promised myself that I'd be out by 40 and I'm 40 now. I don't want to repeat myself, I don't think being bigger is that interesting and I don't want to make more money. I still want to make music, but not that record that I don't want to make that people think I should be making.
"OK, I'm having the best time of my life and I'm the happiest that I've ever been because I'm in this band, but it means I can't do things like producing and DJ mixes and working on other records. For instance, I really want to do more with the DFA label, but I can't. It's nearly impossible for me to do any day to day work on the label because of the band. There's so much I can't do because it takes so much time to do the LCD Soundsystem thing. It's just time-intensive for me so I want to stop."