What's in The Ticket today – and your plugs
The best in movies, music and videogames from The Ticket – free every Friday with The Irish Times
The 50 best videogames of all time: will you agree with what Joe Griffin and Ciara O'Brien have to say? Of course you won't – it's a blooming list, innit? Plus comedian Jason Byrne, rugby player Mike Ross Rugby and Today FM DJ Ed Smith make their selections. Fantastic cover to mark the feature too.
Nebraska: Alexander Payne's new wintry road movie features a vintage star turn from Bruce Dern, who talks about still being in the zone after 55 years in the trade
Swell Season: co-director Carlo Mirabella-Davis on their documentary on Glen Hansard and Markéta Irglová.
Other Voies: just how does show booker Aoife Woodlock get such a great line-up to travel to the back of beyond in Dingle every year for the long-running TV show? It's all about the music
Jake Clemons: you saw him here with Bruce Springsteen over the summer and now, he's back with his own band for a lengthy Irish tour. He talks about his tenure in the E Street Band, his famous name and being a hustler (print only).
New Found Sounds: Aoife Barry's guide to the best new Irish music in print and as a podcast (print only).
Plus CD reviews (including The Claudia Quintet, Oh Land, Youngblood Brass Band, Juana Molina, Eddi Reader, Ger Wolfe, Ghostmaps, John Lennon McCullagh, "Inside Llewyn Davis", Matt Mitchell etc), film reviews (Carrie, Marius, Leviathon, Saving Mr Banks, Free Birds, Parkland, The Best Man Holiday, Scatter my Ashes at Bergdorff's), games, apps, listings, movie quiz, news and much, much more.
That's your winning Ticket in The Irish Times today in print, online and the best of The Ticket on the app.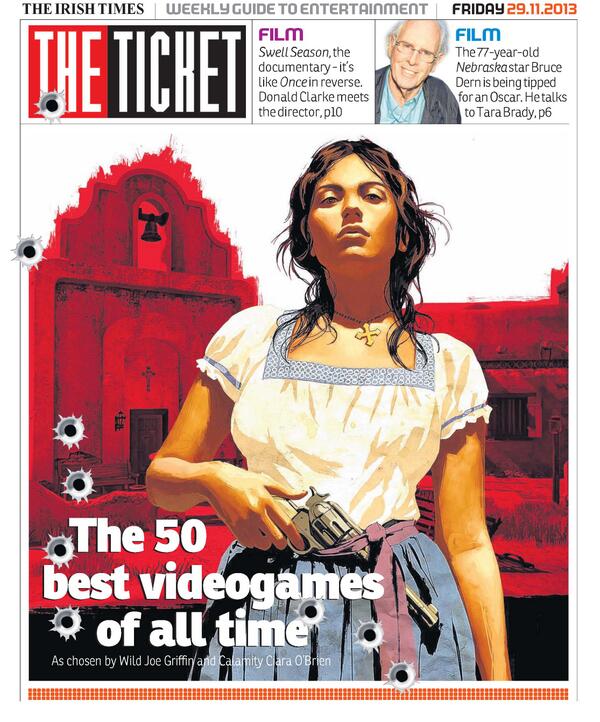 Glider plug: Glider turns four tonight and we're throwing a party at the Workman's Club, Dublin 2. Playing this, that and the other upstairs from 10pm and downstairs from 11.30pm until late will be Dan Hegarty, (Cillian, Tanya and myself. Admission is free. Please bring cake.
The OTR plugs service is now open for business. Please feel free to plug and recommend stuff away to your heart's content, but remember some simple rules: (a) declare an interest where one should be declared, (b) plugs are accepted on the whim of OTR and may be edited for length/clarity/common sense and (c) plugs which mention a commercial sponsor are really ads and will probably not be published in this slot. Is it too early to go "ho ho ho"?