What's in The Ticket – and your plugs
The best in music and movies every Friday with The Irish Times
Captain Phillips: Tom Hanks on his role as the seafarer doing battle with Somali pirates – and doing battle for the Oscar gong for best actor
Lorde: how the 16 year old New Zealander is at the vanguard of acts bringing teenage kicks back into fashion
Lisa O'Neill: the Cavan folk singer on her new album "Same Cloth Or Not", which she launches at Dublin's Whelan's tomorrow night before embarking on a national tour
Anno Dracula: the horror film critic Kim Newman on mashing up Dracula and Apolcalypse Now in the latest in the Anno Dracula series
Stewart Lee: ahead of his appearance at the Galway Comedy Festival, the "conscience of stand-up" talks about his new BBC show, Michael McIntyre and why playing the 02 is a bit like the Nuremberg Rally
Plus CD reviews (including Van Morrison – the reissued "Moondance" – Lisa O'Neill, Polica, Drake, Cass McCombs, Dizzee Rascal, Omar Souleyman, Ann Scott, Barry McCormack, This Is How We Fly, Robbie Fulks, Equinox, Tim Berne's Snakeoil etc), film reviews (Captain Phillips, Enough Said, Epic of Everest, Escape Plan, Like Father Like Son, Love Marilyn, Prince Avalanche, Very Extremely Dangerous, Turbo), games, apps, listings, movie quiz, news and much, much more.
That's your winning Ticket in The Irish Times today in print, online and the best of The Ticket on the app.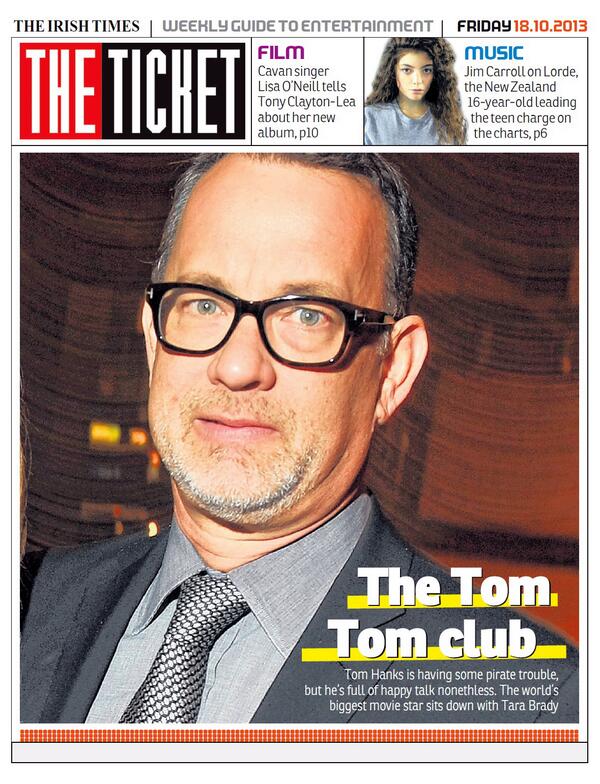 Banter plug (1): we mark 25 years of Fish Go Deep with a conversation with Shane Johnson and Greg Dowling tomorrow night at the Twisted Pepper (Middle Abbey St., Dublin 1). Expect tales of Sir Henry's, house music, Sweat, Deep and much more. Doors open 9pm, Bantering gets underway at 9.30pm, admission is free and the pair will be DJ-ing afterwards.
Banter plug (2): our Living for the City series continues with the gaffs, a look at the issue of housing, both renting and buying, in the capital. Our next Living for the City Banter will look at the issue of housing. Our panel for the night are Ronan Lyons (economist at Daft.ie and Trinity College Dublin), Colette Browne (Irish Independent columnist), Karl Deeter (adviser and analyst at Irish Mortgage Brokers and Advisors.ie and Dr Loran Sirr (lecturer in housing studies and urban economics at DIT). It all happens at the Twisted Pepper on Wednesday October 23. Doors opena at 7.30pm-ish, the talking starts at 8pm and admission is free, but you need to sign-up first and you'll find the form here.
The OTR plugs service is now open for business. Please feel free to plug and recommend stuff away to your heart's content, but remember some simple rules: (a) declare an interest where one should be declared, (b) plugs are accepted on the whim of OTR and may be edited for length/clarity/common sense and (c) plugs which mention a commercial sponsor are really ads and will probably not be published in this slot. Do yourself a favour and kick some leaves this weekend