What's in The Ticket today – and your plugs
The best in music and movies every Friday with The Irish Times
Only God Forgives: Danish director Nicolas Winding Refn talks about his gruesome Bangkok-based crime thriller which stars Ryan Gosling and Kristin Scott Thomas
Foxfire: Laurent Cantet on his new flick about a girl gang in upstate New York in the Fifties based on a gritty novel by Joyce Carol Oates
Foy Vance: the Bangor man on how personal misfortune and a move to the Scottish highlands pit him on track for his second album
Come On Live Long: how a couple of days in a quiet house in rural Roscommon put the Dublin-based band on the right road
Out On A Limb Records: the Limerick-based collective turn 10
Plus CD reviews (including Minks, Barbarossa, Glimmermen, Letlive, The Civil Wars, Pinkunoizu, Swim Deep, J Cole, Carl Craig, George Benson, Stephane Huchard, Scott Cook, "Tunes in the Church" etc), film reviews (The Heat, Only God Forgives, The Conjuring, The Smurfs2, Red2, From Up On Poppy Hill, Paradise: Hope), games, apps, listings, movie quiz, news and much, much more.
That's your winning Ticket in The Irish Times today in print, online and the best of The Ticket on the app.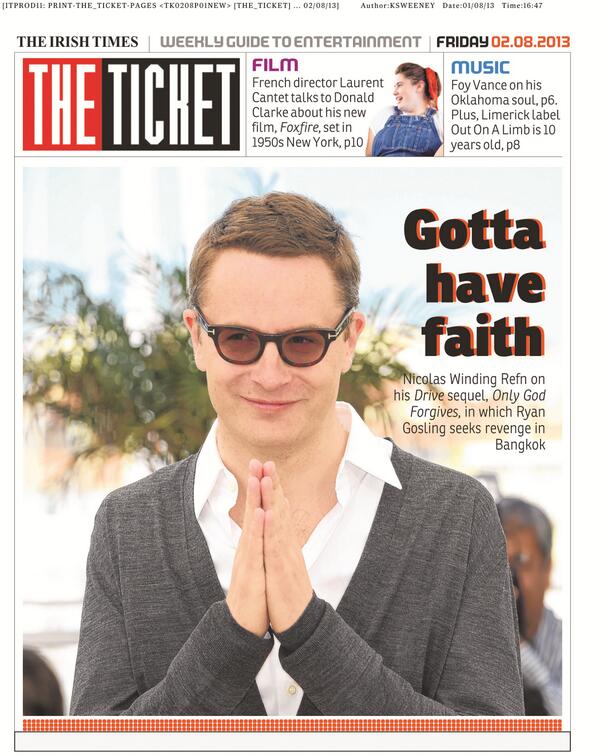 Banter plugs: after last night's action-packed conversation with Peter Hook in front of a packed house, we have two Banter outings in the next week. Tomorrow (Saturday August 3), we head to the GAZE International LGBT Film Festival for Wonder Women!, a panel discussion on pop culture's representation of female power on screens and in print to coincide with a screening of Kristy Guevara-Flanagan's documentary Wonder Women! The Untold Story of American Superheroines at the festival. Join director Kristy, Film Fatale's Anna Taylor, Splinister writer Maura McHugh and myself for the discussion at the Lighthouse following the 4.30pm screening of the documentary.
Next Thursday, it's Banter on the Liffey, with three Banters in three venues across the Liffey. We will have Today FM ledge Tony Fenton on life on and off the wireless, Sam McGrath from Come Here to Me on the history of Dublin music venues and artist Fergal McCarthy on how the Liffey has informed his work. The venues are the Workman's Club, Grand Social and Twisted Pepper and we'll be announcing who will be where on the day.
The OTR plugs service is now open for business. Please feel free to plug and recommend stuff away to your heart's content, but remember some simple rules: (a) declare an interest where one should be declared, (b) plugs are accepted on the whim of OTR and may be edited for length/clarity/common sense and (c) plugs which mention a commercial sponsor are really ads and will probably not be published in this slot. Have a smashing bank holiday weekend y'all