What's in The Ticket today – and your plugs
The Ticket, the only Garth Brooks-free zone in Ireland today
The National: Where were you when The National played the Cobblestone pub in Dublin? Ahead of the band's Irish tour this month, we look at the band's relationship with Ireland and those gigs which made the band's reputation here.
How to Train Your Dragon 2: why America Ferrera will always be grateful to Ugly Betty for the start when it comes to kick-ass female roles
Owen Pallett: the Canandian musician on the dualism in his life right now as he tours the world as a member of Arcade Fire and finds the time to play and talk his own fine album "In Conflict" too
Love Eternal: Pollyanna McIntosh on her route from the Edinburgh Festival to the big screen in Irish writer-director Brendan Muldowney's macabre new black comedy
Theo Parrish: why the Detroit-based producer, DJ and musician has got a live band together for the first time in a decade
Bang the Beat: Ian Maleney's underground dance music podcast (also check out Ian'a ace piece for the Red Bull Music Academy on Dublin techno label D1 here)
Plus CD reviews (including Manic Street Preachers, White Lung, Lee Fields, José James Sia, Eugene McGuinness, Eno/Hyde, John Cale & Terry Reilly, Coda, the Old 97s, Keith Jarrett/Charlie Haden, Marc Ribot Trio etc), film reviews (100 Year Old Man, Tammy, Cycling with Moliere, Hard Day's Night, Love Eternal, Mr Morgan's Last Love), games, apps, listings, movie quiz, news and much, much more.
That's your winning Ticket in The Irish Times today in print, online and the best of The Ticket on the app.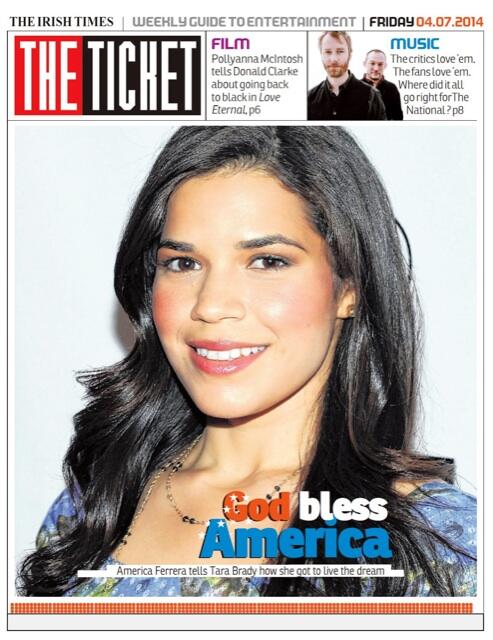 Banter plug: our 82nd Banter brings us back to Limerick and the Make A Move festival. Limerick City of Culture 2015 looks at what's ahead for Limerick's arts and culture communities after the City of Culture bandwagon leaves town. Our panel are Mike Fitzpatrick (director Limerick City of Culture 2014 and previously Head of Limerick School of Art and Design, a director of EVA International and director and curator of Limerick City Gallery of Art), Monica Spencer (board member of the Arts Council, actor, director and youth drama facilitator with the new Creative Communities Limerick Network), Catherine O'Halloran (Senior Youth Worker, leading light behind the Draw Out Project and board member of the Make a Move Festival) and Michael Finneran (head of the Department of Arts Education & Physical Education in Mary Immaculate College, founder member of Bare Space Theatre Company and one of those behind the establishment of Limerick's newest professional performing arts venue the Lime Tree Theatre). The discussion takes takes place at the Shannon Rowing Club (Shannon Bridge) tonight at 7.30pm and admission is free. Make A Move takes place in various venues across Limerick from July 3 to 6. See website for full information.
Banter podcast plug: check out all 24 podcasts from the Banter team to date – including interviews with award-winning authors Eimear McBride (she won another one last night) and Donal Ryan, the awesome John Grant, social campaigner Peter McVerry, film-maker Gerard Barrett and actor Jack Reynor, David Gray and many more – here. Subscribe via the iTunes store or, for Android users, this link. The Banter podcasts are produced by Tanya White
The OTR plugs service is now open for business. Please feel free to plug and recommend stuff away to your heart's content, but remember some simple rules: (a) declare an interest where one should be declared, (b) plugs are accepted on the whim of OTR and may be edited for length/clarity/common sense and (c) plugs which mention a commercial sponsor are really ads and will probably not be published in this slot. Are you having a good World Cup?