What's in The Ticket today – and your plugs
Hear ye, hear ye, it's the best of music and movies (and Kasabain) from those oiks at The Ticket
Kasabain: Tom Meighan from the bolshiest band in Leicester tell us to put new album "48:13″ in our record collection and shut our mouths. Riiiiight….
Belle: director Amma Asante on the long road from her time on the other side of the camera in Grange Hill
Chinese Puzzle: Audrey Tautou on how she has followed her instincts since stumbling into the role of Amélie at the age of 25 to become one of the few resolutely Gallic film stars with global appeal
Jon Hopkins: the Body & Soul returnee on a year of playing current album "Immunity" to the masses. Plus five other acts to catch next weekend at Ballinlough Castle
Jurassic 5: the return of the hip-hop seers with Chali 2na telling us what it's like to be back ahead of next week's brace of shows at Dublin's Vicar Street on June 16 and 17
Movie Bites: madeleines made with green tea powder to celebrate Hayao Miyazaki's new and last film The Wind Rises
Westport Festival: an interview with Sophie Ellis-Bextor and Q&As with the Westport-bound Elaine Mai, Karl Spain, Nick Kelly and Neil Hannon.
Plus CD reviews (including Lana Del Rey, Sleep Thieves, The Antlers, Clean Bandit, XTC, "The Oculist OST", Fatima, Robyn & Royksopp, Anne Mette Iversen's Double Life, Tim Garland, Maeve Gilchrist, Anansy Cisse), film reviews (Belle, Heaven Is for Real, Of Horses and Men, The Young and Prodigious TS Spivet, The Food Guide to Love, Oculus, Road, Benny & Jolene), games, apps, listings, movie quiz, news and much, much more.
That's your winning Ticket in The Irish Times today in print, online and the best of The Ticket on the app.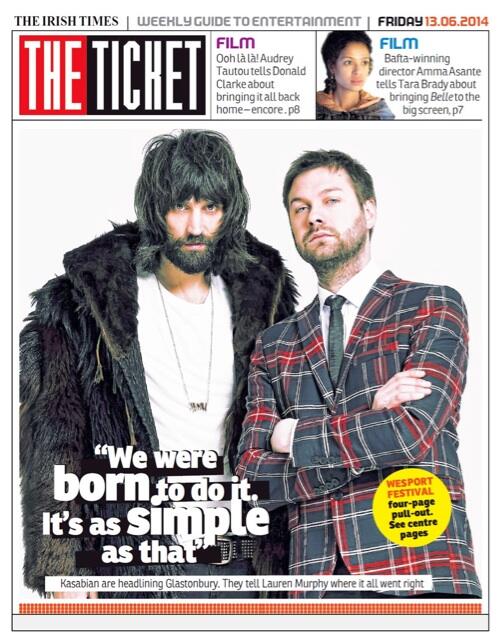 Banter podcast plug: Banter continues in the podcasting business with new episodes from our previous adventures in talking going live every week. You can listen to or download our latest podcast, a film special with actor Jack Reynor (What Richard Did, Transformers) and director Gerard Barrett (Pilgrim Hill) recorded at Other Voices in Dingle, here. You can also catch up previous episodes here or subscribe via the iTunes store or, for Android users, this link. The Banter podcasts are produced by Tanya White for Old Hat.
The OTR plugs service is now open for business. Please feel free to plug and recommend stuff away to your heart's content, but remember some simple rules: (a) declare an interest where one should be declared, (b) plugs are accepted on the whim of OTR and may be edited for length/clarity/common sense and (c) plugs which mention a commercial sponsor are really ads and will probably not be published in this slot. Cork to skin Clare on Sunday.