What's in The Ticket today – and your plugs
The best in music and movies (and Coldplay, unfortunately) from The Irish Times
Coldplay: anyone for some musical Marmite?
The Two Faces of January: a decade on from his star-making turn in The Lord of the Rings trilogy, Viggo Mortensen remains considerably nonplussed by fame
Irish clubbing: the underground clubs putting their faith in local musicians and DJs rather than booking the big international names on the circuit
Next Goal Wins: the story of the world's worst football team – and the world's first trans-sexual international footballer.
Chromeo: Q&A with David "Dave 1" Macklovitch about new album "White Women" and other affairs of state
Plus CD reviews (including Tune-Yards, The Black Keys, Quantic, Black Stone Cherry, Future, Rodgrigo y Gabriela, Big September, "Gipsy Rhumba", Sue Rynhart, Bobby Avey, Tiny Ruins, Louise Mulcahy etc), film reviews (Frank, The Wind Rises, Next Goal Wins, Advanced Style, Sabotage, Before the Winter Chill), games, apps, listings, movie quiz, news and much, much more.
That's your winning Ticket in The Irish Times today in print, online and the best of The Ticket on the app.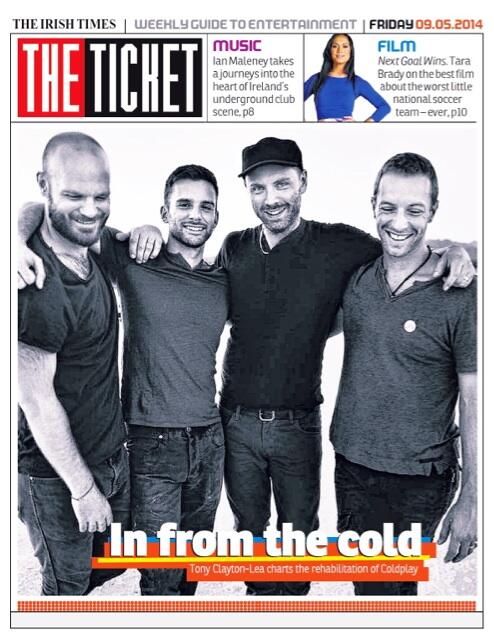 Podcast plug: Banter is now in the podcasting business with new episodes from our previous adventures in talking going live every week. You can listen to or download our latest podcast, which is a Frank film special featuring director Lenny Abrahamson, actor Domhnall Gleeson and composer Stephen Rennicks as recorded at The Beatyard in Dublin's Twisted Pepper last week, here. Catch up previous episodes here or subscribe via the iTunes store or, for Android users, this link. The Banter podcasts are produced by Tanya White for Old Hat.
The OTR plugs service is now open for business. Please feel free to plug and recommend stuff away to your heart's content, but remember some simple rules: (a) declare an interest where one should be declared, (b) plugs are accepted on the whim of OTR and may be edited for length/clarity/common sense and (c) plugs which mention a commercial sponsor are really ads and will probably not be published in this slot. The Eurovision, eh?