What's in The Ticket today – and your plugs
The best in music and movies from The Ticket's crack team of writers
SXSW: the best 20 bands we saw in Austin, Texas last week while cycling around the city like a blue-arsed fly
Kaiser Chiefs: big Chief Ricky Wilson on primetime TV, his musical mojo and the Kaiser Chiefs' new album "Education, Education, Education & War"
The Double: you may know Richard Ayoade best from The IT Crowd, The Mighty Boosh and Garth Merengi but he's also the director of Submarine and now, The Double, a take on the Doestoevsky novella. He talks to Tara Brady
Starred: a new movie star has arrived, suggests Donald Clarke of Jack "Skins" O'Connell's searing performance in prison drama Starred Up. He meets the upfront Derby native
Plus CD reviews (including Hauschka, The Raglans, Simon Felice, Eleanor McEvoy, Phantogram, The Notwist, Ekopledz, Elton John, My Chemical Romance, Julian Arguelles, Oko, The Friel Sisters, etc), film reviews (About Last Night, Labor Day, Starred Up, Salvo, The Unknown Known, Yves Saint Laurent), games, apps, listings, movie quiz, news and much, much more.
That's your winning Ticket in The Irish Times today in print, online and the best of The Ticket on the app.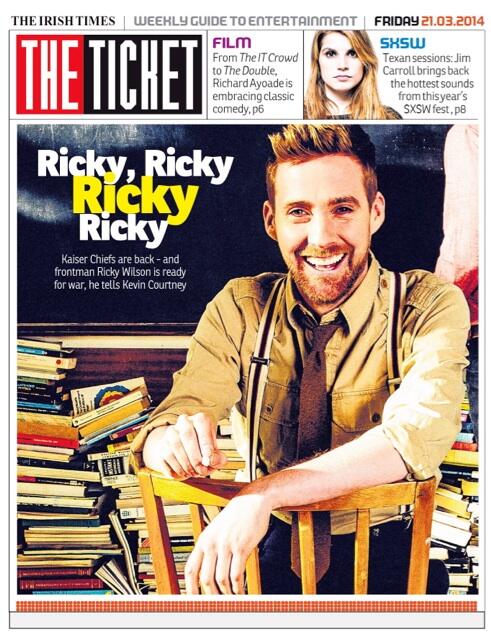 Bantercast plug: Banter is now in the podcasting business with new episodes from our previous adventures in talking going live every week. You can listen to or download our latest podcast, which features Michael Moynihan following the money in the GAA and talking about his brilliant book GAAconomics and was recorded at Other Voices in Dingle, here. Catch up on the broadcasts to date here or subscribe via the iTunes store or, for Android users, this link. The Banter podcasts are produced by Tanya White for Old Hat.
The OTR plugs service is now open for business. Please feel free to plug and recommend stuff away to your heart's content, but remember some simple rules: (a) declare an interest where one should be declared, (b) plugs are accepted on the whim of OTR and may be edited for length/clarity/common sense and (c) plugs which mention a commercial sponsor are really ads and will probably not be published in this slot. The most mischevious Irish festival of all is back.