What's in The Ticket today – and your plugs
The best in music and movies reviews, features and interviews from The Ticket's crack team of writers
Richard Dreyfuss: ahead of his appearance at the Dublin International Film Festival for a screening of Cas & Dylan and to pick up a Volta gong, the man from American Graffiti, Jaws, Close Ecounters of the Third Kind, The Goodbye Girl and Mr Holland's Opus talks film.
Cuban Fury: Ian "Lovejoy" McShane shows us a clean set of heels
John Murry: how "Graceless Age" has pushed the gracefully grumpy Mississippi songwriter centrestage
Wild Beasts: saying goodbye to the "quirky indie oddballs" tag for their fourth album "Present Tense"
Lady Gaga: Jennifer Gannon sends a Valentine card with a difference to the woman who "stands alone as an almost sexless carnival of the bizarre"
Movie Bites: making True Love granitas for Frozen
Plus CD reviews (including Beck, Arthur Beatrice, Planningtorock, Augustines, Angel Olsen, Damien Dempsey, Milagres, Jimmy O'Brien Moran, Aziza Brahim, Sturgill Simpson, Nils Landgren, Avishai Cohen etc), film reviews (Childs Pose, Her, Lego Movie, Bastards, Cuban Fury, Tinker Bell, Monuments Men, Endless Love), games, apps, listings, movie quiz, news and much, much more.
That's your winning Ticket in The Irish Times today in print, online and the best of The Ticket on the app.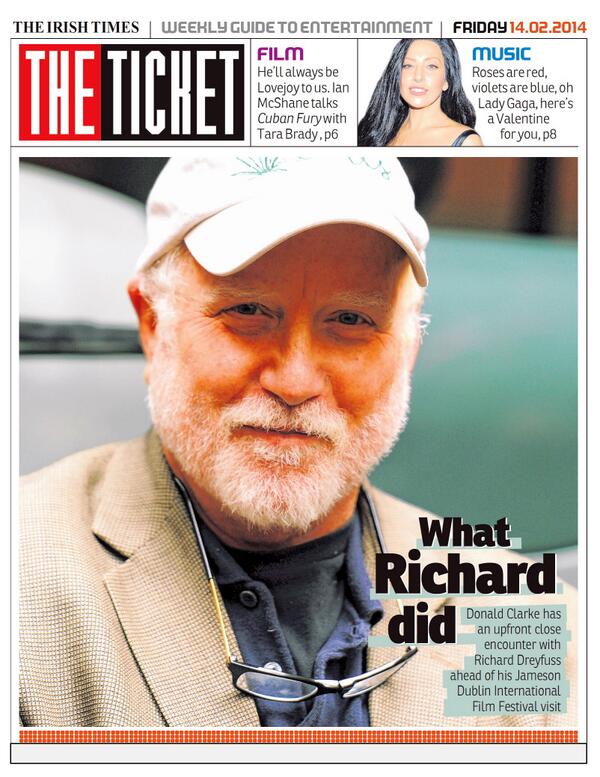 The OTR plugs service is now open for business. Please feel free to plug and recommend stuff away to your heart's content, but remember some simple rules: (a) declare an interest where one should be declared, (b) plugs are accepted on the whim of OTR and may be edited for length/clarity/common sense and (c) plugs which mention a commercial sponsor are really ads and will probably not be published in this slot. Still blowing hard out there.