What's in The Ticket today – and your plugs
The best in movies and music served to you in print, online and on the app
In Fear: Allan Leech on swapping period costumes in Downton Abbey for a role as a hitchhiker in the psychological thriller
Utopia: veteran journalist and filmmaker John Pilger talks about "a journey into a secret country" in his new documentary about the plight of indigenous Australians.
Julia Holter: on the dreamy, inscrutable quality of her music
Shellac: uber-producer Steve Albini on why he's still a man in a band
The best music books of the year: from Alan McGee and Morrissey to Tracey Thorn and Rod Stewart, it's the first best-of list of 2013
Plus CD reviews (including Liz Carroll, Gesaffelstein, David Bowie, Cate Le Bon, Public Service Broadcasting, Nils Frahm, Cut Copy, The Beatles, Somadrone, Linda Thompson, Alexis Cuadrado, Geri Allen, etc), film reviews (In Fear, The Butler, The Counsellor, Don Jon, Utopia, Broken Song), games, apps, listings, movie quiz, news and much, much more.
That's your winning Ticket in The Irish Times today in print, online and the best of The Ticket on the app.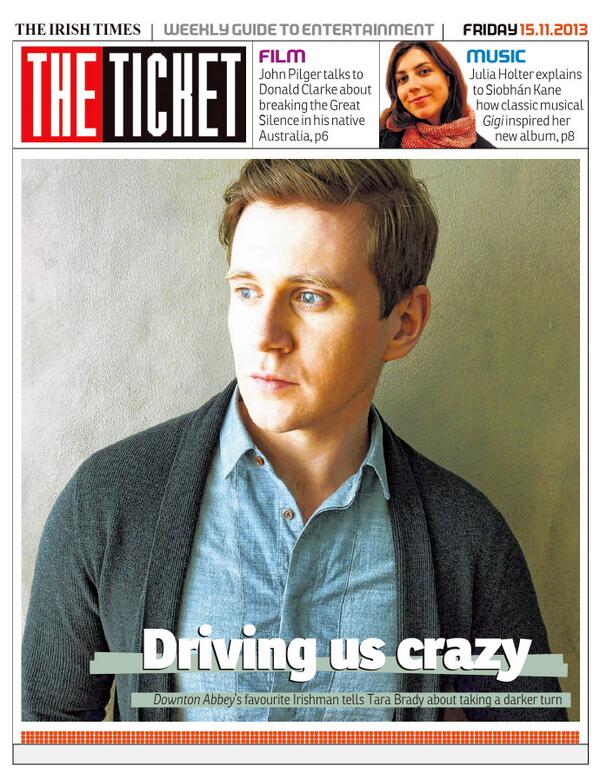 The OTR plugs service is now open for business. Please feel free to plug and recommend stuff away to your heart's content, but remember some simple rules: (a) declare an interest where one should be declared, (b) plugs are accepted on the whim of OTR and may be edited for length/clarity/common sense and (c) plugs which mention a commercial sponsor are really ads and will probably not be published in this slot. It's going to be a marvellous night for a moondance