The demise of The Daily
The postmortems have begun and the schadenfreude will be only fierce in some places. Launched in a blaze of publicity back in February 2011, The Daily was Rupert Murdoch's digital publication. As we noted when the news was announced two …
The postmortems have begun and the schadenfreude will be only fierce in some places. Launched in a blaze of publicity back in February 2011, The Daily was Rupert Murdoch's digital publication. As we noted when the news was announced two years ago, it was an interesting proposal for many reasons: while Murdoch has proven to be a shrewd, profitable operator when it comes to ink and TV, it's a different matter online. The death of The Daily may reinforce that view to many.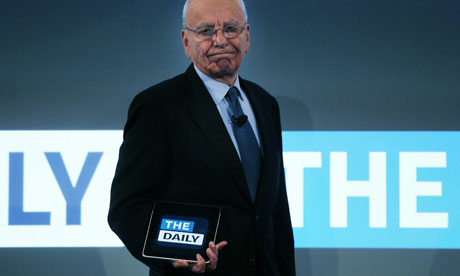 Behold! Man comes down from mountain bearing tablet
But it's worth taking a closer look at the data around The Daily. Per the Los Angeles Times, The Daily "ranks among the top-grossing news applications for Apple Inc.'s iPad, just behind the New York Times, the Economist and News Corp.'s own New York Post, according to researcher AppData". Yet even that take-up wasn't enough to make up Murdoch's costs for the venture, with its staff of 120 people producing original content rather than cutting-and-pasting from elsewhere.
Those other titles mentioned above use a suite of platforms to flog their content and some beancounters and cost-cutters would argue that The Daily should have made better use of the content produced at Murdoch's stable of publications. Yet it's to the publisher's credit that he tried something new by concentrating on original content. However, The Daily's short run may be further proof that trying to push a platform-specific publication can't really be part of the media pitch anymore. Unless you're a print title who has deliberately decided to sit out the online game and has unique game to pull in readers – bonjour Le Canard Enchaine – every title tries to be all things to all readers on all possible devices. You go where the audience are and increasingly, that audience are everywhere.
It's interesting too that the closure of The Daily comes as Murdoch announces some shuffling of the corporate decks at News Corp. It really does seem as if he plans to go on forever, though, on that front, there is a fascinating profile of his daughter Elisabeth and her husband Matthew Freud in The New Yorker this week. Profiles like this don't appear out of thin air so you can chalk this down as a piece of media business choreography. While Elisabeth Murdoch's speciality to date has been TV (she has had huge success with the Shine production company), she is sure to have her eye on the more traditional elements of the family business.
It has been, as was noted by John Mulholland and Lisa O'Carroll at the Banter Salon at the weekend in Dingle, a wild year for the media business. From the turmoil at the BBC (and RTE, less we forget – as O'Carroll noted, the director-general walks when there's trouble at the BBC, but this is not the case in Montrose) to the report from the Levenson Inquiry to the ongoing nibbling at many media organisations' bottom line, the media has spent as much time reporting on its own current affairs as anything else. But as all involved try to make sense of an ever-shifting landscape, you can expect more stories and omphaloskepsis from the media quarter in 2013.