The weekend in gigs
How good was Lykke Li? C'mon people, how good was she? Thursday night and the Sugar Club is rammed to the rafters. You know it's a real sold out gig because people keep rolling to up the door and getting …
How good was Lykke Li? C'mon people, how good was she? Thursday night and the Sugar Club is rammed to the rafters. You know it's a real sold out gig because people keep rolling to up the door and getting turned away. It's the third time I've seen her this year and she just gets better and bolder and brighter and brasher as time goes by. Quote of the night from the stage? "There's no need to sit down, I'm not the Dalai Lama". Song of the night? "Breaking It Up" which was quite outrageous, much punchier than the album version. Strangest moment of the night? The cover version of A Tribe Called Quest's "Can I Kick It?" which sounded like Bob the Builder's "Can We Fix It?". She's a star, baby, a star. Here's a video for "Dance Dance Dance" – I don't know if this is an official video or not, but it will put a smile on your face this Monday morning.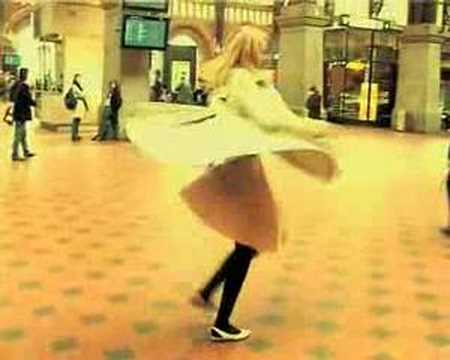 The choice on Friday night was between watching people fuming about the Lisbon Treaty or going to see The DoDos. Unlike the yes side, the latter won. They may look mellow and laidback, but these DoDos are furious, fierce, intense and blistering when they get going. Tunes start with a simple strum before exploding into songs which are truly mad out of it in the best possible way. All joyful, psychedelic flourishes, everything bursts with vitality and energy. Just a pity there wasn't more people there to see them. If you haven't made the acquaintance of their "Visiter" album yet, you could make amends this week. They play the Electric Picnic in August, a festival, which as On The Record poster HiFiPop noted yesterday, now appears to be sold out.
I had a bit of a sinking feeling about the Fleet Foxes show. A Saturday night, Whelan's and a packed crowd who would happily pay in to talk at the bar never bodes well for songs of such brittle beauty. But from the moment they begin harmonising with such heartfelt gusto, the crowd are hushed. I mean, what else are we supposed to do but stay quiet and take it all in? Every song from that glorious debut album scales Everest, especially "White Winter Hymnal". It was a truly extraordinary, astounding show. You get the feeling that the band are a little over-awed by it all, especially the rapturous applause between songs. They had better get used to it. Word is they will be returning to Ireland when the leaves have fallen from the trees.
To Vicar Street and the Future Days bash from the folks behind Foggy Notions and Forever Presents. Already, Future Days feels fully formed, a case of a festival which has found its audience and an audience who has found their new favourite waste of time. In Dan Deacon, everyone has found their inner child. That's abundantly clear from the hyperactive, playful rave monsters like "The Crystal Cat" and "Wham City" which Deacon flings out with gleeful abandon from his perch beneath the stage on the floor. But it's especially present in how he trumps the notion of what a gig or a rave should be by getting the house lights turned on and organising playground sessions. The first involves the audience running in circles around the room, the second sees us forming human tunnels before running out one door and back in another one. At the end of that set, every single person in that room was beaming with delight (yo Rocks!), but no-one had a broader grin on their gob than Deacon himself. In sending him back to Charm City every time he comes every with a large wad of cash, we Irish are making amends for being early adopters when it came to David Gray and Tom Baxter.
How the hell do you follow that? Well, if you're Richie "My Name Is Little Earl" Egan and friends, you simply continue the rave. I don't think I've seen Jape rock a room with such energy and that's as much down to "Ritual", the new album which has put a new buzz into Egan's writing, as the electricity in the room after Deacon. There are a few moments when you think they could do with some more time in the rehearsal studio, but there are also plenty of times, like "I Was A Man" or "Streetwise" when it comes together perfectly in the euphoria. They close, naturally enough, with the album high point, "Phil Lynott". Jape play it straight, but Richie can't resist the inevitable temptation at the end to flick a switch, up the tempo, dive into the crowd and send everyone home sweating.
There's something quite apt about cycling miserably through a torrential shower of rain to get to a Leonard Cohen gig. It was the last of Cohen's three night stand in Dublin 8, the last chance to marvel at the fact that 36,000 people have turned out for him. It seems those Came So Far For Beauty shows really did all the PR Lenny needed – I really hope someone remembers to say thanks to MCD and the Dublin Theatre Festival for that. Damien Rice supported, which is a bit like having The Stone Roses Experience opening for Ian Brown. Having spent the weekend binge-gigging in venues which came with a roof, the most noticable feature of these shows was just how right the setting and the sound were. A lovely stage, no problems with seating (see, Babs, it can be done), fantastic sightlines and, best of all, the most pristine, perfect sound I've ever experienced at an outdoor show – you could even hear the subtle brushes the drummer was using on some of the songs. And what songs! Suave, sublime versions of "Dance Me To The End Of Love", "Who By Fire", "Suzanne", "Hallelujah", "I'm Your Man" and many other tunes from the canon which you had forgotten you knew. Lenny himself was the coolest seventysomething who has ever stood on a stage in Dublin – no-one else can rock a fedora and scarf combo like that.
So, how was your weekend?