Offloading was frowned upon when I entered the professional ranks in the late 1990s. The grumpy old senior player would pull me up even if the pass stuck and a try was scored.
'Woah, we don't do that flashy stuff' was the mentality not so gently impressed upon me for a long time.
That attitude did me no harm. If I'd been given carte blanche to do whatever I pleased - it would have been the extravagant option every time - I may not be writing this column.
I could still be the youngest ever member of the one cap club.
But the game has evolved and so have the teenagers who watched Leinster capture three European titles. Institutional learning, in all its glory, might just help the current squad avoid as many mistakes as we made before winning the Heineken Cup in 2009.
That said, I'm still amazed by the amount of players who can't pass proficiently. Alan Gaffney used to constantly tell us to have our hands up early, moving across the body so we knew where the ball was going before it left our hands.
Clearly, Robbie Henshaw and Garry Ringrose began with very good habits. They are naturals. That's why, after just six games playing together, the series of subconscious decisions that need to be made before each moment are already in evidence.
They are yet to start beside each other for Ireland (with Garry replacing a concussed Robbie against the All Blacks in Dublin). But this partnership is already beginning to make me sit up and take notice.
It should also be noted just how poor Zebre were last Friday night. A 70 point thrashing might seem a useless exercise but the Leinster centres can take plenty of confidence from their latest amalgamation.
Much of the Leinster playbook was on view as Johnny Sexton, before Ross Byrne arrived, Henshaw and Ringrose rolled out several offensive moves.
This can only be done in a match scenario and while it may look like their understanding requires hours on the training paddock, I think we witnessed three gifted rugby players organically gelling together.
They all seem to be on the same wavelength. Johnny has been throwing these same passes for me, Brian, Luke, Rob and Isa for years. Robbie and Garry have been in Ireland camps since they were teenagers so while some institutional knowledge has been passed down, equally, they are fast learners.
There's a simple Chinese proverb: Teach me, I'll forget. Show me, I'll remember. Involve me, I'll understand.
Ringrose stood out all game, running a clever line for his try and creating two more for Rory O'Loughlin, but it's the constant rise of Henshaw that is really impressive.
Maybe it's because I understand better than most how difficult it is to do what he is doing from inside centre.
That 10-12-13 axis is crucial to Irish success in the coming seasons but I am also seeing their individual characteristics shine through.
Particularly Robbie's ability to draw two defenders and free his hands in the tackle.
That's an incredibly valuable skill and he's got it.
Brian and I were smaller men, and while we always held our own, the game has changed dramatically in the past two, three years. Henshaw and Ringrose are already showing similar traits to our partnership but what's equally encouraging is how capable they are in the collisions.
Henshaw's movement at second-five-eight is similar to how I played, except he's three or four inches taller and a stone heavier.
Size seems an essential requirement in the game nowadays. Robbie will make a similar impact for Ireland as he did against this porous Zebre defence. Chicago gave us a glimpse of what he is capable of doing in the Six Nations.
There is clear development in his game since the Jamie Roberts experience last year. That was a punishing afternoon. You learn and improve fast or you don't get a second or third chance. I remember by the time Manu Tuilagi came along I'd faced several wrecking ball centres, so I knew how to defend him.
At 23 Robbie is already in that defensive mould while in attack he sees most of the angles.
On first glance Sean O'Brien's try after just four minutes against Zebre was created by a brilliant Ringrose line break but it was mostly Henshaw's doing.
The ball comes to Johnny who feeds Robbie on the gainline before he loops around. Henshaw has three options: carry, hit Ringrose short or give it back to Sexton.
Leinster ran the loop move four times, taking a different option each time, so Montpellier or anyone preparing for them can forget best laid plans if Robbie breaks the first tackle.
Garry does exceptionally well to fight past several bodies and be available when Robbie turns inside with the offload. Now, already in this attack, we have seen a lot of moving parts that make it look seamless; Luke McGrath to Johnny to Robbie to Garry. All off the cleanest ruck ball imaginable.
Such perfect timing is so difficult to get right. It's like being behind a car at a traffic light. Ringrose can't touch the accelerator until Henshaw has taken off and he can't sprint flat out until Robbie breaks the first contact.
When Ringrose does get the ball he produced a Charles Piutau bounce of the foot that almost beat the last man. Instead his presentation gives McGrath scope to throw a long pass out to Seanie O'Brien for a quality try.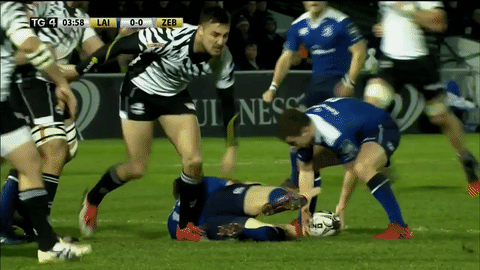 On six minutes simplicity is the order of the day. Robbie's awareness of space draws out the defender, allowing Leinster hands do all the work. Garry clearly understands the situation as it unfolds, taking an inside line where the benefit of Seanie at openside becomes evident as he arrives for the offload and another huge gain up the left touchline.
Josh van der Flier is more than capable of running that same support line (if the Lions backrow in New Zealand and Irish trio in Japan came from this Leinster squad I don't think many people would fall off their seat).
Later, the ball is slipped out the back again but this time Johnny brings O'Loughlin in from the blind wing. Rory also carries for 50-odd metres.
Again, poor defending, but the multiple options make it very difficult to figure out how to stop Leinster, and Ireland, other than slowing their primary possession. Also, everyone runs a decoy line as if they are about to receive the ball.
One or all of these moves can be used against Montpellier on Friday, with slight variations or the arrow shape used to tear Northampton apart, because it is clear that Robbie, or whoever, will make the correct decision on the gainline.
Only a few players have the ability to do that, Dan Carter being the master.
All told, the Leinster centres are settling nicely into their roles.
And I think Garry showed when playing 12 for Ireland in November and Robbie in South Africa last summer that they are inter-changeable, which would lead to more confusion for opposing defenders.
Henshaw is clearly taking control of his surroundings with Zane Kirchner knowing all about a decision to carry when Robbie was outside with an overlap. An occasional bark at a more experienced player is never any harm as it levels the playing field between teammates.
Kirchner will pass next time and Leinster will benefit.
A rugby player needs to be able to take open and honest feedback.
Joe Schmidt talks about how great players always find a way to make great plays. For all Garry's rapid progress, and I'm sure next time he'll regain that grubber, he still has enormous room to improve.
Whereas Robbie's offloading in contact has been so impressive; his acceleration into the defender and strength in contact allows him to dominate more often than not.
Never before has there been an Irish back who demands two tacklers and can also get the ball away. It's the type of skill we saw Beauden Barrett perform under immense pressure to create that try for Ben Smith in Soldier Field.
It's really promising to see Robbie produce something similar on three occasions against Zebre - once for Dev Toner to carry Leinster out of the 22 and the offload to James Tracy which almost led to a Dan Leavy try.
In my wildest dreams I was never doing that. A gather and pass in one stride, in contact, is such a difficult skill to master.
Nor is this all about practice. We see a team like New Zealand produce those two unbelievable tries out of nothing in Chicago when they sensed the game slipping away from them. It's instinctive.
Leinster, and Ireland, with the amount of young talent currently maturing appear to be heading down the same path.
There is a risk of over-hyping but, equally, players need not be undervalued.
Robbie is also developing extra creative elements as an inside centre, with a kicking game that is clearly improving as he becomes more tactically astute.
Possessing the knowledge, when to kick, when to pass and when to run makes rugby look simple. Zebre certainly contributed but there is no reason why these standards cannot be maintained when Montpellier arrive on Friday.
Nobody is naive enough to presume the same space will be on offer or that defenders will be making as many poor decisions but run all these plays with the same confident timing and the opportunities will follow.
Clips courtesy of TG4