Gordon D'Arcy: All seems well but Taute call is key
Much to be excited about Irish rugby right now but controversy could be down the line
Munster's Jaco Taute scores their third try against Leicester last weekend. Photo: Dan Sherida/Inpho
Irish rugby in December 2016 feels like a harmonious ecosystem.
It certainly looks that way from recent results. Everyone, from players to coaches, deserves praise for figuring out a way for the internationals to switch seamlessly back into their provincial sides.
That has long been a recurring problem. For Rassie Erasmus to Leo Cullen and Les Kiss, reintegrating their best players with only a week to spare before European matches presented the most difficult challenge (that and winning without them).
Over the years it has strained relations between the national team and the provinces. Now, access to players will always ensure tension between provincial coaches and the national set-up but results last weekend in the Champions Cup show that many of the underlying issues have been resolved for the moment.
Winning papers over most cracks.
Player confidence gleaned from Ireland's successful November series coupled with settled coaching tickets in each set-up, Pat Lam's imminent departure notwithstanding, has clearly struck a balance.
Key players returned and performed outstandingly well. From Garry Ringrose and Robbie Henshaw in the Leinster midfield to huge performances by Ian Henderson and Paddy Jackson in Ulster's victory over Clermont and, of course, CJ Stander and Peter O'Mahony for Munster.
Contrast that with returning England players to their clubs. Dylan Hartley's brief impact for Northampton did them, or him, no favours while Ben Youngs struggled to influence proceedings at Thomond Park.
In the lead up to one of Munster's tries the Leicester scrumhalf ran the exact same line that led to a score against South Africa last month. In Limerick it led to a choke tackle and Munster scrum because A: Munster had done their analysis on him and B: the Leicester forwards didn't instinctively track his trademark run.
That shows the collective preparations by Leicester and Northampton - for round three anyway - were way off their Irish opposition.
Even Connacht threatened an upset, in the toughest fixture of all, staying with Wasps in Coventry until they were over powered in the last quarter.
Leinster look really impressive under Leo Cullen's now settled coaching team. The appointment of Stuart Lancaster has proved a benefit to the team and would have appeased David Nucifora's stated concerns about the lack of coaching experience.
The best example of Leinster efficiency came in the opening passage of play at Franklin's Gardens when it took 1 minute 50 seconds before Rob Kearney put Ringrose under the Northampton posts.
The attack began off a Dev Toner lineout with Henshaw's lovely change of body weight carrying him over the gainline.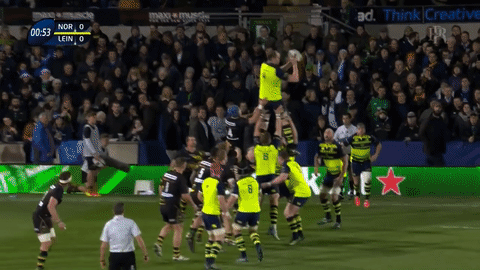 There is one minute on the clock when Luke McGrath gets the cleanest possible ruck ball due to the perfect body heights of Josh van der Flier, Adam Byrne and Sean O'Brien in the clear out. The next few phases are far from perfect with some carries halted behind the gainline but quick ball keeps the pressure on the Saints defence.
Ringrose and Toner carry right to left before McGrath and Joey Carbery fire it back into midfield where Northampton fail to illegally slow down the recycle. Ringrose, again, and Carbery make enough yards up the right touchline to set up the try scoring attack.
Seanie made only one carry in the whole sequence, which is unlike him but clearly he was playing within the system, where he had other roles to fulfil. Normally he would carry three or four times in such a passage of play but Leinster have other ball carrying options now.
What was really encouraging was the sight of Rob back in a decision-making role at first receiver as he saw that the Northampton defence had failed to re-set.
In 2005 a Kiwi named David Holwell played outhalf for Leinster. His philosophy - "rugby is a simple game, get quick ball and it becomes very easy after that" - was hardly a revelation but in practice it felt like one.
This is all about doing the basics really well. It looks so simple but there are multiple moving parts - 15 in fact - and so much structured work that Leinster are transferring from training to match day.
The shape and end product is only going to improve as variations to such plays are added and player timing onto the ball improves throughout the campaign.
The attitude is top class from all the provincial teams at the moment, from little things like collective body heights at ruck time to the general game plans.
Munster are not performing at the same levels of efficiency as Leinster, i.e quick ball and clinical finishing, but they still banked five points when faced by even poorer English opposition on Saturday in Thomond Park.
Considering the player resources at Erasmus's disposal pale in comparison to Leinster, he is doing a really impressive job, albeit he does get a more settled team and the benefit that comes with that.
He has been allowed restock an under-strength squad with foreigners like Jaco Taute - after Francis Saili then Sam Arnold were both injured - and a few southern hemisphere front rowers in Rhys Marshall and Thomas du Toit.
Taute is central to so much of their game plan, from finishing off attacks to his immense defensive contributions. His double tackle began the process leading to his first try. In the 47th minute Leicester moved the ball wide, to avoid the countless choke situations Munster double acts were putting them in, but Taute was waiting.
A massive hit on Owen Williams was followed up by the South African regaining his feet to envelop Lachlan McCaffrey. Donnacha Ryan was there to hold up the Leicester number eight long enough for Romain Poite to reward Munster with possession near their ten metre line.
From that scrum Tyler Bleyendaal followed a clearly pre-planned tactic of cross kicking to the Munster wingers. It wasn't his best kick of the day but the chase, jump and pat down by Keith Earls to Simon Zebo turned it into a quality play. Zebo kicked through and Earls was so quick eating up the ground that George Worth just about recycled possession in Leicester's 22.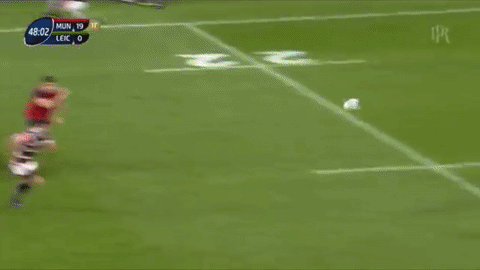 It ends up with a poor box kick by Ben Youngs that invited Munster to go to their driving maul. Taute was not finished, with his outside to in change of direction allowing him to power through Freddie Burns for the try.
Taute is also a clever player; Manu Tuilagi was standing wider out absolutely dying to smash somebody in red. The change of direction took Tuilagi out of the equation.
That is just one passage of play to highlight the huge value of this 25-year-old Springbok centre who has not been capped since 2012.
Rules being rules, the Taute situation, whether he is permitted to remain with Munster or return to South Africa when his short term contract ends on January 1st, will provide a revealing look into the mechanisms of Irish rugby.
Ulster are certainly paying attention, after the IRFU denied them the chance to keep their own Springbok, Ruan Pienaar, on a third contract next summer.
Pienaar leaves Belfast this summer despite Ulster having no ready-made replacement, and despite the significant mentoring role he plays off the field.
Munster would seriously benefit from keeping him but does it not go against IRFU policy? The simple answer is yes but there is compelling logic in the defence Ulster used when trying to keep Pienaar, which Erasmus has already referenced: Taute brings enormous value mentoring the players around him.
Also, and this may be influence the decision, Erasmus is a Nucifora appointment.
Point being, Nucifora and everyone in the IRFU want Erasmus to succeed. A Springbok and All Black midfield pairing will go a long way to ensuring a successful 2016/17 season for Munster.
Is that enough reason to give Taute a new deal? Or at least keep both foreign centres on the Munster books until next summer and then make a decision on who to keep for another two seasons?
I think that would be a really positive move by the IRFU as it would show that common sense can lead to flexibility in the Irish system.
The obvious concern is the presence of Taute and Saili would prove detrimental to the progress of Rory Scannell. I disagree. It would arguably be better for Scannell to play five less games this season while learning and competing daily with world class centres.
Sam Arnold's presence makes justifying the decision slightly more difficult. The 20-year-old was shifted from Ulster to Munster because of the back log of Irish qualified centres in Belfast. And now, if everyone is fit, Arnold won't be making any match day squads.
Still, I think it is good for both Arnold and Scannell in the long term, and that will benefit Irish rugby.
Again, none of this will help Ulster's 2017/18 aspirations when they are without a scrumhalf of Pienaar's quality while the young nines in their squad have been robbed of a world class example at training day in, day out.
The argument of foreigners blocking Irish players only stands up in certain situations. Paul Marshall's progress has not been blocked by Pienaar and there isn't another ready to go scrumhalf on Ulster's books.
Leinster would also be scratching their heads by whatever rationale is presented for Taute staying on. They have been told to dip into their, albeit hugely talented but untested, academy instead of signing a winger to replace the enforced retirements Luke Fitzgerald and Niall Morris.
Also, when 18 players are in Ireland camp Leinster have been told to roll the dice and use their academy.
Now, we are seeing the benefit of this with Rory O'Loughlin and Adam Byrne steaming through this season. So that, with the benefit of hindsight, wasn't necessarily a bad decision at all considering the experience the non-international players have got in the first half of the season.
Isa Nacewa's return to Leinster has not blocked the development of Byrne, it has almost certainly contributed to his progress.
But if Taute stays in Limerick the IRFU are seemingly operating on case by case decision making process.
The Munster and Taute relationship follows a long line of foreigners who have come into the province and had an enormous impact. Just look at the legacy men like John Langford, Trevor Halstead, Jim Williams and Rua Tipoki left behind them.
In a few short months Taute looks to be carrying on that rich tradition. Will this be allowed to continue? For the sake of harmony I can understand why he would be allowed to remain.
Clips are courtesy of BT Sport