It's not about the hit. It's about the truth behind the hit. And it's not about how the referee and TMO got it so badly wrong in the immediate aftermath. A citing commissioner from New Zealand decided there was a case to answer because the tackler is responsible for what happens in a collision.
That is why CJ Stander was red carded in South Africa, that is why Keith Earls was red carded against Glasgow.
On Sunday I engaged a Twitter conversation with Scotty Stevenson.
"Sumo" presents the main rugby show on New Zealand television and seems like a decent guy.
I highlighted that the first and only impact between Sam Cane and Robbie Henshaw was the former's shoulder to the latter's head. "First impact on Henshaw's shoulder?? I'm pretty sure you have the same footage as we do."
Stevenson asked me as a "former player who made plenty of tackles" if it deserved a citing. "Honestly?"
The tackler has a responsibility to the player he hits. All players know this. Cane left no room for error so when Henshaw spun the damage was done, there was no way of avoiding a high tackle. Had Cane timed it perfectly and lower, Henshaw stays on and we all call it for what it would be: a dominant collision. But if you bank on a massive hit and then miss it you have to accept the consequences that should follow. That's playing on the edge.
Again, players know the rules of engagement.
Like most Kiwis, especially Steve Hansen, Stevenson is partial to sharp witticism as a means to defuse sporting controversies, especially around discipline.
The New Zealand media point to the "bitter, hysterical Irish" complaining in defeat, a stance which neatly cloaks the 12 incidents of alleged foul play that went before the citing commissioner. New Zealand won this 11-1 with 10 dismissed as having no case to answer.
This isn't about New Zealand winning the match primarily through an overly-physical approach - which they did. The problem is the condescending element, whereby they claim the performance was nothing out of the ordinary. Why they can't come out and say 'Yeah we played right on the edge because we didn't want to risk losing another match to Ireland, so we went back to basics as we knew we could beat them in that area.'
If this was the Springboks we wouldn't bat an eyelid; we saw it on the 2009 Lions tour when South Africa bashed their way to the series, all the while using acts of indiscipline as a weapon. The All Blacks pride themselves on overcoming every challenge presented to them by playing expressive rugby. The first time they were put under serious pressure in 2016 and they resort to what most teams need to do to win such test matches. They ground it out.
Why not just come out and say that we knew we had to overpower Ireland to win? Don't be disingenuous and say that's how we play week-in, week-out. Come out and say: Ireland put us under so much pressure we reverted to an ultra-physical approach. Are they able to say that?
No because heavy suspensions would inevitably follow.
All this guarantees plenty of black humour when the British and Irish Lions journey down to New Zealand in June because the All Blacks probably realise by now they will have to play ugly to win the series.
Sam Cane is not a dirty player. Let's just put that out there. He is one of the best tacklers in the world. He is the undisputed replacement for Richie McCaw and has been waiting to dominate on the world stage for several years.
I wouldn't be surprised if Cane was pulled aside last week by a defensive coach and shown the clip from Chicago when Henshaw carried him and Beauden Barrett over the tackle line.
I am not just imagining the sort of conversation that followed because I have experienced something very similar. That never happens again, right? You should have been controlling this contact. What you going to do about this, Sam? The coach doesn't give room for an answer. He lets the player draw his own conclusions.
I'd be certain enough that Cane wasn't the only All Black pulled aside. Malakai Fekitoa may have been shown a few instances where he was outclassed in Chicago.
Steve Hansen let his squad squirm through the week in Rome before conducting the Ireland review the following Monday, nine days on from Soldier Field, after they landed on Irish soil.
I presume Hansen, like all the great coaches, showed his players the moments when they were physically dominated by a side that finished third in the Six Nations. Maybe he even wondered aloud 'What you going to do about it?'
Then walked away.
The interpretation is left wide open, or very narrow as the case may be. Nobody suggested an Irish head be taken clean off but I know the message I would take, as a player, from the Chicago game if I was wearing a black jersey running into the Aviva stadium 14 days later.
I remember Joe Schmidt and Michael Chieka both highlighting my errors in a Monday morning review or with a quiet word during training (or just ball me out of it in front of everyone). I would be stressed out for the rest of that week. Coaches can make you feel you let your team, and thereby your country, down. The missed tackle or the mistake wouldn't be repeated in the next 80 minutes.
That's just a manager activating the personal pride of any professional.
When Cane took out Henshaw, Jaco Peyper instantly blew his whistle for a high tackle before going to the TMO (who saw something only Steve Hansen and the New Zealand media saw). Yet when Fekitoa's forearm was slung around Simon Zebo's head, Peyper only turned to his touch judge to confirm a high tackle and yellow card. Touch judge Ian Davies nodded in agreement after Peyper's statement/question. The TMO Jon Mason remained silent as far as we could hear from the ref link.
I'd say not long after kick-off Peyper knew he was in the firing line between the world's top two coaches. Mainly because Ireland showed they had the potential to win the game. He may or may not have realised he was being played, that he was a tactical tool to brutally ensure this did not happen.
He may have wondered: will I have to red card an All Black here?
All referees struggle in such an incredibly tense environments. That's why it is crucial all the match day officials – and there are seven of them, four of whom can directly influence events in real time and two who can fall back on multi-camera replays – work as a collective and protect each other, like any high functioning team.
That, clearly, was not the case.
The several Kiwi players I saw going over the top, literally and physically, were men who were outplayed in Chicago. It's very hard to quantify to an Irish person just how humiliating it was to play in the first All Black side to lose to Ireland. I have a fairly good idea having toured down there with Ireland and the Lions.
I feel Aaron Smith over played his hand and was a fraction off the tempo as a result. Several uncharacteristic passes skidded along the ground from the previously best scrumhalf in the world. Fekitoa was fantastic in both attack and defence but should have been sent off for the Zebo incident. So he shouldn't have been on the field to run in his decisive second try. The one-week suspension, for what it is worth, means he won't play in Paris.
When you go over the edge on a rugby field there should be consequences.
Now, Cane couldn't have pulled out of the Henshaw tackle, and Robbie did spin into him, but the duty of care is on the tackler.
That is not complaining, or being a sore loser - that's the rule of engagement in a game I played for 23 years. Scotty is right.  I did make plenty of tackles and understand the stakes. So does Cane, so does Fekitoa.
However, World Rugby last night stated that Cane's tackle, while high, was "accidental" and Fekitoa's while "reckless was not intentional." The governing body's clear message that a one week suspension for the centre is all these two incidents warranted, which strongly contradicts their edict on November 11th about the need for a stricter approach to remove the very same acts of dangerous play from the game.
The New Zealand post-match defence, led by Hansen - and their media after both players were cited - quickly changed the point of attack: Well, Johnny Sexton should have been cited for the high tackle on Barrett as he crossed for his try. That doesn't wash. Barrett was moving downwards to ground the ball. Henshaw and Zebo were both upright, moving forward. The Sexton tackle wasn't even referred to the citing commissioner.
I didn't see any cheap shots from New Zealand or Ireland. I saw a tough test match that boiled over, as can happen. Some of Hansen's post match language was spot on: rugby is a fluid, moving game.
But you are responsible for where your shoulder ends up. Some high collisions are not on the tackler. I felt CJ Stander dropped his head just before meeting Israel Dagg's body. It is very difficult for Dagg to do anything there. Cane had Henshaw lined up and when Robbie spins he couldn't pull out. Cane gambled, Henshaw was carried off. Nobody should profit from the circumstances that followed.
Now, could Ireland have won this game if all these uncontrollable incidents went their way? Maybe, if New Zealand were reduced to 14 men but let's not deal in 'what if' scenarios.
From the kick-off New Zealand unloaded a ferocious power game that within 2 minutes 40 seconds saw Barrett out-manoeuvring a solid Irish defence.
But the best compliment the All Blacks gave Ireland was by not playing to win. They looked more like they were trying not to lose. They were not the adventurous, invincible team we saw during the Rugby Championship.
Brodie Retallick was back in their midfield, where they usually use him to go out the back and unleash their intricate offloading attack.
There were plenty of opportunities to do this but more often than not they trucked it up, playing low risk rugby and inching over the gainline.
I think we got into their heads, again. When nothing but victory-at-all-costs becomes the mindset it makes for a narrow approach. They almost seemed relieved after Fekitoa's first try.
Ireland had opportunities to win but the essential accuracy, off set piece and basic handling, which allowed them rack up 40 points the last time, let them down. They know this and it gives them huge scope to improve before Australia.
Because if Ireland don't improve they won't beat Cheika's Wallabies.
That puts the lasting legacy from what should be a memorable November series back on the table this Saturday.
The main area for improvement down in Carton House this week will be timing. It was only a fraction off.
This comes down to the execution of a left footed kick that Andrew Trimble might perform 10 times in his entire career.
Look at all the open space in behind the New Zealand defence.
If the kick bounces up in that space Zebo goes under the posts. This is not on Trimble. There are probably one or two moments along the sequence of this attack where the ball could have got to him earlier to create space for an accurate kick into the space.
The attack off the Irish lineout just after Fekiota was sin-binned was a real missed opportunity. As my underage coach Steve Aboud used to always say: later is better than early. You can't take back those two steps.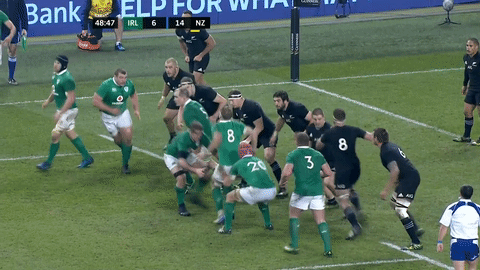 If Dev and Seanie get their timing correct, it's a certain try. They are a millisecond off because Seanie banked on the lineout move working in sequence and accelerated accordingly. Very fixable.
In Chicago this Josh van der Flier offload finds Trimble and 14-6 becomes 14-13 with 52 minutes on the clock.
Again, the smallest of margins decide the outcome of Ireland against the world champions.
Plenty of positives are coming out of November so far: Ireland are gathering strength in depth across every position, like never before, but the problem, as I see it, is some of the next men up remain in the embryonic stages of their careers.
Johnny Sexton is at the peak of his powers, whereas Paddy Jackson is still only 24 (Johnny's age when he finally broke into the Leinster and Ireland sides). Joey Carbery just turned 21. We must also consider Paddy did not arrive last Saturday to play alongside Robbie Henshaw and that these key figures are unavailable this weekend.
It does make the Wallaby game really important in terms of developing greater depth ahead of the Six Nations and on to Japan 2019 (especially regarding Pool seedings). This tour has also proved highly educational for the All Blacks after losing 818 caps since last year's world cup. They tend to learn, and evolve quicker than other nations.
The difference between this Ireland side and last year's version is how comfortable they are in possession but in order to bookend November with a performance comparable to Chicago they need to reproduce the same attacking accuracy.