Gordon D'Arcy: All Blacks will be bitter, Ireland must be better
It will be harder to beat New Zealand for a second time but it can be done
New Zealand captain Kieran Reid leads the Haka prior to kick-off in Chicago on November 5th. Photo: Phil Walter/Getty Images
Experience matters on Saturday, almost as much as confidence levels.
Besides Paul O'Connell, this is largely the same Ireland squad that Joe Schmidt compiled for last year's the World Cup. Also consider that Ultan Dillane, Iain Henderson and Donnacha Ryan have created a highly competitive scramble to partner Devin Toner. Or Rory Best as the winning captain in South Africa and then beating New Zealand.
A big point from Chicago was Ireland's ability to drain the All Blacks of confidence, which they rely on heavily to win tight matches. We made them play so much rugby - with and without the ball - until their normally flawless decision making became frayed.
Mental preparation becomes even more important this week, and New Zealand know this. Of course they are not even contemplating defeat.
"It wasn't Ireland's fault that we played bad." With that sentence Owen Franks told us all we need to know about their current psychological state. They have taken responsibility for losing in Soldier Field. They believe everything that went wrong is fixable: This is in our control.
The challenge for Ireland is to prove them wrong, replant the seed of doubt and watch as it grows.
That is where the mental battle lines have been drawn. One advantage is we have proof that the All Blacks cannot be insulated from human error.
It's an enormous task but, as I said last week, there is no place an Irish rugby player would rather be than 1-0 up on the best team in the world as they come up Lansdowne Road.
However, looking back at where the 40-29 game was won, and repeating the best moments, will not be enough to conquer the All Blacks twice in the same month.
But reaching the same, hugely encouraging, statistics is the base requirement: Ireland conceded four penalties to New Zealand's 12. We scored 12 points when Joe Moody was in the sin bin. We won eight scrums to just three from New Zealand, which indicates superior handling skills. Ireland's seven mauls to New Zealand's three caused damage that was transferred into points. Ireland also gobbled up three Dane Coles over-throws in the first half. The dominant set piece yielded three tries. Off that came the confidence to finish them off.
This is such a fickle head space but it is where an elite athlete exists.
Certain things are required for history to be reinforced: if we play the way they and most people expect it will become too hard to win. No, we must take risks to earn any rewards, like we did in Chicago. We must avoid carrying ball around the corner and into their big forwards. We must, as Conor Murray did so effectively, constantly change the point of attack.
Encouragingly, that approach was evident against Canada. Straight after Luke Marshall's try last Saturday he threw an intercept to gift DTH van der Merwe Canada's first score.
It was the correct idea, just poor execution. There was a five on two after Sean O'Brien caught the restart. We must attack New Zealand whenever the opportunity presents itself, and this may be from inside our own 22 when their wingers will be in the back field hoping that we kick. We had similar opportunities like this in Chicago but didn't go out the back.
It is about decision making. If Luke had avoided the skip pass and fixed the line by passing to Garry Ringrose, the four on one would have opened up.
These chances come against New Zealand. The players will have identified it on analysis. If such attacks break down New Zealand can score seven points, but once we decide to play the game this way we must have the courage to keep at it.
Later in the Canada match Tiernan O'Halloran did just that. If his offload stuck to Keith Earls a certain try down the short side would have been the reward.
Creating and taking these opportunities will put Ireland a long way down the road to beating New Zealand.
I don't believe they are a fitter team than Ireland so if we hold onto the ball at the right times, kick when it is needed and force them into errors with smart, disciplined defending the environment of doubt can be recreated.
So much of their game is built around creating quick ball to launch Julian Savea, Waisake Naholo or Ben Smith in outside channels.
In theory Anton Lienert-Brown, at just 21 and coming after Ma'a Nonu, Sonny Bill Williams and now Ryan Crotty should be a potential weakness. But he was a key figure during the Rugby Championship and in Rome last Saturday because of his ability to distribute on the gainline, either in contact or that vital moment before.
Against Italy two tries came off his instinctive reactions.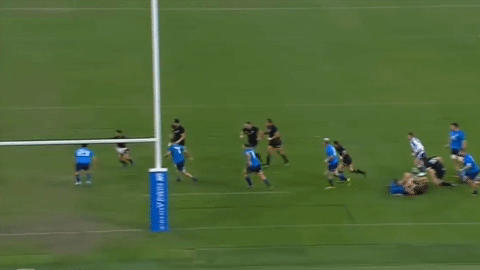 Against Ireland the All Blacks malfunctioned badly with Fekitoa and George Moala in midfield after Crotty went off injured. Fekitoa is a natural strike runner so with Lienert-Brown at 12 they look a more settled, dangerous midfield. The wingers also profit from his offloading ability.
Still, New Zealand's midfield is a forced selection. They have no more options, unless Steve Hansen promotes the 19-year-old wrecking ball Rieko Ioane. Lienert-Brown's offloading and footwork can open Ireland's defence but he hasn't played against a centre of Robbie Henshaw's quality. Put him and the rest under enough pressure, via line speed, and they are all susceptible to error.
They all are.
Dane Coles must have some lingering doubt after Chicago. His body language before throwing in the ball was noticeably shaky. Imagine where his mind will wander if Dev Toner gets up in front of Brodie Retallick and steals his first throw?
What we do know with certainty is New Zealand will be better on Saturday. I believe Ireland can maintain the standard that saw them win for the first time. Unfortunately, I don't think we will get the opportunities to reach 40 points again and we probably need to be better than that to send the All Blacks to ParIs with another defeat.
Such a scenario is unthinkable to them. Unless we plant these thoughts in their brain. That only comes from rattling their confidence. It will be harder to do a second time but it can be done.
The Ireland group under Schmidt has proven they have the ability to improve from November to Six Nations to summer tour. We saw it in how we finished off the 2014 Six Nations in Paris after being unable to do so against the All Blacks the previous November. Most encouraging of all, we saw it in how the team performed in the second and third tests in South Africa last June. Yes, they lost both games but the regret only comes with the manner in which they were beaten. They will feel they should have won that series 2-1, possibly even 3-0.
The end game failings in those matches were not evident in Chicago.
Now Ireland must target the crucial third quarter - because that is when the All Blacks always run in tries. Stopping that means denying them possession. Do that and we have ourselves a grandstand finish.
That scenario would make the All Blacks seem very human indeed.
Get to that moment and it comes down to confidence, to experience. Not all these All Blacks played in the World Cup final and the players who did were able to lean on inspirational acts from Dan Carter, Nonu, Sonny Bill and Richie McCaw.
This entire Irish squad have learned from the June series, when the Springboks tried and failed to steamroll them. That's because they have been adhering to the same messages for three seasons.
We know the Irish players want to play for Joe. Rob Kearney's performance the last day showed us that. Getting up over Ben Smith after that restart at 15-8 was a perfect example of the type of inspirational acts that will be needed again, and again.
That sent a rush of adrenaline through the Irish team, and the crowd.
After that wave of confidence you automatically go back to the processes.
But this victory cannot come from normal means. A solid set piece, the Conor Murray box kick, a ravenous line chase, solid defence - while all necessary - will not be enough.
We must attack them at every opportunity, be it in open play or the lineout maul.
Counter punches must be landed in every period of the game. Match them score for score until they break.
They will come out to play their devastatingly best rugby. We must wear them down. Bring them to a place they are unfamiliar - the dark hole that was November 2013, the disorganisation they fell into in Chicago. Bring them down a road less travelled and they are just like the rest of us.
They will probably prove they are not, that they are special. If they remind everyone why they are the best rugby nation on the planet, well, Dublin can only applaud.
But I think we will be in this game to the finish.
Clips courtesy of Sky Sports and Eir Sports