Victory over the Crusaders would have emboldened the Lions, and the Maori scalp should convince them a Northern Hemisphere approach to rugby can overcome the All Blacks in New Zealand.
The "All Blacks" is a persona they created for themselves. This is the New Zealand national rugby team, made up of men, just men. When we were turning the tide at Leinster against perceived greats of European rugby, we always played against the man not the jersey.
History shows us a test series of this magnitude could be decided in the opening exchanges.
The contest, perhaps unfairly, starts with the haka. The access to such a motivational war dance is why I found it interesting that Maro Itoje and Kyle Sinckler were hammered for aggressively celebrating, hurling-style, the awarding of a late penalty against the Blues.
Different cultures psyched themselves up in different ways.
What happens from the start at Eden Park on Saturday, I feel, could prove decisive.
That's what I believe happened in Durban in 2009. Three hard carries off a fifth minute scrum by Ruan Pienaar, Juan Smith and John Smit led to a converted try.
The Lions never recovered. South Africa threw everything at them from kick-off. Had they been able to withstand the psychological and emotional pressure, had the defence held firm, I believe the series may have gone another way.
Same happened in 2005. It took Ali Williams 23 minutes to power over the whitewash after a malfunctioning lineout. New Zealand had been relentless.
The Lions never recovered.
Unwavering belief
The New Zealand mantra is to be better at what they are going to do than what you are going to do. They back themselves with unwavering belief.
Now, can this be their undoing?
When Plan A is so good, when it almost always works, it becomes increasingly difficult to practice Plan B.
I was really interested to see New Zealand play Samoa a full 24 hours earlier than the Lions faced the Maori. The reason can be put down to TV but to any coach or player that's a marginal gain.
Steve Hansen wants to use every advantage at his disposal, he wants to win the series by game two and then unleash the hounds. Every coach – they would never outwardly say this – knows that losing is a possibility; an extra day to recover and prepare lessens that chance.
It was there to be taken so they took it.
Imagine the reaction, the ridiculous pressure New Zealand will come under if they lose the first Test? That unpractised Plan B will need dusting off.
So, understandably, a psychological war has been brewing for some time now.
While it makes for excellent viewing and reading, I find it hard to believe that Hansen is as relaxed as he is trying to come across.
Maybe he is starting to feel the heat a little bit and that is clouding his normally composed public utterances in contrast to Graham Henry in 2005. Maybe the Kiwi coaching the other team has him revved up.
Gatland is no saint, remember.
Parallel legacies
Looking at the pair of them alone, as their parallel legacies intertwine, we know that Hansen's tenure will be tarnished or enhanced by these games and he will be judged against Gatland, the other Kiwi coach operating at the elite end of world rugby, so maybe that's playing in the back of his mind.
Only time will tell. Either way, there's a lot of peacocking going on.
What difference does a slow start really make in a Test match?
Sometimes none at all, sometimes it is the only chance you get.
Playing New Zealand in Auckland, like the first tests in 2005 and 2009, the opening exchanges could prove the rock the Lions are smashed upon.
Herein lies the ruse; both teams will invest so much in this opening period that they are equally vulnerable to a counter punch. Had the Lions weathered the storm in 2005, wrestled the game back to their tempo and eked out some Jonny Wilkinson points, would the All Blacks have shown the resolve to come back? The Lions would probably have lost with their chin held high, which, in the grand scale of what and who we were playing, would have been a half decent outcome.
But New Zealand are not the team today that they were in 2005. Beauden Barrett is not Dan Carter. Canterbury and Matt Todd recently provided the blueprint for shutting Barrett down. The Lions game managers – Sexton, Farrell, Murray – I believe for once are a step above their counterparts.
They have settled into a hybrid Warrenball/Saracens, traditional northern hemisphere approach. It's an 80-minute game; arm wrestling built upon a well-drilled drive and quick rucks. The error count is still stacking up and could prove their undoing.
Launching Ben Te'o off lineout ball is a key ploy to damage New Zealand.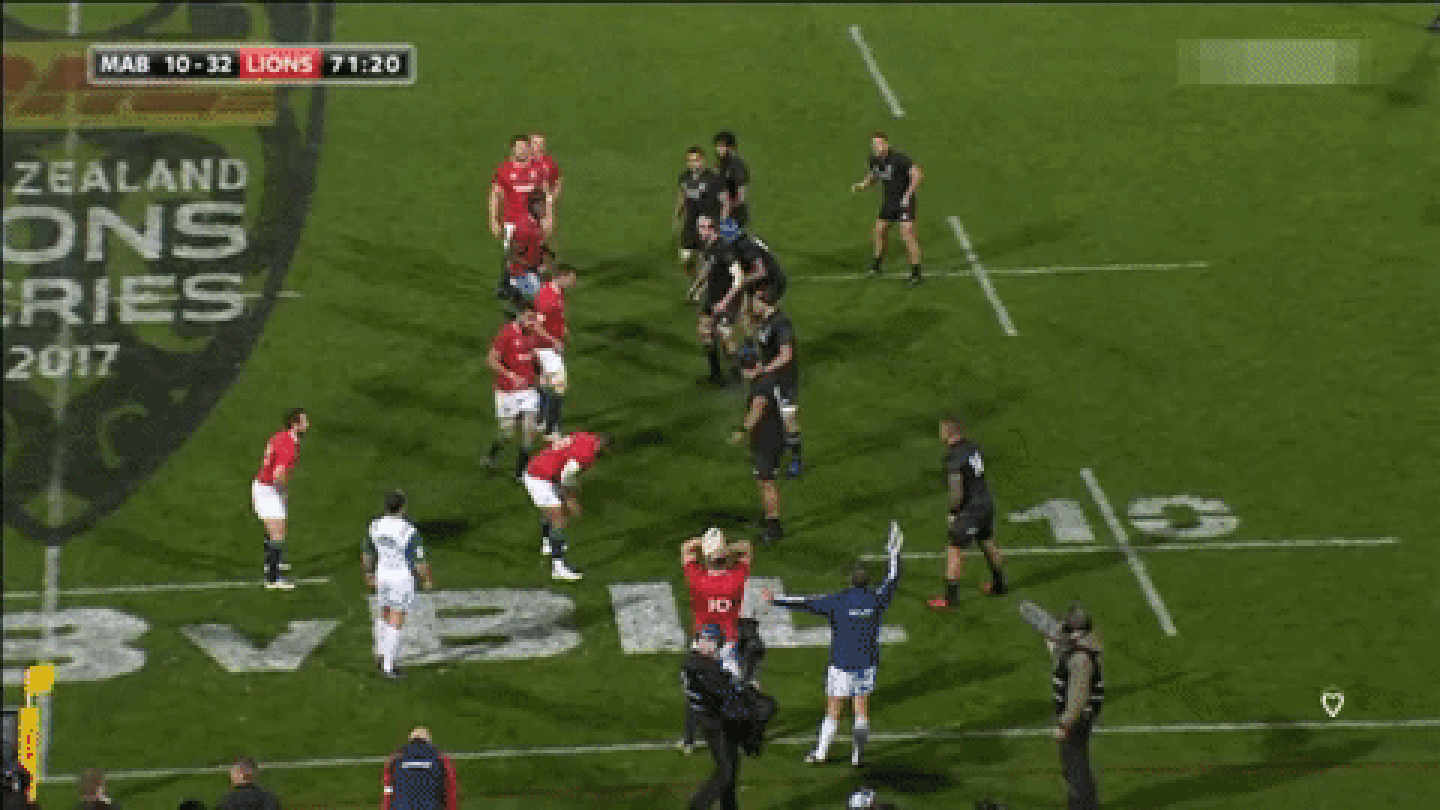 Individual battles
This brings us to the larger question; how do you beat the All Blacks over three Tests? Is it even possible? Win the individual battles and the black-clad rugby players look like ordinary men. Take away the shield of the collective and beat them one at a time. Be warned, the collective is extremely strong, like the Greek phalanx almost impenetrable, until you find a chink and it comes apart.
We got an insight into this approach against the Crusaders when Maro Itoje, George Kruis and Alun Wyn Jones proved more than equals to their All Black tight five. When the Lions matched them they had to worry about their own jobs and the Crusader magic never materialised. That is traditionally a trait of successful New Zealand teams in that they don't have to overcommit in defence, so weaknesses are harder to find because they trust their systems.
Suddenly, you're no longer playing against a team but the All Blacks and that manic-focus. Only one outcome then; offloads galore and 40 points on the scoreboard before the Lions can draw breath.
Gatland still has some massive decisions to make. I think Robbie Henshaw has done enough to start at 13 but starting tomorrow is a bad sign. Jonathan Davies will probably get the nod with Elliot Daly on the bench.
For all the criticism about Gatland's own goal for pulling in secondary players from touring Scotland and Wales squads, I'd love to see how New Zealand would fair at this stage if this was a northern hemisphere tour. Going to play Toulon at this stage with the Lions four days later? They'd be pulling in Kiwis from all parts of Europe.
Gatland's right in saying all that matters, all that will be remembered, is the test series.