Emma Tormey (27) has lived in Darndale all her life. "It's a kip," she says. "There's robbed cars every night, they're racing their bikes up and down the roads, and as soon as you walk out, there's rubbish everywhere. I'd love to get out of here."
The area, 9km from the city centre, is the most disadvantaged area in Dublin, according to Pobal.
I done a load of courses – forklifting, warehouse work – and had good jobs, but then the drugs came along
Sitting outside Di Lucia's cafe in Belcamp – where a cup of tea is €1.50, a coffee €2 and a kebab, chips and can of soft drink is €5.50 – she and friend Stephen Brazil (38) describe life.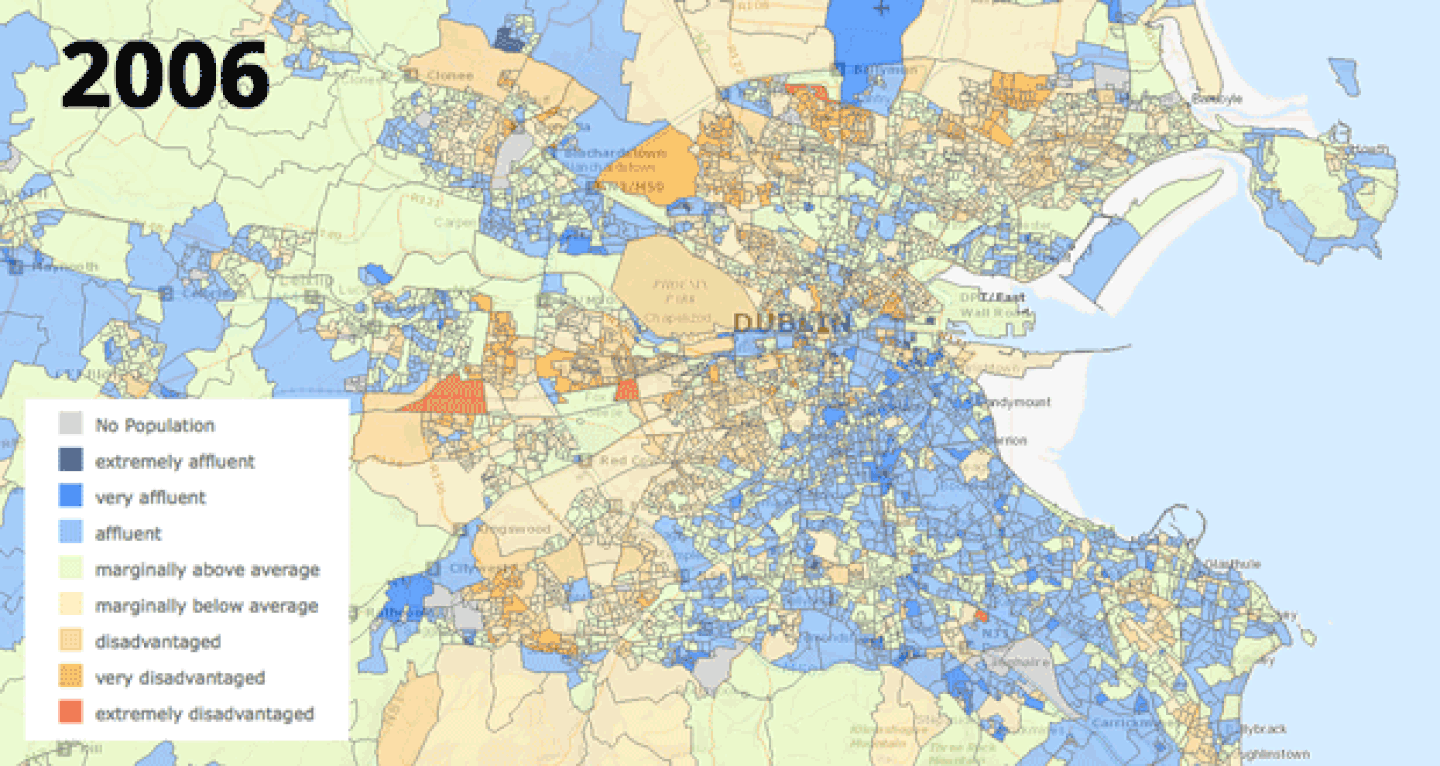 "I'm from here. I left school at 15," says Stephen. "It was just one of those things. Everyone was leaving, all starting Anco [forerunner of Fás and Intreo] courses. The idea of college wasn't really put in front of you. I done a load of courses – forklifting, warehouse work – and had good jobs, but then the drugs came along."
Recovering addicts
Though homeless and living in a hostel in the city centre, he is attending a course in the Dales Centre, a facility for recovering addicts, in Priorswood and hoping to come fully off methadone in the next year.
Emma spent a year homeless and living in a B&B with her two children, aged seven and 10, until earlier this year. Also attending the Dales Centre, she says she loves it and would "love to study hair and make-up" when she is ready.
"People are as happy as they can be," she says. "There's a great community here and people help each other. But there's a lot of poverty, mental health is a problem, suicides. It's hard."
A 20-minute drive away finds friends Karen Keating, Elizabeth Moore, Pansy Power and Aileen Mulhern playing croquet in Ballsbridge – the residential area adjacent to the most affluent area in the State. The croquet lawn is next to Lolly and Cooks cafe in Herbert Park, where tea is about €2.40, coffee about €3.50 and a glass of prosecco €7.
'Fabulous restaurants'
"This park is lovely," says Karen, who has lived in nearby Ranelagh for 27 years. "There's tennis, football and bowling as well as croquet. There are fabulous restaurants and cafes, and lots of buses, though you can walk into town easily."
The knitting and stitching show is this weekend and they often have art at the weekends. I am very interested in art
St Stephen's Green is 3km away.
Nearby Donnybrook, says Pansy, " is very vibrant, and very wealthy. But for me the RDS is the hub. There's's always something going on. The knitting and stitching show is this weekend and they often have art at the weekends. I am very interested in art."
Asked if there was more Government could do for the area, Karen says: "I never see a policeman on the street. If I see one I ask, 'Are you lost?' Overall though, yes, it is a good place to live."