Gordon D'Arcy: Forget the jersey and play the game . . . every last second of it
The one that got away - The pain of that All Blacks defeat in 2013 still lingers, still rankles
'It was a horrible feeling afterwards. Worst changing room I have ever been in. And I've been in some dark rooms.' Photograph: James Crombie/Inpho
November 24th, 2013. Watching it again, last Monday afternoon, all the same memories came flooding back. Stunned. This shouldn't have happened. We did everything we were supposed to do, until we didn't. We beat them, for 79 minutes and 40 seconds. Played one of the games of my life. So did the other lads. Fought for every ball Ireland needed. Every scrap of possession. Defended every gainline where the All Blacks needed stopping.
For 79:40.
Then, due to a combination of mental and physical fatigue, came some bad decisions under the most extreme pressure. We started over-committing to rucks. One, two men too many.
Lesson: unless it is a Gold Ruck – when you go in and find a pot of gold by either slowing ball, grabbing the scrumhalf when he picks or stealing it entirely – New Zealand will make you pay.
For 95 per cent of the game we did everything the right way. Even clawed our way back into the game when they got within a score. Won a penalty that went inches wide. No matter. We didn't fade.
But the All Blacks stayed the same. They always do.
It was a horrible feeling afterwards. Worst changing room I have ever been in. And I've been in some dark rooms. When you are a teenager and lose a junior cup game you think your world is over. Of course it isn't. You just haven't experienced anything like it before. Training all year. Lose in the first round.
Done.
It isn't fair, you cry, why did this happen?
Because they won Gordon.
But why? It takes a while to compute, to emotionally digest.
Losing never got easier – it is a fear that constantly drove me on.
Michael Cheika used to say he hated losing more than he loved winning.
Choice: push through mental and physical torture or have to live with the loss. I always chose the former.
When I was young rugby meant everything to me.
I was 33 when I last played The All Blacks. By then I had a healthy lifestyle away from the game. But this felt worse.
I know why.
Losing at 15 you begin to realise that bad things will happen in life. But you always got another chance, another season.
Losing that game to New Zealand I understood what older players had been saying to me for years: some day we must stop playing the child's game.
My rugby mortality came crashing down around me when Aaron Cruden split the posts on his second attempt; 19-0 had become 22-24.
Gone: I will never again influence the result of Ireland versus New Zealand. Seven goes and I will never beat them.
The All Black merry-go-round was over. There was no guarantee I would be playing in a World Cup quarter-final or final against them so November 2016 would be the next time Ireland faced the haka. I'd be 36. Sporting mortality well confirmed.
Because of what we did that day, how we played, standing by those posts was awfully lonely. Even in a packed stadium of 50-odd thousand. You do feed off the crowd, after a tackle or half-break, their response gives you a rush of adrenaline. You win and lose as a team, I know this to be true, but at the end of that game I was all alone with the thoughts inside my head, mostly helplessness.
The pain of that defeat will forever linger. Hopefully it can be eased for Rob or Johnny or Jamie or Dev or Jack, survivors from the game who get another opportunity to eventually beat New Zealand.
Aw, it wasn't supposed to end like this.
Now, in many ways it was a catalyst for what followed – back-to-back Six Nations titles and staying in the moment as a collective when the tension and ferocity of a Test match was at its peak. In Paris and elsewhere.
Regret: imagine what we could have done with the confidence gained from beating them? There was at least one Grand Slam on offer. Ifs and Ands.
We move on yet glance back to learn.
With 79:30 on the clock Ireland are in control. I still can't help but think: 'Maybe we didn't lose.'
Even after the penalty against Jack McGrath (Jack almost saved us at the very end), for players repeatedly going off their feet, Nigel Owens pulled Richie McCaw back for the quick tap. They are on their own 10-metre line. They'll kick for touch and we'll defend the set piece.
Of course the Kiwi mentality doesn't work that way. They only need a glimmer of opportunity. Even knowing our defence would be organised Aaron Smith taps and feeds Ben Smith. Within an instant Kieran Read has them over halfway...
Joe has addressed the system errors from these last passages of play.
Different players made mistakes at crucial moments (including the All Blacks) – my most glaring error being a knock-on about 10 metres from their try line with 39:41 on the clock.
I desperately tried to dive on the ball, to re-gather possession, but it bobbled up for Israel Dagg who passed to Cory Jane who booted it over halfway.
When I leaped up play had shifted 55 metres down field. The Kearney brothers scrambled brilliantly but Johnny Sexton had had enough.
Touch. Half-time and we led 22-7. Could have been 29-7 or even 25-7.
I imagine a score at this moment significantly alters the conversation in both changing rooms; Ireland going in with exceptional belief while New Zealand trying to banish so many negative thoughts.
Again, Ifs and Ands. Three scores down would have been a new situation for them. It so easily could have changed the scoreboard to 22-14.
Every mistake matters against New Zealand. Just see how they secured their record 18 match winning run against Australia the other week.
With 53 minutes on the clock, the Wallabies are trailing by five points having just had a legitimate try disallowed.
Suddenly Ryan Crotty makes a mistake. They do happen. The ball spills from Crotty's grasp. Michael Hooper feeds Nick Phipps, whose low percentage offload slips from Henry Speight's grasp just outside New Zealand's 22. Ben Smith gathers and 10 seconds later Julian Savea is under the Wallaby posts. Game over.
That's what they do.
Back in 2013 I was ready. It was my last chance to beat them. I had lost six times. Twice down there – Hamilton in 2006 and that Dan Carter drop goal in June 2012 – were agonisingly close games.
The second Test in Christchurch, when we lost 22-19, was as good a chance as any Irish team will ever have to win down there. In the 76th minute, the score was 19-19, and Owens gave them a scrum penalty on their five-metre line despite the scrum turning almost 360 degrees on their put-in.
"That is not the straight wheel, you are running it around," said Nigel as our forwards rose in disgust. They had just pumped the New Zealand scrum and won Ireland the Test match. Think again.
McCaw was still getting away with whatever he liked. He swam into the middle of our maul after seven minutes, thereby ruining the drive and getting dragged out by Seanie O'Brien and Mike Ross, right in front of Owens.
"Play on."
At least the McCaw aura is gone.
We matched the All Blacks that night but were reminded on that tour – especially the third Test – how everything must be done to perfection against them.
To over-commit to rucks means space will be exploited elsewhere within seconds. Usually space where Savea or Ben Smith are running at pace.
We knew this come November 2013. We denied them this space for 79 minutes and 40 seconds.
That week the world had been lifted off my shoulders. Luke Marshall and Robbie Henshaw were coming through. I knew I was playing against Samoa and Luke against Australia with the 12 jersey up for grabs for New Zealand. Joe gave me my last chance.
Nobody saw this performance coming because we looked woeful against the Australia. Remember though the Wallabies had been caught out on the beer that Tuesday. I'm sure a good few of them were told it would be their last game in the jersey. That's how they played.
We parked it immediately. The All Blacks focus the mind like no other opponent. Uncluttered mind: I don't have to do anything special, but I can do everything I do well.
I am going to build on the type of inside centre I had become since the Six Nations; a nuisance, disrupting breakdowns, not missing a single tackle, counter rucking every man I put down. Forcing bodies into rucks. Eyes up, no penalties.
As the clock strikes 81:00, Seán Cronin makes a tackle on Liam Messam that deserves to win any Test match. Aaron Smith throws his first terrible pass. It bounces to the edge of the 22 where Ma'a Nonu gathers and charges outside me.
Earlier in the week I knew I needed a big flanker to practice the exact tackle technique I would have to perform all day. Kev McLaughlin provided the ideal body down in Carton House: avoid the fend, hit low and hard at speed.
Jack's body position over Nonu and the ball is perfect but the Owen Franks clean-out wins New Zealand the game: Quick ball and in one of several examples in those frantic last few seconds Irish players are instinctively leaning into a ruck when they needed to be spreading out to deny a four on three.
Unless it is a Gold Ruck, don't go in. Give the All Blacks a numerical advantage and five points can be marked down.
Why? Rugby is all consuming within their culture. That's how they can play the game at such a ferocious pace.
You may presume Crotty is wearing number 12 jersey for New Zealand at the moment because Nonu joined Toulon and Sonny Bill Williams is injured but, actually, it is because he has risen above 100 or so adult centres with the same skill-set who were born in New Zealand around the same time.
It's about making good decisions, in tune with team-mates, under the heaviest pressure.
The four All Blacks faced by three Irish defenders instinctively knew what to do. Cruden skipped Read, Dane Coles carried and offloaded for Crotty. Automatically in-sync.
That try was scored at the ruck.
Coles even throws a dummy. He had been in that situation hundreds of times before. Best hooker in New Zealand (so probably the world), at the time he was third choice but rising, fast.
This goes back to the process needed to beat them. If the Ireland defence does what it did for 80 minutes, not 79:40, we win in 2013. No half commitments to the breakdown when defenders are needed elsewhere.
Deny them a numerical advantage to showcase their superior skill-set and mistakes will follow. Take away space and their decision making will be as vulnerable as anyone's.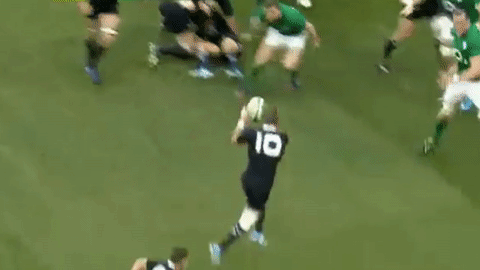 Another key defensive ploy must see Irish defenders clog up the offload channel. New Zealand pull away from teams when the opposition makes a mistake or an offload goes to hand.
Or both.
When we started overloading at rucks, as the clock struck 80, New Zealand players began to offload like they were playing in their back garden.
Lo and behold in the 81st minute Read throws an offload inside to Ben Smith, his second touch in the play, and they looked like the All Blacks.
For 95 per cent of that game we were not dimmed by their aura. Bad judgements in the face of incredible pressure told. They knew it was their last chance so they went for it.
But there is a template to beating them.
Forget the jersey. Play the game