Gordon D'Arcy: Joey Carbery a perfect Leinster leader for next generation
Graham Henry agrees that there's no need to worry about finding a replacement for Johnny Sexton
Leinster's Joey Carbery: the Glasgow game was only his third cap for Leinster, but now he knows what he can and cannot get away with. Photograph: Billy Stickland/Inpho
Rarely do I want to talk rugby, never mind seek someone out to chat specifically about it. I loved playing for 23 years, I now enjoy writing about it, but as a conversation starter, it's just not my thing.
Graham Henry's visit to Dublin made a hypocrite of me and I don't care. On hearing he was coming for a fortnight in August, I sent Mick Dawson a text. During 17 years at Leinster I always got on with our chief executive. Sure enough, Mick invited me to a barbecue in his house.
We had a great evening. Plenty of stuff can't be written but Henry was clearly here to advise Leo Cullen, at Leo's request, before this young coaching team embarked on a second season in charge of one of the biggest clubs in Europe. A club that still has the primary aim of capturing a fourth European title.
One thing I can tell you is that Henry believes there is no need to worry about finding an outhalf after Johnny Sexton. Joey Carbery can do that job for the next 10 years, he told us.
It is so easy to see. Carbery plays flat at the line, he carries ball to the edge, but it is how he does this that makes him such a special prospect.
Let's examine that via the pass he flung out against Glasgow to create Tommy Seymour's intercept try in round two of the Guinness Pro12.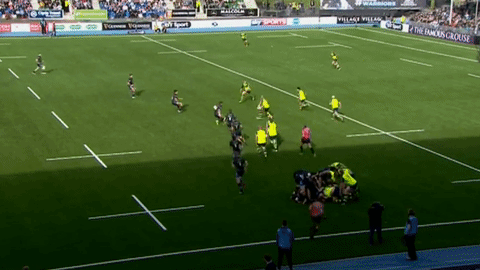 I had no problem with this happening. Certainly not at this stage of the season or this moment in Carbery's fledgling career. It wouldn't have occurred last season because Leinster were not attacking from that position.
All I thought was: brilliant, we are running the ball again from a scrum near our 22 because that's where Leinster scored plenty of tries when Felipe Contepomi was the resident 10.
There is plenty Carbery can take out of this moment. See the way he keeps his head up and body open, making it hard for defenders to know what he is going to do? More importantly, his movement allows him to pass left or right, throw a big skip, kick through or carry into contact.
Had he ripped that pass, skipped Rob Kearney and gone over the top to Zane Kirchner, a two-on-one was immediately created as Seymour was in no man's land. The last defender was Stuart Hogg, a fullback 75 metres from his own line, so the try was on. Or Rob runs a tighter line and gets a pass away to Kirchner. Again, Leinster would find themselves in a try-scoring position from miles out.
Development
The point is that Carbery plays what's in front of him. The problem is that he's doing it, understandably, at AIL pace, having led Clontarf to the title last season. Glasgow was only his third cap for Leinster but now he knows what he can and cannot get away with.
Next time I don't see him throwing an intercept.
What Carbery lacks is the overall picture. He is still only 20 but now, more than ever, he needs serious tactical development.
Maybe Joe [Schmidt] can help. Maybe he will be exposed to Carton House in November, like Garry Ringrose, Robbie Henshaw and Stuart Olding were at his age, although I feel Leinster will need him during those crucial weeks. In the meantime, maybe Emmet Farrell could tuck him under his wing.
Farrell is a staff member, the performance analyst since 2003, so people might have forgotten his years as a pro rugby player. A gifted and controlled schoolboy outhalf, Emmie played on three Blackrock senior cup teams and was capped at every grade up the ranks to Ireland A. He was shaping into a viable alternative to Ronan O'Gara until injury slowed his progress.
Mike Brewer had no problem lifting him from Leinster when he took over at West Hartlepool, where Farrell played fullback before those same injuries accelerated his retirement from the game.
I played with Emmie. When you talk about rugby intellect he was streets ahead of everybody on the pitch. Intuitively he would do something and the rest of us just weren't on his wavelength to profit.
It's just an idea but Carbery is made of the same stuff I saw in Farrell.
Most outhalves around these parts are too mechanical. When they want to go wide, they catch the ball standing and throw out a 40-yard pass.
It is incredibly hard to get your timing off somebody passing the ball while standing still.
When Carbery attacks the line he keeps all options live, be it the front door, back door or any sort of kick he wants.
It should be noted that Leinster got lucky. Carbery was barely mapped a year ago and was fourth choice outhalf, at best, last season. At youths level he was a scrumhalf. When he went to Blackrock for sixth year, he played fullback.
No one knew Brian could be an outside centre until he was selected at 12 for Leinster schools or that I could do a job at inside centre until Gary Ella picked me at 13 in 2004 (and only because Brian tweaked his hamstring). Sometimes we have blinkers on so miss what is right beside us.
Paddy Jackson is 24 now and beginning to develop that all-round control but he's not as naturally composed as Carbery in the face of defenders.
Aaron Cruden always had it, Beauden Barrett is dominating at the moment.
This will be a major challenge for Irish teams this season: the ability to recognise when an opportunity presents itself, to create and manipulate space against heavier European packs.
It is happening. We saw replica tries over the weekend when outhalves tried to sling-shot the blind winger off a setpiece: Dane Haylett-Petty's try for the Wallabies against Argentina was the same as Cian Bohane's fortunate touch-down for Munster away to the Dragons and despite Connacht's desperate start to the season, they did provide a reminder of their excellence off clean set play in the postponed Zebre match.
Leinster, under Joe Schmidt, used that play numerous times.
The alternative is lads tucking the ball under their arm with the mentality that they have to make yardage despite the space being so obviously elsewhere. The right decision-makers in central positions must know when to pass, when to run and when to kick. And understand why they are doing it.
If a team creates a four-on-four in rugby these days, it is a good opportunity. The skill is finding the mismatch.
Sensational
Watching Argentina versus New Zealand the other week, at 51 minutes it was 24-22 and I thought: if the Pumas keep this up the All Blacks are in trouble. It's a long time since I've seen Kiwi forwards with hands on knees, inspecting the rucks. They looked too tired to move. This could be the moment Argentinian rugby tells the world they are a permanent force in the game, I thought.
Instead, Barrett announced himself as the best outhalf on the planet. The ball squirts out of the New Zealand ruck and Barrett scoops it up and goes on a mazy run into the 22. He then pops it to Jerome Kaino who makes more yardage. TJ Perenara fires a pass to Barrett, acrobatically escaping the ruck to not only regain his feet but line up an Argentinian lock to run at and step past. His offload to Ryan Crotty guarantees a sensational try.
Flick to 63 minutes and it is New Zealand 43-22 Argentina.
Whoever Warren Gatland chooses as the Lions attack coach will be crucial to avoiding a whitewash next summer. The Lions tried to overpower New Zealand in 2005 and got destroyed. That whole adventure is for another column or three but Barrett is the new standard for Carbery and every other number 10 to aim towards.
What else has changed at my old club? Before Henry departed, Leinster knew the season could not begin without an experienced coaching voice, especially after Kurt McQuilkin's unfortunate departure.
I think Stuart Lancaster has made a very smart move to come in as the "senior coach" under Leo. It's a win-win for everyone as he attempts to resurrect his career. He's back in the game at a seriously ambitious club but coming in as the number two also shows a lack of ego.
Not too many coaches recover from being sacked as a national head coach. Look at Matt Williams after Scotland. Eddie O'Sullivan after Ireland.
But Lancaster, at 46, is still a young coach.
The last 5 per cent of his time coaching England was where it all fell apart. He made decisions to bring players to the Rugby World Cup that he hoped would deliver for him. He was trying to find a 12-13 combination that worked. Sam Burgess didn't work.
It was a ballsy decision to leave Manu Tuilagi at home. If he had his time over again, would he make the same call? Would he say: "Okay, I have disciplinary rules for 99 per cent of you but I need Tuilagi so I am going to create another rule for him?"
Michael Cheika did this. Cheiks tore up the Wallabies' policy on selecting players based in Europe, so he could pick Matt Giteau, Drew Mitchell and Kane Douglas. Sure enough, they won at Twickenham by carving up the English midfield before reaching the World Cup final.
Life isn't always fair.
I see one clear reason why Stuart Lancaster can be good for Leo Cullen. Five years ago Lancaster was where Leo is right now. He got the England job – arguably the roughest, most pressured position in world rugby – after just two seasons as Leeds Carnegie director of rugby where he guided them into the Premiership and then promptly back out again.
After that Lancaster took over the RFU academy and eventually became Saxons coach.
Then the top job fell in his lap after Martin Johnson was unable to transfer peerless leadership as a player when winning the 2003 World Cup into being a successful England head coach at the 2011 tournament.
Perhaps that came too soon for Johnson. It was a bigger step-up than Leo's but a similar predicament: both lack experience and technical expertise.
Leo is more in the Johnson coaching mould than Lancaster so there is a mentoring role to be done. Leinster need that now more than ever.
England players who have worked with Lancaster tell me that attack is his main strength as a coach. He has signed on for nine months, so in that time Girvan Dempsey can definitely learn from him.
Challenges
The steep learning curve Leo and Girv face is not unlike leaving professional rugby to work in an investment firm. It's a massive transition. But rugby players crave challenges. It's how you survive in the game.
I talked to Isa Nacewa before Joe arrived in 2010 because he was coached by him in Auckland. Isa said good things but he barely recognised the coach that showed up in Dublin that summer. Clermont helped to turn Joe Schmidt into a ruthless coach.
All coaches need to make that transition. Only a few guys who played with Leo, Girv and John Fogarty are being coached by them today. So the majority of this Leinster squad see coaches. Not friends or former teammates.
We know a long, hard road lies ahead for the provinces, but those in charge are no fools. They know the magnitude of the challenges that are coming. Maybe they will get lucky and discover another gem or two along the way. Like Leinster have with Carbery.