The Aviva stadium last Saturday allowed us examine the current state of both Leinster and Munster. It proved a very educational 80 minutes.
The former find themselves on an upward trajectory, hardly polished but certainly improving, while the latter are facing a daunting Champions Cup campaign, starting in Paris on Sunday, despite Rassie Erasmus clearly only bedding in new structures.
There are obvious issues around Munster's frontline quality and what looks a chronic lack of depth in several positions. The Bundee Aki and Ultan Dillane rumours certainly make sense if the IRFU want Munster to become a serious European contender again.
Leinster, in contrast, appear primed for the season ahead.
I think Robbie Henshaw and Garry Ringrose as the Ireland centre pairing will eventually happen but it should not be written in stone for November. Not until we see how they go against Castres and Montpellier.
They both had individually superb games, rather than as a partnership, but there is definitely an understanding growing between them.
It wasn't the type of game where the subtleties of a centre partnership were needed. That will be needed when the stakes are higher.
Henshaw's physicality was incredible considering this was his first game of the season. Ringrose is clearly where he belongs.
In a fortnight we can have a more transparent conversation about the Ireland XV that will face the All Blacks. If the Sexton-Henshaw-Ringrose midfield clicks then great but if not, it doesn't matter. Ringrose can be eased into the Ireland team against Canada and be ready come the Six Nations.
Joe has never had a problem backing young guys, giving them the confidence to play at the highest level. Just see the rise of Robbie or Josh van der Flier's growth since he was capped.
Ringrose wasn't physically ready for test rugby last season but he is now. You see it by how quickly he bounced off the ground after contact and how difficult he was to tackle as well.
Another difference from last season was seen in Henshaw's kick leading up to Jamison Gibson-Park's try. He displayed all the hallmarks of a second five eight.
Also consider it happened after 67 minutes and Robbie had not played rugby since June. Just before Jamie Heaslip receives the ball near the Munster ten metre line I could see Henshaw working hard to get into a deep position as second receiver.
I know there was good communication, micro-chatter, because Jamie passed straight away. That pass brought up the openside Munster winger which created the space for Henshaw to put the ball behind the Munster line, near the try line. The weight of the chip is decent but a kick is only as good as the chase. Henshaw and Rory O'Loughlin did their jobs.
I pointed out last week how a comprehensive victory for one of these sides is potentially bad for Irish rugby because we need them to be competitive. Still, positives for Munster could be found in Tyler Bleyendaal's play and their maul for Peter O'Mahony's early try.
As soon as Bleyendaal is gone from first receiver they struggle. They have a really good shape until the fourth phase when the automatic decision becomes ball under arm and one off carries.
This is precisely what Racing hope they will do on Sunday.
Coming into this match Leinster would have asked themselves: how do we stop Munster? At the moment the answer is: put CJ Stander on the ground early and deny Conor Murray any influence.
When Mike Ford was Ireland defence coach from 2002-2006 he made it very clear who we needed to negate to beat England: put Lawrence Dallaglio or Nick Easter on the ground early and hinder Matt Dawson at every turn.
At least when Jack O'Donoghue came on Munster had a second ball carrier but this is not going to be an easy fix. If Bleyendaal is not calling the shots in attack there are problems.
Stander carried really well, and made a statement of intent early on, but he also told Leinster's defence exactly what he was going to do.
And Steve Hansen says it best: "You get all your options from the opposition."
At the first opportunity CJ ran straight at Heaslip, ignoring a three-on-two scenario out wide. I understand why. There's my opposite number, the Ireland number eight, I'll lay down a marker. But Jamie controlled the collision and put Stander down.
Racing backrowers Chris Masoe or Yannick Nyanga, different animals altogether, will drive Stander backwards and into the dirt.
Same happened with Keith Earls in the 14th minute. Despite the three-on-two, again, Earls looked up and saw Ringrose so he tucked the ball under his arm - ending all other options - and ran straight at his opposite number. Ringrose tackled well and Henshaw slowed ball long enough for Jordi Murphy to drive Stander backwards and into the dirt.
The Racing 92 defence coach will be licking his lips.
The French champions are hardly infallible. They are currently struggling to cope with their own success. Many teams crumble under the weight of it while others, like the current All Blacks, go to a different level. Without Dan Carter, or rather with Remi Tales at outhalf, Racing are simply not the team that won the Top 14. Not even close.
Tales or Carter won't matter if Munster adopt the same tactics we saw against Leinster. Seeking repeated and direct contact with international forwards like Masoe, Nyanga, Wenceslas Lauret, Manuel Carizza, Leone Nakarawa, Luc Ducalcon and Eddy Ben Arous and much harsher lessons than what Leinster gave them will follow.
There will be opportunities in Paris for Munster to do what they did in the first three phases, go wide and stretch them on the edges, but the evidence from Saturday tells us they lack the accuracy levels to beat a European heavyweight.
The biggest difference at the Aviva, as everyone noticed, was Johnny Sexton. But it is not that simplistic. It is as much the options Munster players do not take as it is what Johnny does.
Sexton got his a lot of attacking options because of where Zebo, playing fullback, took up position in the defensive line.
The move that ended with Garry Ringrose knocking on with the Munster line at his mercy was all about Sexton's vision.
When the Munster maul put them 7-6 ahead I still felt Leinster were in control. Johnny just needed quick ruck ball. Jamie Heaslip obliged with a 'pick up player' clean out on Earls.
Johnny spotted the high line Zebo took, even stalling his pass as the situation registered; if Zebo is here the space must be in behind.
Sure enough Leinster worked the phase count up to 12 before he got the ball he wanted. Ringrose had already taken off, knowing exactly what Sexton was going to do.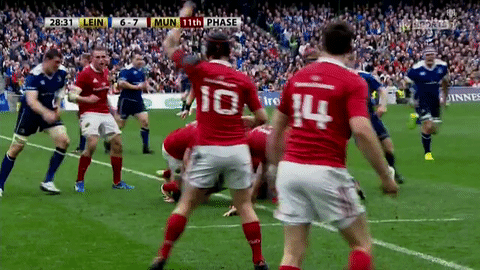 I doubt a coach or teammate bothered to mention the knock-on to Ringrose afterwards. Certainly not in a serious context.
The breakdown was another area where Munster struggled for parity. The game was 40 seconds old when Munster won perfect off the top lineout ball that allowed Conor Murray throw a long pass into midfield for Rory Scannell. Rhys Ruddock didin't just stop Scannell cold on the gainline but he got back to his feet and forced three Munster forwards - Stander, Tommy O'Donnell and John Ryan - to shift him off the ball.
This shows the huge value of a one man tackle double jobbing by getting up and counter rucking. It's a Leinster trait so far this season. It left Munster two men down across the field and ensured the defence was in control of the offence.
Another example was Tommy O'Donnell leaving the line to enter a ruck he did not need to be in, Munster never readjusted their defensive shape.
Sexton immediately saw this and gave Ringrose a one on one with Conor Murray. Ringrose glides past Murray for a 40 metre break before a return pass to Sexton almost put Isa Nacewa over. Zebo's pace saved the day.
Whenever a player ran at my outhalf, if my openside - be it Sean O'Brien, Shane Jennings or David Wallace - got there first I would leave the ruck well alone. But if I got there before Seanie or whoever they would know to shoot around the corner.
This is a matter of trust, of familiarity, of a well oiled machine. It takes time.
Providing they stick to their structures, and continue their marginal gains, Leinster should have the better of Castres on Saturday.
Basically let Johnny run the game. If it gets loose, if they start trying to over play, they are only inviting scrumhalf Rory Kockott to leave his mark on the game. And if allowed he will drag Leinster into a loose, offloading contest that suits the French more.
Castres are very beatable. A more sophisticated Leinster approach will be needed later in the season but not yet.
Clips are courtesy of Sky Sports