Harnessing emotion into an accurate performance has long been a fundamental pillar of any successful Irish rugby side. Even in the modern game it still has to be about who we are and where we come from.
This was seen in all its wonderful splendour at Thomond Park. But also in Montpellier, Parma and up in Belfast.
That remains a secret to our success; the ability to out-smart bigger opponents.
Next week's column will look back to November 24th 2013. A date so nearly seared into Irish rugby history as the day we finally beat the All Blacks.
Ireland lost that match because we didn't score any points in the second half. Simple. At least we took enough from the defeat to help us win back-to-back Six Nations titles.
But before looking back to move onto Soldier Field, it is important to stall over the genuinely encouraging mental fortitude displayed by all four provinces in round two of the Champions Cup.
The Ireland team for November no longer picks itself due to certain performances.
Players like Garry Ringrose, Seanie O'Brien and Peter O'Mahony have earned the right to be in contention for selection (the only way you beat New Zealand is with ball carriers).
Early withdrawals of O'Mahony, O'Brien and Johnny Sexton over the weekend were all decisions that the coaches can stand over. Especially Johnny. It was a heavy pitch; Ireland and Leinster cannot afford to risk a hamstring niggle turning into a tear. Trainers pull thoroughbreds when the going is soft. This is the best horse in Irish rugby's stable.
We are still in October. Never mind Ireland, Leinster could do with Sexton and O'Brien for the Northampton games in December. I think it was a brave decision by Leo Cullen. Escaping France with a losing bonus point considering Johnny and Seanie departed when 14-3 down at half-time is a decent result for the entire Leinster squad. Joey Carbery, Jordi Murphy and particularly Dan Leavy reinforced the decision.
Leinster's showing in those last 20 minutes reminded me of the best provincial sides I played on. Maybe Montpellier's ginormous men faded but, for me, that bonus point was earned in the top two inches of Leinster bodies.
That's always been what sets Irish teams apart. As Paulie would say, it is the ability to repeatedly go to The Well. That is where our success came from in the face of bigger teams stacked with foreign internationals.
Looking back at the first hour in Montpellier it is hard to know how Leinster were still in this game. But break it down and you can see why.
This sort of performance is how a squad builds belief in the goals they are trying to achieve. It is no longer the Leinster I played for, they are learning about what defines them.
There are still spacing issues and some naivety in how they defend off set pieces but all of that is fixable.
The key changes in momentum were all about players mentally staying in the fight. The Leinster bench hit the ground running by remaining in tune with the contest before they arrived. I remember being a year out of rugby in 2008-09 with a badly broken arm. I only returned to full training a few weeks before the Grand Slam decider but I'd already got up to speed because of the visual work I did with Enda McNulty. My arm couldn't take contact so we would go out and Enda would throw up the ball while telling me to imagine myself in a Test match scenario.
It was about being ready for the little moments that keep you in the fight.
Isa Nacewa's penalties were important. The general excellence of Ringrose – kicking from hand, defence and attack were vital. Robbie Henshaw's tackle on Nemani Nadolo denied Montpellier a runaway victory.
Again, it comes back to an old one: there is a way to win and a way to lose. That Henshaw tackle showed Leinster lost in the only acceptable manner.
In the 67th minute Montpellier led 22-9 when they attacked off a scrum just outside their 22 near the right touchline. They had a numerical advantage as Rob Kearney was incorrectly sin-binned. Nic White picked and ran at Joey Carbery before two quick passes meant Jesse Mogg could run at Ringrose's outside shoulder. Ringrose tackled him, but the offload allowed Nadolo to plough over Zane Kirchner. No easy feat.
Montpellier seemed poised to secure a bonus point and go on to win by 30-odd points. Instead it became the moment Henshaw showed the value of his move to Dublin.
When tackling a bigger man it is always about staying in the fight. Go low and you might eat dirt, walk into the fend and you are finished.
Robbie came in chopping down the Fijian's massive arm before dragging him down.
After Ringrose's excellence in the past few weeks he has put forward a case to partner Henshaw for Ireland at some stage in November.
Against Montpellier he made so many contributions, at crucial moments, like his massive relieving kick from the Montpellier restart after Nacewa made it 17-6.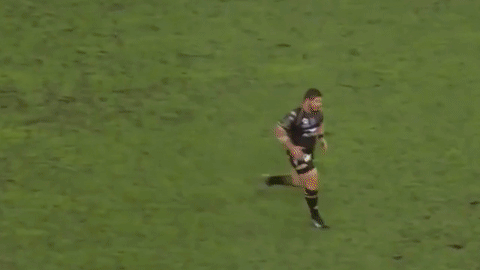 Then there was that break from nothing in the 65th minute when he gathered the ball on his boot laces and changed the point of attack until he spotted a gap to slide through. And then he offloaded out of the tackle.
Far from a perfect defensive performance but there was one lovely read in the 72nd minute when Montpellier sought to create another one on one for Nadolo. Not only did he hit Mogg early but by dislodging the ball and then diving on it, Leinster were suddenly probing a disorganised defence.
Much of that is a young man with a good head on his shoulders playing what he sees.
Same can be said about Munster in Limerick. I was as impressed by their accuracy against Glasgow as the emotional performance. They harnessed a hugely tough week into a great victory. Everyone delivered. Of course they were playing for Axel, but that performance can prove hugely beneficial to not only Munster but Irish rugby going forward.
Pete O'Mahony led at the breakdown. Everyone else followed.
Munster proved it was largely a mental not physical issue hindering them these past few months. Individual confidence levels were set aside. This can be built upon now.
Tyler Bleyendaal showed his creative ability with ball in hand against Leinster but on Saturday he proved he can lead this team. He organised everything. In the build up to their tries Bleyendaal can be seen in the corner of the screen directing players in position.
Ulster showed once more against Exeter that they are going to struggle this season. Still, the way the tight five were orchestrated by Ruan Pienaar and Paddy Jackson for that late drop goal shows their time is now - simply because Pienaar won't be around next year. The decision to let him go continues to reverberate. He remains essential to everything positive they do. He wasn't on the field when they squandered a bonus point in Bordeaux. He was on the field when they squeezed past Exeter.
After their heroics against Toulouse, Connacht showed the mental resolve to play like champions in an ultra-professional and efficient dismantling of Zebre.
The re-signing of Bundee Aki and Ultan Dillane is right and proper. If either had moved to Munster or elsewhere it would have sent a clear message to Connacht supporters that winning the Pro 12 was for nothing.
This proves they are not a feeder team anymore. It is good business by chief executive Willie Ruane, Eric Elwood, John Muldoon and everyone living and breathing the rise of Connacht.
So we enter the international window with provincial rugby having made respectable strides in 12 months.
I am not saying an Irish side is going to win the Champions Cup this season. I'm not even saying the provinces will make the knockout stages. December, and its many punishing battles will tell us that, but they are all back on the competitive track.
They are all still in the fight.
The players moving into Ireland camp on Sunday have already ticked one crucial box: get the head right and the body will follow. Belief remains another fundamental pillar if Ireland are to beat New Zealand for the first time in our history.
Munster players, more than anyone, showed the way. They said they were going to be lower into the rucks and mauls, they said they were going to carry hard. They delivered on everything they said they were going to do and fed off each other's energy.
That is the ideal starting point heading into a test month when Ireland face a supposedly invincible rugby team. Twice. Of course there is no such thing.
Clips courtesy of Sky Sports