This dress cuts the mustard for Easter
Yellow is the colour of season and this dress in a fashionable, workable shade has a lot going for it
The Hali dress on sale for €39.95.
If there is one colour that speaks Easter it is yellow, the colour of mimosa, the colour of spring. It is the most visible colour of all, one that makes its wearer stand out more than any other and can be seen from the furthest distance.
Who can forget Kate Moss's yellow off the shoulder Grecian style dress worn to a party in New York in 2003? Or more recently Rihanna in a canary yellow dress in the same city with matching yellow shoes and bag nor the amazing yellow embroidered gown by Guo Pei with its fur-trimmed cape and fearsomely long train that the most photographed woman in fashion wore to a recent Met Gala?
It's a colour that suits fair or reddish skins tones, goes with grey, blue and white, sometimes brown or green. It was in fashion in the 1890s, more recently in the 1960s and 1970s and it's back again this season with all its challenges when it comes to choosing the right hue for you.
Despite its many hues, tints and shades from brilliant cadmium and lemon yellow to ochre and amber and being the brightest and most luminous of all colours, the darker shades are the least popular.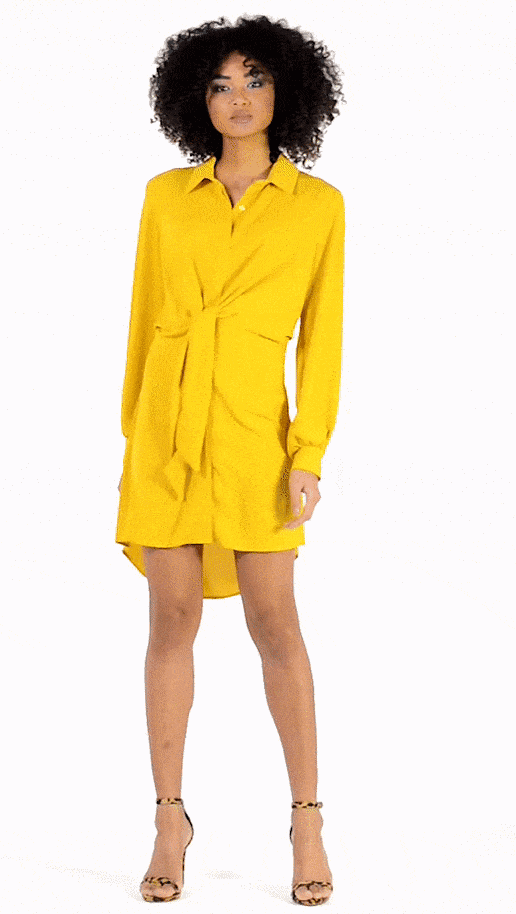 This dress from iClothing called Hali has several advantages; it is in a fashionable, workable shade of yellow, almost mustard, it is buttoned down the front (narrows any figure), has a Peter Pan collar, long sleeves and a tie knot (to draw in the waist and shape the silhouette). So it cuts it on all fronts, so to speak.
As it is quite short, match it with brown trousers or leggings and maybe a shot of dark green footwear. And did we mention that it is only €39.95?