Joe Biden's Big Day Out in Dublin was a joy.
As the president of the United States stressed more than once during his address to the joint Houses of the Oireachtas in a packed Dáil chamber: "This is not hyperbole."
Not even a little?
Whether he was trying to convince himself or a more hard-nosed local audience is debatable.
Not that it mattered.
He was so happy to be here, to be feted by the holders of the highest offices in the land as a treasured returning son of Erin. His happiness and enthusiasm was infectious because it was so obviously sincere.
It could have been a mortifying day, lost to a toe-curling a collision of schmaltz and forelock-tugging. Instead it turned into a highly entertaining, frequently hilarious, occasionally touching and ultimately heartwarming homecoming for a man who just loves being Irish.
With extra cheese.
The president moved on from a few little verbal gaffes the day before to a succession of fancy gaffs on Thursday – first Áras an Uachtaráin, then Farmleigh House, followed by Leinster House and finishing up in the gilded splendour of St Patrick's Hall in Dublin Castle.
His programme got off to a late start for some unexplained reason. We liked to think he tarried over breakfast in the Conrad Hotel after catching sight of the menu.
"What would you like to eat, Mr President?"
"Whaddaya think? The Full Irish, of course."
It might have been a rasher too far, hence the delay in arriving.
[ Access to Ballina town limited on Friday due to Biden visit ]
The Defence Forces band waited in the Áras courtyard. President Michael D Higgins waited under the portico. Tánaiste Micheál Martin was also there, superglued to the cobbles by the OPW because his feet hadn't touched the ground since he was given a baseball cap in Carlingford by the Potus and they were photographed together going mad on soft drinks in a public house in Dundalk.
As soon as the presidential motorcade appeared on the horizon the brass and reed band broke into a spirited rendition of Counting Cars or, at least, they should have. It's difficult to take Joe's words on climate change seriously when he drives around in the equivalent of an endangered tropical island's national fleet.
The sun came out. The band played wonderfully. The motorcade stopped a short distance from the main entrance, the doors of numerous SUVs flew open and a multitude of American politicians, advisers and diplomats – led by secretary of state Antony Blinken and US ambassador Claire Cronin, swarmed up the driveway.
The inspection of the guard of honour had to wait until the US president was invited by the President of Ireland to sign the visitors' book. It's a large, weighty tome and has been on the go for a number of years. Not many blank pages are left.
President Biden sat at the small desk designed for Britain's late Queen Elizabeth when she did the honours during her historic visit in 2011. (Probably just as well nobody told Joe this.)
He grabbed the ceremonial Mont Blanc and began to write. And write. And write.
A beaming Micheal D and his wife Sabina waited patiently for him to finish. But he didn't. Micheal D leaned over to see what he was writing and then whispered approvingly to Sabina.
It was a bit of Yeats.
The two presidents went outside for national anthems and then president Biden inspected the guard of honour, shook hands with the insanely happy Micheál Martin and inspected Charlie McConalogue.
And then, after a suitable period of rest – the two presidents are both into double digits in dog years – they went outside so Joe could plant an oak tree in the grounds beside trees planted by Queen Elizabeth and Barack Obama, but not at the same time.
"Woof! Woof!"
Misneach, the First Pup, announced his presence from behind a hedge. Joe tried to coax him out but the dog was having none of it. He probably saw Micheal D walking with a long, crook-handled shepherd's staff in his hand and decided to stay put.
The First Whippet, Luna, made an appearance before the VIPs arrived. And Bród, the First Dog, was inside, resting. So only one Black and Tan made an appearance on the day.
The president rang the bell four times – for Ireland, America, his Irish ancestors and for peace.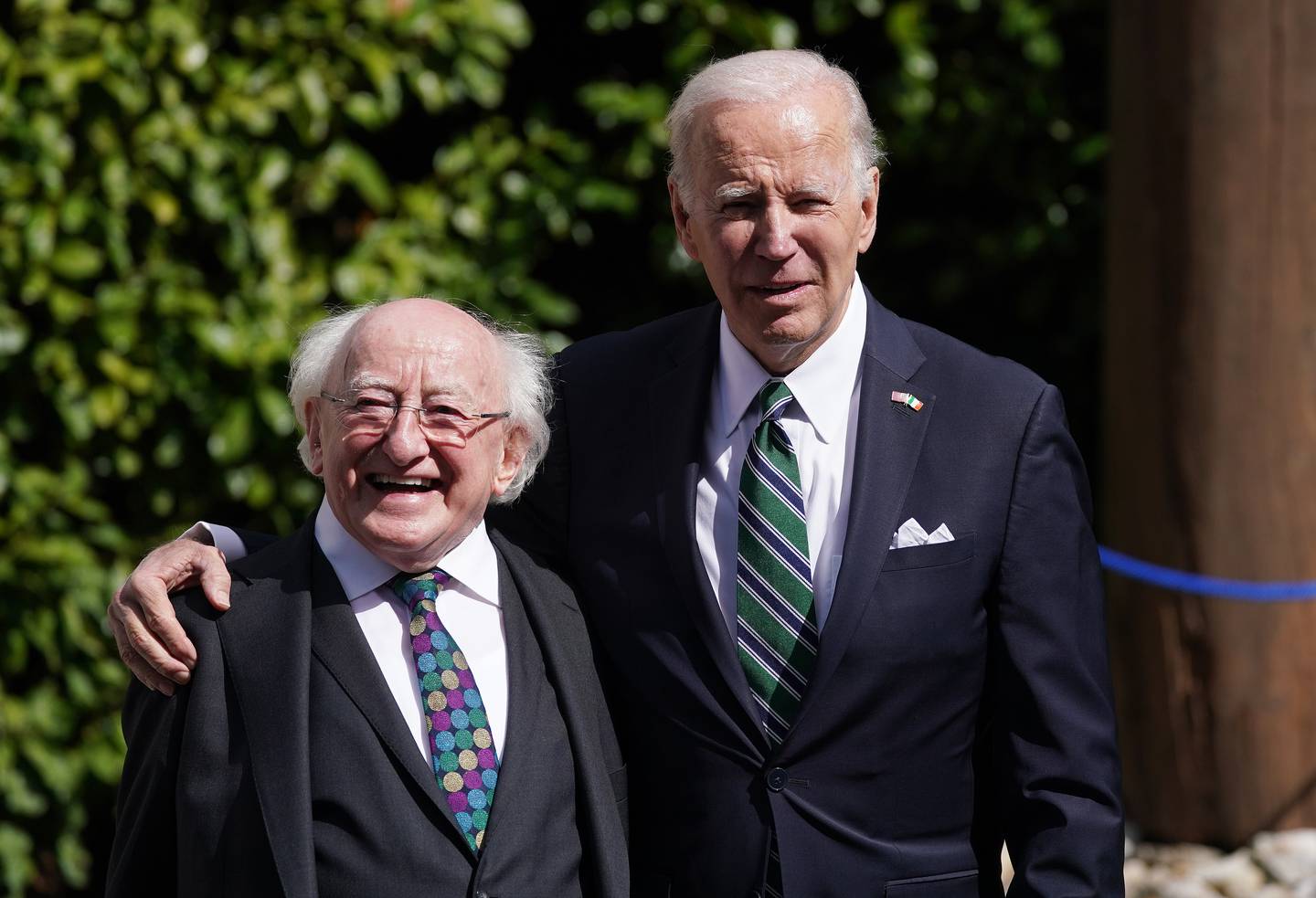 Then he spoke to the media at length about how happy he was to be in Ireland and how his family came to emigrate from these shores. Micheal D twice tried to move him towards the Áras.
He should have used the shepherd's crook.
They got on like a house on fire.
"I'm feeling great and learned a lot hanging out with the President," said Joe. There were hugs and belly bumps until finally, the Potus left for Farmleigh House up the road and Taoiseach Leo Varadkar. There were no big hugs or belly bumps.
President Biden was nearly clipped by a flying sliotar as he watched a camogie demonstration. In the White House pool copy issued after the event, the game was described as similar to lacrosse.
And so to Leinster House, which was in a ferment of excitement.
All the political correspondents were locked in the press gallery.
It was nothing to do with drink. The secret service wouldn't let the hacks leave while their boss was in the vicinity.
There was a moment of high drama before the sitting commenced when one of the secret service sniffer dogs did a big poo in the public gallery. "The size of an elephant," said an eyewitness.
Among the visitors in the cleaned and refregranced gallery were broadcaster Ryan Tubridy and Joe Brolly. Enda Kenny was holding court and thumping backs like a man who might be eyeing a run at the Áras. Bertie Ahern was there with Gerry Adams, both men chewing a wasp, or perhaps sweeties.
Former president Mary McAleese was also in attendance.
Marie Heaney, wife of Biden's favourite poet, Seamus Heaney, was in the distinguished visitors' gallery. She was there at his request and looked very moved when the president paid heartfelt tribute to her husband.
The Ceann Comhairle chaired the short session eloquently and with a lightness of touch. His Seanad counterpart, Jerry Buttimer, was equally eloquent as he thanked the president for supporting marriage equality before mentioning his love for husband Conchobar.
Sinn Féin's Chris Andrews wore a Palestine jersey, thus filling in somewhat for the absent People before Profit TDs who decided to boycott the event.
Labour senator Rebecca Moynihan was there with her new baby, Margot, who was singled out for mention by both the president and the Ceann Comhairle. Minutes after his speech, having escaped the clutches of swooning deputies and former senator Donie Cassidy, who blocked the double doors so he could get a handshake, Joe was at the bottom of the main staircase with Margot in his arms and photographers at his feet.
His speech was lovely, if somewhat meandering in the middle. The TDs and senators lapped it up, because this was a buttering up par excellence and hard to resist.
The Ceann Comhairle threw in a line from Danny Boy in his speech. The president managed to say "malarkey" in between waxing lyrical about Irish poets and Irishness in an address which hit all the expected marks, and more.
It was irresistibly cheesy in parts. By the end, there were hand-to-hand selfie wars between the TDs and senators in the aisles.
"Well, Mom, you said it would happen," was Joe's opening line.
"As the proud son of Catherine Eugenia Finnegan Biden, well, you knew I'd be coming… It's so good to be back in Ireland," he said, as a few old cynics sighed.
"If you forgive the poor attempt at Irish: Tá mé sa bhaile. I'm at home. I'm home."
It was a lovely day.
The Ceann Comhairle got it right when he said: "President Biden, Today you are among friends, because you are one of us."