| | |
| --- | --- |
| Electorate | 1202997 |
| Total Poll | 663703 |
| Turnout | 55.17 |
| Spoiled Votes | 17258 |
| Total Valid Poll | 646445 |
| Status | Complete |
Midlands - North West - 4 seats
| Party | Name | Votes | Status |
| --- | --- | --- | --- |
| FF | Byrne, Thomas | 55384 | Eliminated (6th count) |
| SF | Carthy, Matt | 114727 | Elected (7th count) |
| GP | Deary,Mark | 9520 | Eliminated (1st count) |
| Ind | Fay, T.J. | 2002 | Eliminated (1st count) |
| Ind | Fitzsimons, Mark | 2424 | Eliminated (1st count) |
| Ind | Flanagan, Luke 'Ming' | 124063 | Elected (2nd count) |
| FF | Gallagher, Pat The Cope | 59562 | Eliminated |
| DDI | Gilroy, Ben | 7683 | Eliminated (1st count) |
| Ind | Harkin, Marian | 68986 | Elected |
| FG | Higgins, Jim | 39908 | Eliminated (4th count) |
| Lab | Higgins, Lorraine | 31951 | Eliminated (2nd count) |
| FG | McGuinness, Mairead | 92080 | Elected (5th count) |
| Ind | Mullen, Rónán | 36326 | Eliminated (3rd count) |
| FN | Nic Fhearraigh, Cordelia | 1829 | Eliminated (1st count) |
Midlands North West Constituency
Colloquially known as the Malin-M50, it is a massive and sprawling constituency taking in 15 counties in three provinces. It is an amalgam of the old Connaught-Ulster with the northern half of Leinster, from Kildare, Laois and Offaly northwards. Because it's a new constituency, the 2009 results can't really act as a guide. A calculation based on the 2011 general elections shows that Fine Gael received 38.2 per cent of the vote in MNW, Fianna Fáil 19.2; Labour 13.9; Sinn Féin 13.3; independents 14 per cent; and the Greens 1.22.
However, independents garnered almost 40 per cent of the vote in the 2009 European elections in North West and it is likely they could be there or thereabouts again. Sinn Féin has surged and has seven TDs in MNW. By corollary Labour's stock has fallen and its chances are remote indeed.
Early polls suggest one Fine Gael, one Sinn Fein and one independent seat with the last one a dogfight between Fianna Fáil, independents and Fine Gael. I think Fianna Fáil will have over a quota but its strategy of running two strong candidates may backfire.

Issues: Traditional EU issues like agriculture and fisheries. Other big issues are Eirgrid's pylon project; water and property taxes, and residual feelings on the three-year loss of sovereignty and the bailout programme. The latter issues are cropping up regularly on doorsteps in the commuter counties. Like in other constituencies there are far more candidates who are espousing eurosceptic views. It forms part of a wider debate that is beginning about the State's relationship with the EU and the sense that European Union was unquestioningly accepted as a good thing for too long.



Mairéad Mc Guinness, Fine Gael
It was assumed McGuinness was the equivalent in this constituency to Brian Crowley in South. She has a huge profile, a good work-rate and proven vote-getting abilities. As an MEP she has focused almost unremittingly on the agriculture side. This time around, McGuinness won't waltz home like she did in 2009, but it will be a shock if she does not make it. Might have been the party's presidential candidate but faced negativity from some colleagues dating from the 2010 leadership contest. She's helped by the large cluster of candidates in the western seaboard.


Jim Higgins, Fine Gael
Fine Gael's second MEP in this new constituency has an uphill battle. It's no secret that Fine Gael headquarters wanted him to stand down but Higgins stood his ground. He has won some sympathy especially in the west for that. But it's unlikely he will be able to repeat what Fianna Fáil's MEP Sean Ó Neachtain, who retained his seat despite efforts to get him off the pitch. A dip in support for Fine Gael will affect both candidates but it's hard to see Higgins having wide enough support across this vast constituency to challenge McGuinness. Agriculture and fisheries have been two big themes, as have justice and whistleblowing issues.


Pat the Cope Gallagher, Fianna Fáil
Gallagher performed the same service for Fianna Fáil in 2009 that Gay Mitchell did in 2004, coming into the race to copper-fasten a seat for the party. His reward? Well, the Meath senator Thomas Byrne is on the ticket and Gallagher is not happy about it. Gallagher's seat is vulnerable not only from the opposition but from his running mate. His northwest Donegal base puts him at the perimeter of the constituency and he will face stiff competition for votes from Sinn Féin in his strongholds. Certainly active, the Cope has majored - unsurprisingly - on fishing and farming issues. He was one of six MEPs involved in reforming the commons fisheries policy. He is also a native Irish speaker. Some early polling suggests that Fianna Fáil is in trouble with less than a quota between the two candidates. But it still got almost 20 per cent support across these 15 counties in the nadir election of 2011. It would be a bodyblow if it failed to win a seat here.


Thomas Byrne, Fianna Fáil
Byrne has managed to sustain a high profile despite losing his Dáil seat in the 2011 election. From the Seanad, he has been vocal on finance, mortgage arrears and justice issues. He also performed well in the Meath East by-election last year, coming in second place. Nobody doubts that Byrne will get re-elected to the Dáil in 2016. His inclusion on the Fianna Fáil ticket is interesting. The party either wishfully thinks it can win two seats (unlikely) or believes the Cope might struggle in a new constituency taking in Dublin's commuter belt. If Byrne was brought in to bolster support, it may be for himself. He has virtually the whole of the M50 corridor to himself and will pick up a lot of votes in the south and east of this vast constituency. Byrne is an energetic candidate though he can be diffident in manner, and he's not everybody's cup of tea. Either he or Gallagher should win a seat between them but the nightmare scenario is both cancelling each other out and coming first and second runners-up.


Marian Harkin, Independent
The Sligo-based former teacher is going for her third term and leads a posse of strong independents, at least one of whom will take a seat. The indications are that it will be Harkin - she has incumbency on her side and she has also taken stands on some of the key issues driving anti-government sentiment in the constituency - property and water charges; pylons; and the Troika/austerity. Her style, which can be over-the-top and negative, is not to everybody's liking but she has consolidated her support base, even though it will be largely confined to the old Connaught-Ulster part. Luke Ming Flanagan will pose a big threat but it's not inconceivable that both will get elected.


Matt Carthy, Sinn Féin
The best known of Sinn Féin's three 'unknown' candidates, Carthy has been a councillor for 14 years and has been mayor of Monaghan. Still in his 30s, he along with Pearse Doherty is the nearest this discipline-obsessed, and always 'on message', party has to a hothead or a firebrand. Some opponents think he is going to put his foot in it but, so far, he has conducted a faultless campaign. Like the other Sinn Féin candidates, Carthy is not a politician with a past and he projects an image of modernity and increasing moderation. The party's campaign will be euro-sceptic, anti-austerity and anti-property tax, anti-water charges, anti-pylons. A tad cynical but it has worked. The sums don't lie. The party has seven TDs in this constituency and its support has been increasing in the polls. It was at 13.3 per cent in 2011 and if Carthy adds another three per cent in first preferences, he will ease home.


Luke Ming Flanagan, Independent
Say what you like about the independent TD for Roscommon-Longford, he is unputdownable. Flanagan, electorally, has been a singularly successful politician, and he might be the surprise package of this election. The novelty 'Ming the Merciless' side to Flanagan has long worn thin. And his 'I'm angry and this is the last straw' style of communication has become grating for some. Still, he seems to thrive in an adversarial bearpit atmosphere.
His admission that he actively sought to get penalty points cancelled was really damaging to him, given that he was one of the leading figures in the campaign to expose the widespread garda practice. He recognised his own hypocrisy on this matter... eventually.
That might have been career-ending. But after a quiet period, Flanagan has gradually returned to the fray. He may even fully recover from it. His campaign is an instinctual one - that's sceptical of Europe and its institutions and the ceding of power from the sovereign to Brussels. It could well be a message that resonates. His views to the other issues of the day - pylons, charges, Troika - are similar to other opposition candidates. He could very well be in the mix at the death, but may just be edged out by Harkin.


Rónan Mullen, Independent
Rosemary 'Dana' Scallan showed there is a sizeable traditional Catholic vote in this constituency. It is that voter that will be attracted to Rónán Mullen, the independent senator. Mullen is very conservative in his views but succeeds in packaging it in a moderate fashion and silken communications skills. Like other independent candidates, Mullen has struck a political message that is somewhat sceptical of Europe and its institutions and its impact on us. He will perform respectably but does not look like he will be in the final shake-up. Could it be a prelude to a run for a Dáil seat in Galway East?


Lorraine Higgins, Labour
In the old constituency, Higgins would have had no chance. However, all the extra counties added to make up 15 are places where the Labour Party has done well. On the basis of the 2011 election, it should have some 14 per cent support here. That's within a shout of the quota of 20 per cent. That said, Labour's stock has fallen in the commuting counties (its difficulties in finding a candidate to run in Longford-Westmeath for the byelection is illustrative of that). The early opinion polls more or less reflect the party's lot. Higgins, from Athenry in Galway, is a good candidate: young, articulate, and independent-minded and she has thrown herself into the campaign. She will struggle to get above single-digit support and Labour is not transfer friendly just now.


Mark Dearey, Green Party
A sincere and earnest politician, Dearey remains one of the party's three elected representatives. He is also standing for the council and his best prospect is a run for the Dáil in 20 months time. The Greens have few active members in some of the counties and have electoral potential in only a handful - Louth, Galway, and the M50 counties. The best Dearey can hope for is a respectable single digit figure that can contribute to raising profile for himself and the party.

Other candidates:
Mark Fitzsimons, Independent
Cordelia Níc Fhearraigh, Fís Nua.
Ben Gilroy, Direct Democracy
TJ Fay, Independent
Prediction: McGuinness, Harkin, Carthy, Gallagher.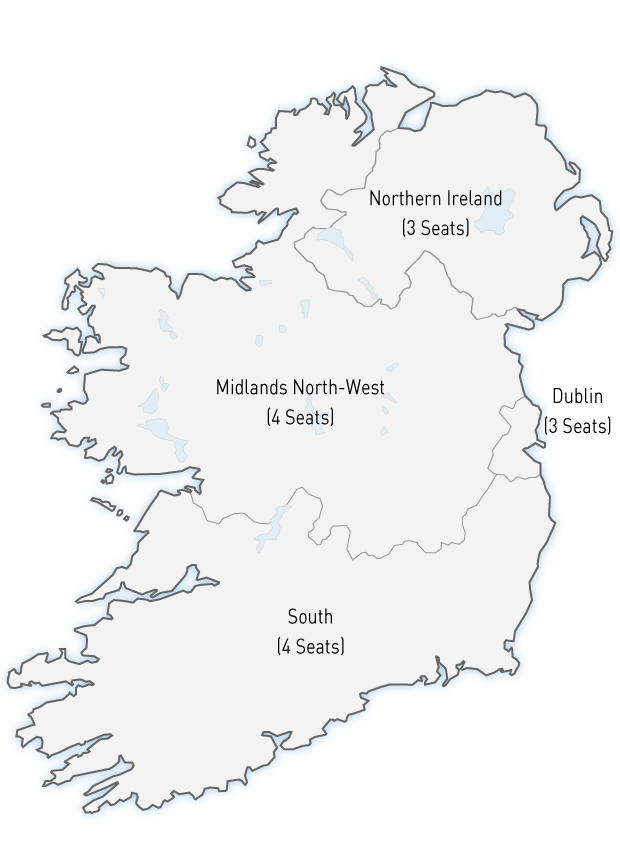 Click map to get full constituency profile
MEP candidates on Twitter