| | |
| --- | --- |
| Electorate | 820668 |
| Total Poll | 358943 |
| Turnout | 43.74 |
| Spoiled Votes | 6368 |
| Total Valid Poll | 352575 |
| Status | Complete |
Dublin - 3 seats
| Party | Name | Votes | Status |
| --- | --- | --- | --- |
| SF | Boylan, Lynn | 83264 | Elected (3rd count) |
| Ind | Childers, Nessa | 35939 | Elected (7th count) |
| Lab | Costello, Emer | 25961 | Eliminated (3rd count) |
| DDI | Darcy, Thomas | 4022 | Eliminated (1st count) |
| FF | Fitzpatrick, Mary | 44283 | Eliminated (5th count) |
| FG | Hayes, Brian | 54676 | Elected (7th count) |
| SP | Murphy, Paul | 29953 | Eliminated (4th count) |
| GP | Ryan, Eamon | 44078 | Eliminated (7th count) |
| PBP | Smith, Bríd | 23875 | Eliminated (2nd count) |
| Ind | Tallon, Jim | 2244 | Eliminated (1st count) |
| DDI | Whitehead, Raymond | 3133 | Eliminated (1st count) |
| FN | Wise, Damon | 1147 | Eliminated (1st count) |
Dublin Constituency
Dublin is the only one of the the three European constituencies that has any sense of geographical coherence. It's a three seater and may very well return three new MEPs. In 2009, it was clearcut for Fine Gael and Labour with their two candidates Gay Mitchell and Proinsias de Rossa getting very close to the quota. Sinn Féin's Mary Lou McDonald failed to retain her seat with over 13 per cent of the vote - in the end Joe Higgins who got less first preferences than her overtook her on transfers. Sinn Féin is riding high in the opinion polls in Dublin but its support tends to be overstated in the capital. The impact of Gerry Adams' arrest might not be negative in terms of first preferences but to floating voters who might have given Sinn Féin a lower preference. Lynn Boylan will need to reach high teens in percentage terms to be assured of a seat.
Fianna Fáil can't really on transfers from lower candidates so if Mary Fitzpatrick has any chance, she will also need to be in the high teens. That's where Brian Hayes will be, his support may even touch 20 per cent. So who else might squeeze in: It could be Eamon Ryan (high profile and relatively well liked despite the low stock of his party) or Nessa Childers, the strongest of the independents who may become a destination for disaffected Labour votes. Emer Costello is not doing too badly but she will struggle to reach that daunting quota of 25 per cent on transfers. That leaves that two extreme left candidates who have split the vote - either Paul Murphy or Brid Smith will have to be in the teens, and ahead of all rivals, to have a real chance. It's going to be very tight, with one seat decided without reaching the quota.

Issues: Local issues such as property charges, water taxes and the performance of the economy and of Government have predominated. There is also a wider debate about Europe's influence, following the bailout programme.



Brian Hayes (Fine Gael)
One of the smartest and most articulate politicians and also incredibly accessible to journalists. He was on the wrong side of the leadership contest in 2010 and although he has been a star performer as Minister for OPW, there was a sense that his progress under Enda Kenny would be limited. His views on the North (a deeply held antipathy to Sinn Fein, some would say neo-unionism) have defined his political make-up more than is generally acknowledged.
When he first burst on the scene he had a young fogey image he has never quite shaken off (despite nowadays representing Tallaght, as non-traditional Fine Gael as you will find in south Dublin.
Because of his high profile, he was installed as a sure thing. It's still likely he will be elected but not as comfortably as first thought.


Mary Fitzpatrick (Fianna Fáil)
Dublin has become a political tundra for Fianna Fáil. It won a single seat in the 2011 election, much worse than Fine Gael in the 2003 election. Recovery for the party is going to be slow and partial. Fitzpatrick, an experienced councillor, is the party's best shot. She was a bitter rival of Bertie Ahern and the so-called Drumcondra mafia in her Dublin constituency - and given Ahern's dented public image, that is not going to do her any harm at all.
For all that, she is a long-shot with an outside chance of getting elected. The party's support level is 14 per cent in the capital though I believe that may be slightly understated. However, she will struggle to attract transfers in the same volumes as independents. And while she is well known within Fianna Fáil, her profile may not be sufficiently high.


Lynn Boylan (Sinn Féin)
Boylan has given lie to a supposedly iron law of electoral politics that profile in European elections means everything. Well, profile is still everything, but in this case it's that of the party rather than of the individual. Boylan isn't a public representative but did stand twice (unsuccessfully) in local elections while living in Kerry. She has worked as an environmental scientist and chair Safefood - through that she has had dealings with the EU.
But otherwise she was completely unknown before being selected as Sinn Féin candidate besides a few contributions to her party's ardfheiseanna.
She present a good image for the party. She is young, female, articulate and projects her a modern moderate image - exactly the space the party wants to move into. At her first press conference in February her knowledge of European institutions was ropey (she didn't know who was president of the European Council) but she is not alone in that. There's a strong uniformity to Sinn Féin public utterances and it's sure that mistake will not be repeated.
She may be an excellent MEP but her track record is zilch. Expect Mary Lou McDonald to be a strong public proxy throughout the campaign.
Changing her name from Lynn Ní Bhaoighealláin to Lynn Boylan was done purely for electoral purposes (the first Sinn Féin person in living memory to reject an Irish version of a name). Sinn Féin has done well in Dublin in the past year, running second only to Fine Gael. Its problem is that some who express support don't vote. The arrest of Gerry Adams may also deter somer floaters who were drifting in its direction. That said, she has a real chance.


Nessa Childers (independent)
She has jumped from one party to another and has then become an independent. She has even switched constituency, moving from South where she had a realistic chance of winning a seat into the cauldron of Dublin. And still Nessa Childers seems to be coming up trumps and will have a strong chance of taking a seat. For one, despite being elected as an MEP for the East constituency, she has a high profile in Dublin. She has also been active in the EU Parliament and has also campaigned on a number of high profile issues, including criticism of the role of the IFSC.
What may mostly commend her to voters, however, is her decision to leave the Labour Party over differences with party leader Eamon Gilmore and the party's direction in Government. It seems she might become a magnet for some disaffected Labour voters.


Eamon Ryan (Green Party)
Ryan is unelected but has a very high national profile, given that he is leader of the Greens and a former minister. He is a policy wonk whose communication is sometimes let down by over-elaborate explanations that veer too heavily on idealism. Along with his party colleagues he was badly damaged following a bruising coalition experience with Fianna Fáil. Ryan was perceived to be a stronger advocate of the stay-the-course strategy than most of his Green colleagues. He is sincere in manner and has done a lot to rebuild his fractured party. The party has struggled more than Fianna Fáil in its efforts to recover support. Ryan's decision to stand is a huge gamble and is a very big ask. After climate change was wiped off the agenda during the Troika years, the party has made some inroads in recent months in reminding people of the dangers and the country's unavoidable obligations, if damage to global climate is to be curtailed.



Emer Costello (Labour)
If this was 2009 and if Emer Costello were the candidate she would have topped the poll. But it's not, and she is going to have a gargantuan struggle on her hands to retain her seat. The benefit of incumbency is another of those supposed cast-iron political rules but in Costello's case she wasn't directly elected but replaced Proinsias de Rossa on his retirement. She has built up a decent profile (and is a former Lord Mayor). But is it enough? She has been very busy on the policy front but no matter how many amazing initiatives are taken in Brussels, they don't butter many parnsips at home. Her main problem is the slide in Labour support in the capital. If she doesn't poll higher than the low teens, Costello will just have too much ground to make up. In fairness to her, though, her showings in polls are better so far than many Cassandras predicted and she can't be excluded completely from the shakeup.


Paul Murphy (Socialist Party)
Another substitute MEP but Murphy has been there for over three years now and has managed to build up a relatively high profile. A bit like Lynn Boylan, he had not held elected office and there surely is an anomaly there that somebody who has never been elected can hold an elected office without a popular mandate (the European elections are a kind of list system by the back door).
His campaign for reelection has effectively being ongoing for 36 months. Taking over from an instantly recognisable figure like Joe Higgins was a difficult task, but Murphy has thrown himself into the fray, involved with innumerable campaigns, protests and policy initiatives. But is it enough? Higgins had lost his Dáil seat, had a huge profile, and benefitted from a moribund Sinn Féin (it's hard to think the party was going nowhere fast in domestic politics four years ago). The anecdotal evidence is that Murphy will find it hard to emerge at the top of a cluster of left wing candidates and may even find himself outflanked by Bríd Smith, which will be a disappointment. The split in the far left vote may leave both candidates with too much ground to make up to their main rival (in that political space) Lynn Boylan.


Bríd Smith (People Before Profit)
Has been an effective councillor and may put in a strong bid for a Dáil seat although rival left-winger Joan Collins seems very well established in Dublin South Central. She's a little behind the curve in terms of profile and winning a seat seems remote. The exercise will certainly act as a timely boost for profile ahead of a general election within 20 months. A leading member of the Unite trade union, she is also a veteran of anti-bin charges and anti-water charges campaigns. Both PBP and the Socialist Party (and to a lesser degree Sinn Féin) will capitalise on hostility to the new property and utility taxes and charges introduced by the Coalition.



Other candidates:
Thomas Darcy, Direct Democracy Ireland
Raymond Whitehead, Direct Democracy Ireland
Damon Wise, Fís Nua
Jim Tallon, Independent
Prediction: Hayes, Boylan, Ryan.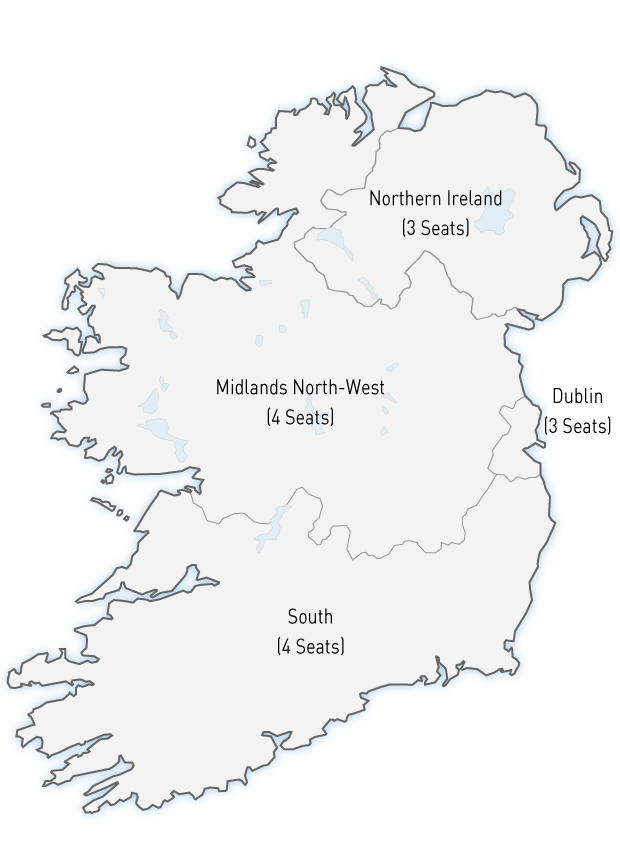 Click map to get full constituency profile
MEP candidates on Twitter