Cannes review of The Neon Demon
The latest from Nicolas Winding Refn has divided Cannes. This time we were happy to remain on board.
THE NEON DEMON
****
Directed by Nicolas Winding Refn
Starring Elle Fanning, Christina Hendricks, Keanu Reeves, Jena Malone, Abbey Lee, Bella Heathcoate, Desmond Harrington, Karl Glusman
Cannes, In competition, 117 min
There are few subjects more resistant to satire than the narcissistic emptiness of the Hollywood life. Reality TV shows such as That Kardashian Thing do the business without even trying. These people have too much plastic surgery. They worship youth to a disturbing degree. You know the score. Even a film-maker as gifted as David Cronenberg struggled to tell us something new in Maps to the Stars.
Insofar as its possible to make any sense of Nicolas Winding Refn's latest vulgar provocation, it seems that he has no new messages either. But the irregular, stylish and downright brazen way he repeats the old dicta is something to behold. The second half of the Neon Demon could probably be arranged in any order you like. So what. You could say the same about Kafka's The Trial and it fell pathetically short in the lesbian necrophilia stakes.
Though set in the world of modelling rather than movies or theatre, the film begins in similar fashion to a dozen entertainment industry yarns. You can see A Star is Born there. You can read something of All About Eve about it. A young woman comes to the shiny city of hollow dreams and upsets those who are already there. Once that set up passes, we find ourselves somewhere very, very different to Kansas or any adjacent state. Madness sets in and it is madness of the most beautiful and dubious stripe.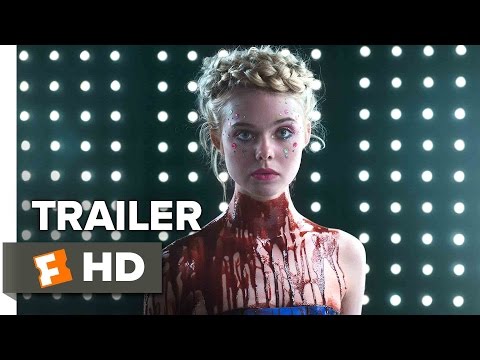 A blank, washed out Elle Fanning plays an aspiring teenage model named Jesse. On arrival in California, she moves into a sleazy Pasadena hotel and sets up a portfolio shoot in the style of a horror film. The photographer who took the snaps (Karl Glusman from Gaspar Noé's Love) is a tad worried about her. After all, isn't LA the sort of place where rituals enacted around neon triangles within triangles — the demon of the title, I assume — lead ultimately to horrific adventures in the style of a mentally ill Dario Argento film? He doesn't say
exactly
that, of course, but that's what ultimately happens. There are omens about the place. Keanu Reeves, who plays the deranged motel owner, triggered laughs in the Cannes audience simply by being who he is. He has cause to me more than usually furious when Jesse leaves the window open and allows a cougar to enter.
Before the film spins totally off the rails, Jesse — thin as vermicelli — has an encounter with a terrifying agent played in full camp splendour by Christina Hendricks. "I would never call you fat. Others might, but I never would," she oils. Ruby (the excellent Jena Malone), a make-up artist, becomes her friend and takes her to a Lynchian club where she meets two coat-hanger-thin models named (Abbey Lee) and Gigi (Bella Heathcote). They see her as everything they most fear: a young woman who looks as they hope to look after the next month of plastic surgery.
This is very tricky subject matter for a male film-maker. In its later stages, The Neon Demon becomes a film about how certain women hate certain other women. The presence of  Von Trier collaborator Lene Børglum, who co-wrote the script, in the credits will, one imagines, help forward the argument that this is a film about the malign results of misogyny rather than a misogynistic film. After all, nobody is quite so creepy as the designer played by Alessandro Nivolo as a class of fabulous David Seaman (it might just be the moustache).
As things progress, any such philosophising becomes too exhausting to sustain. This is a film of effect and diversion. The Argento parallels are strong, but one is also reminded — think of his Bronson in particular — of the extent to which Refn can come across as a stoned Ken Russell. There is the same sense of battering the audience into submission with the sustained accumulation of baroque transgression. With its bold colours (the reds often emanating from within the body) the picture looks a little bit like the work of that film-maker, but it sounds very different. You will know to expect another fine electronic score from Cliff Martinez — this is one of his best — but what really strikes the ear is the silence. In the huge pauses between lines of dialogue there is often no ambient sound whatsoever. Refn was probably delighted to learn that the Cannes audience filled up some of those silences with yelled obscenities. They are fools. The director of Drive and Only God Forgives has excelled himself with a cinematic spasm that rattles the id as it baffles the frontal lobes. Hats off to anybody who manages to be just mildly indifferent about it.
Donald Clarke