Chantal Akerman is dead
The Belgian director was behind one of the most important feminist works of the last century. And more besides.
The death has been announced of Belgian film-maker Chantal Akerman. She was 65. Ms Akerman recently presented No Home Movie, a film about her mother, an Auschwitz survivor, at the recent Locarno Film Festival and did not seem to be in ill health. Le Monde has reported the death to be the result of suicide.
Akerman was born to a Jewish family in Brussels — her grandparents died at Auschwitz — and became hooked on cinema after catching a glimpse of Jean-Luc Godard's Pierrot le Fou as a young woman. She took onboard that director's experimental instincts and added a pungent feminism that was very much her own. Akerman studied at the Institut National Supérieur des Arts du Spectacle et des Techniques de Diffusion and released her first film, Saute Ma Ville (Blow Up My City), when she was just 18. Allegedly financed by trading gems on the Antwerp diamond exchange, the picture saw the director kicking madly about her kitchen and then blowing it up with gas.
Saute Ma Ville pointed towards frustrations with bourgeois conformity that would reappear in the wealth of clever, awkward films that Akerman delivered over the following 40 years. No Akerman film would prove quite so influential as Jeanne Dielman, 23 quai du Commerce, 1080 Bruxelles.  When that difficult, intimate epic emerged in 1975 it was immediately recognised as a work of significance. Indeed, the New York Times famously referred to it as "first masterpiece of the feminine in the history of the cinema." (Which, under certain definitions, may be unfair to Maya Deren and a few others.) Over three tiring days, a widowed homemaker undertakes the chores of suburban life. The only break in the rigour comes when she prostitutes herself to raise a few francs for her son's upkeep. Enormously long, the film does demand endurance from its audience. The final appalling release remains, however, as gruelling now as it was in the 1970s. J Hoberman, the great critic at the Village Voice argued that Akerman was "arguably the most important European director of her generation."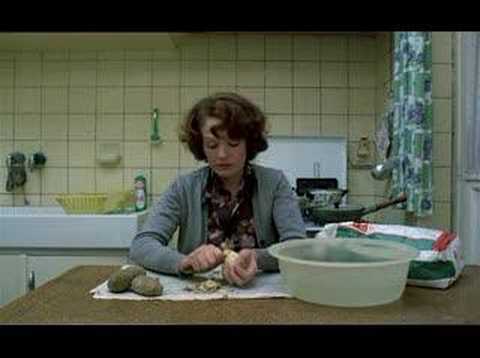 The influence of that film remains conspicuous today. Yet Ackerman's later work did not always get the distribution it deserved. News from Home, shot in 1977, offered a characteristically sideways meditation on New York City: the director reads letters from home as the camera moves about that city. Twenty years later, she took an unexpected turn and shot a romantic comedy, A Couch in New York, starring William Hurt and Juliette Binoche in the same city. Her 2000 film Le Captive distilled sections of Proust's  À la recherche du temps perdu with some success.
Peter Debruge of Variety wrote this about No Home Movie from Locarno: "To comprehend the title is to acknowledge that Akerman — a self-described nomad who travels light and moves often — no longer feels any connection to Brussels, now that her mother has passed. In its own highbrow way, the formally demanding and impossibly intimate video essay serves as an elegy to that sense of home that disappeared with the woman who, as far as the film is concerned, seems forever confined to her own bourgeois apartment."
It will remain.