50 years, 50 films Vol II: Love Me Tonight (1932)
As we move backwards, sound becomes an increasing novelty. Rouben Mamoulian uses it brilliantly in one of the first great musicals.
We don't want to belittle one of the greatest musicals in Hollywood history, but the temptation to note that rock videos begin here is irresistible. Rouben Mamoulian is not a name on everyone's lips. A victim of the post war blacklists, who lived stubbornly into the late 1980s, the Tbilisi-born director created some of the most delicious movie confections of the 1930S and went on to produce the Broadway debuts of Carousel and Oklahoma! Released the same yeas as Love Me Tonight, his version of Dr Jekyll and Mr Hyde — for which Frederic March won an Oscar — remains the definitive version of that much-filmed tale. Becky Sharp, his take on W M Thackeray's Vanity Fair, made as long ago as 1935, was the first feature shot in three-strip Technicolor. So this is a man who deserves his place in the Book of People.
We began as we did because one innovation he seems to have twigged first is the staging of an elaborate musical number to a pre-recorded track. This, of course, is exactly what happens in a pop video. You've seen Singin' in the Rain. You know the convolutions that directors went through to hide microphones throughout the sound stage in the early days. The stunning, justifiably famous rendition of Isn't it Romantic? here was innovative in that Mamoulian made no attempt to pretend that a live performance was even possible. The piece starts with Maurice Chevalier singing in his Parisian tailor's shop, then the song is passed on to the street, to a gypsy camp, to (most strikingly) a platoon of soldiers and then to pining aristocrat Jeannette MacDonald on a balcony in a rural chateau. It's funny, playful, magical and, most importantly, proudly cinematic. Here is something you simply could not do in a theatrical  production. What a sense of possibility there must have been in these early days of sound. What a pleasure to innovate so successfully within a mainstream form. Of such flourishes were the big dream made.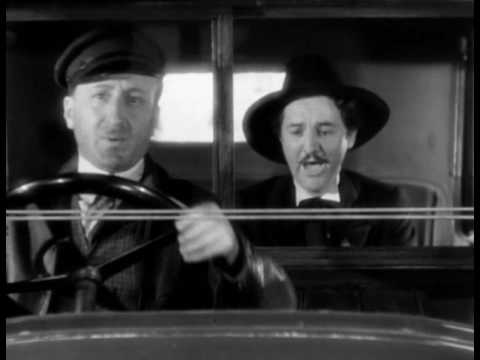 Here's the thing. That isn't even the film's most daring number. Just five years after the proper birth of the talkies, Mamoulian begins his film with an abstract symphony that — though it has echoes in Marc Caro and Jean-Pierre Jeunet's Delicatessen — would still cause audiences to rock back in their seats today. Following the credits, we are thrust into a symphony of Paris composed from everyday street sounds: a pickaxe hammers the street, a drunk snores, a lady sweeps her step, a baby cries, a workman sharpens his tools. This must be one of the great opening scenes in cinema. Yet the picture is too rarely revived.
Derived from a play by Paul Armont and Léopold Marchand, the story is, it must be admitted, Ruritanian baloney of the highest order. Maurice, the tailor, makes for the castle where Jeanette lives to confront her uncle about an unpaid bill. While there he is, to cover up the debtor's embarrassment, forced to pose a count. He falls for Jeanette while cautiously avoiding the attentions of the voracious Comtesse Valentine (an always flawless Myrna Loy).

There is just enough logic in the story to maintain our attention. But, with this cast, these songs and this energetic direction, one hardly bothers to ponder the nocturnal ins and outs. Already over a decade into one of the great songwriting partnerships, Richard Rodgers and Lorenz Hart deliver such immortal numbers as Love Me Tonight, Mimi and, of course, Isn't It Romantic? In support, we have the indomitable C Aubrey Smith (a former test cricketer, don't you know?), the delightful Charles Ruggles and the electric Ms Myrna Loy. We also get Jeanette MacDonald before she was led astray by the wooden Nelson Eddy. And we are allowed to enjoy Maurice Chevalier, still young and cheeky, years before he became an overused Parisian tourist attraction. (Ah, I remember it well.) "Those guys in the French Resistance were really brave. To have to listen to Maurice Chevalier sing so much," Alvy Singer tells the title character in Annie Hall. Ah, shaddup!
For 1932 we also considered Boudu Saved from Drowning, Freaks, I Am a Fugitive from a Chain Gang, I Was Born But…, Scarface, Vampyr, Shanghai Express and, of course, Rouben Mamoulian's Dr Jekyll and Mr Hyde. View the complete series here.