What happened to SpongeBob SquarePants II?
After an eternity of waiting, a sequel to the first cuboid sponge film is finally looming.
Certain staff members at The Irish Times still quake a little at the memory of the erroneous five stars awarded to SpongeBob SquarePants: The Movie a decade ago. These things occasionally happen. I had filed a review with four stars and one more dropped in during the production process. Ha Ha! Of all the things to accidentally elevate to the top rank. How mad is that? Actually, not all that mad. Stephen Hillenburg's creation is one of the most delightful children's shows ever unleashed on television. Like all the best of such diversions — The Magic Roundabout, The Banana Splits, Sesame Street — the series permitted adult enjoyment without ever compromising its dedication to entertaining the wee ones. (The Simpsons, aimed as much as adults as children, is a different beast.)  Featuring welcome contributions from David Hasselhoff, Alec Baldwin and Scarlett Johansson, the film expanded upon the series in very satisfactory fashion. Why not award it five stars?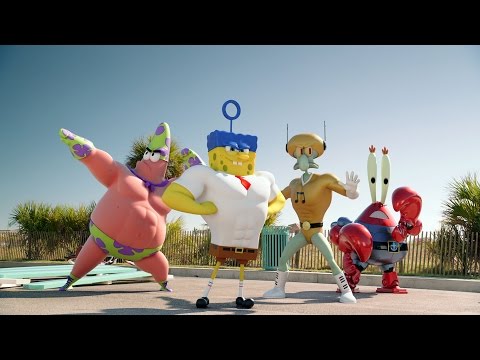 Then, alas, there was silence. The show is not quite so popular as it once was and certain Spongistas have detected a decline in quality. But it's still huge enough and there is an army of children eager to giggle their way through maritime anarchy. Come to think of it, given that the show was conceived in 1990, there are, terrifyingly enough, now a few new parents about the place who were once in the key demographic. (Let's pretend that's not true. Shall we?)
Now, finally we have confirmation that a second film — Sponge Out of Water — is on the way. Infuriatingly, it will not be will us until next March. But we do have a trailer and I can say, without fear of hyperbole, that is among the greatest things I have ever seen. As you will learn, the team behind the picture are opening the story out and allowing in 3D versions of the characters (both in the sense of digital animation and of stereoscopy). I won't spoil it for you. Watch and enjoy. Then hold your breath for another nine months or so.