That Unheimlich Paddington trailer
Six months before its release, the film version of Michael Bond's great stories is already causing some unease.
You could argue that, to this point, there have been few phenomena less unsettling than Paddington Bear. The original books by Michael Bond (happily, still with us) conjure up a delightfully warm version of post-war London that abounds with cheery characters such as Mr Gruber and old-school grumps such as Mr Curry. Paddington himself was a sort of holy fool. He was, I suppose, clever for a Peruvian bear. After all he could talk, which is more than most caniforms can manage. But, forever getting the wrong end of the stick, he brought various shades of chaos wherever he went.
The TV series offered an honourable and charming take on those books. The animation was uncomplicated, but all the more amiable for its lack of flash. The narration by Michael Horden was perfect.
There was no great reason to fear an upcoming film version. A graduate of Garth Marenghi's Darkplace and The Mighty Boosh, director Paul King seemed to know what he was doing (though, as we'll see, there were warnings worth heeding in that CV). Colin Firth seemed a good pick for Paddington's voice. Nobody could suit the role of Mr Gruber better than Jim Broadbent. Hugh Bonneville was born to play Mr Brown, the kindly middle-class gent whose family adopts Paddington.
Then we saw the first proper trailer…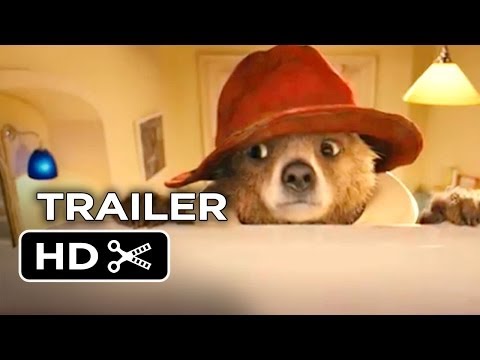 As always in such situations, we point out that trailers tell us very little about the film to come. We have, this summer, already discussed how the Godzilla promo led many of us into believing that Gareth Edwards's film would be a great deal less dull than it eventually turned out. To be fair, Bonneville is quite amusing in the opening section and the scenario has potential. But that animated bear! Oh heavens. Within minutes of the trailer appearing, "Creepy Paddington" has become a meme on Twitter, Tumblr and Instagram. People were placing the bear in scenes from Alien, The Shining, Game of Thrones and Cabin in the Woods. The latest Paddington has become a horror anti-hero for the new age.
I can't pretend I am not aboard. My first reaction was a horrid shudder. It's difficult to pin down what is quite so disturbing about the latest incarnation of Paddington. But it's something to do with the swerve away from a cartoon image to a version that looks just too unsettlingly bear-like. I'm sure you like your cat. But it would be genuinely scary if he or she began talking, washing the dishes, playing with your X-Box or mending the vacuum cleaner. By investing too much reality in the beast, the makers of the film have granted him a sense of the Unheimlich – a Freudian notion concerning entities that are both familiar and strange. We are making our way straight into the Uncanny Valley here; that's the point in the graph charting human response against anthropomorphism when the subject is eerily close to reality, but still a sliver away from making the grade. We don't like that. For a good example, compare the creepy humans in Toy Story against the not remotely creepy toys. That studio quickly realised the problem and made a charming caricature of Boo in Monsters Inc.
How did we get here in a conversation about Paddington? One wonders what Studio Canal will make of it all. Well, the trailer has certainly generated a a great deal of chat. It's not exactly the right kind of chat, mind. Paddington will be with us at Christmas. Until then, keep all the windows closed and all the doors locked. Most importantly, leave no marmalade sandwiches in plain view.