Cannes review of Red Army
Five stars for a funny, moving documentary on the glory days of Soviet ice hockey.
RED ARMY
*****
Directed by Gabe Polsky
85 min, out of competition
You learn something new every day. Having as much interest in ice hockey as I do in helicopter maintenance, I was unaware that the Soviet hockey team of the 1970s and 1980s were (this cliché is avoided here, but then it is a US documentary) the Brazil of that madly bruising, absurdly rapid sport. So it seemed. It wasn't just that they were the best. They played with levels of balletic cooperation that bordered on the sublime.
The story of that era is perfectly suited to a documentary. But young American film-maker Gabe Polsky – born to Russian parents – excels himself in this fabulous, funny, uplifting film. Playing out of competition, Red Army can sit comfortably beside such great sports docs as When Were Kings, Senna and Once in a Lifetime. Polsky shows himself to be possessed of sharp antennae for delicious oddity. An ex-KGB agent (who looks eerily like Stan Lee) is interviewed while his adorably cheeky granddaughter wanders randomly in the foreground. The camera rolls while the interviews are still being set up. Archive footage plays up the absurd rivalries of the Cold War.
Thierry Frémaux, festival president, introduces Gabe Polsky and Viacheslav Fetisov at the official screening in the Soixantième Theatre.
The director has based his film around the extraordinarily charismatic, stubborn, wryly funny Viacheslav Fetisov. Recruited by the Red Army team when he was just eight, he went on to form an unbeatable partnership with four equally stoic colleagues that helped the side dominate the sport for two decades. The film catches them weaving and dancing about the ice in a manner that seems to defy physics and biology.
Fetisov is clearly not a chap to be messed with. When the Soviet Union began to wind down during the late 1980, he, like his colleagues, was eager to avail of the money being flung around by the US National Hockey League. But he refused to accept the Politburo's terms and pay the majority of his salary back to the state. At the same time, a man of great honour and national pride, he would not countenance the notion of defecting. This did not stop the KGB beating him up after he stormed away from the national side.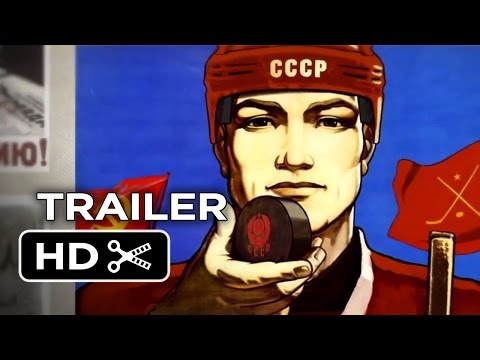 When Fetisov eventually makes it to the NHL the film becomes more interesting still. Without over-egging any political puddings, Red Army uses sport to make some telling points about the differences between Soviet and US society. The Russian game thrived on team spirit and co-operation. The less graceful American version was more violent and more individualistic. Supporters and team mates just couldn't understand why the emigrés insisted on passing the puck so often.
Viewers will have mixed feelings on learning (or, if they are less ignorant than this reviewer, being reminded) that Fetisov was recently appointed as sports minister by Vladimir Putin. But he seems impressively sober about the problems facing the new Russia. Despite being so mistreated by the old system, he is appalled, on finally returning, to discover his country overrun by greed. He deserves a bit of acclaim in his later middle-years. He can now also boast about his appearance in an absolutely cracking documentary.
With the reliable Wild Bunch handling sales in Cannes, there is every chance the flick will turn up in domestic cinemas. An absolute stormer.