Trailer for A Million Ways to Die in the West
Seth MacFarlane follows up the massive hit Ted with a comedy western.
Seth MacFarlane is in a slightly difficult place. His first feature, the resolutely unreconstructed, but very funny, Ted made an absolute fortune throughout the globe. Indeed, it was one of the few live-action comedies to take serious bean in 2012. A few months later, he delivered a slightly peculiar performance as host of the Oscars. The organisers hired a man known for his frat-pack humour and seemed surprised when he delivered a frat-pack monologue. Meanwhile, while The Cleveland Show limps on, he is still searching for a TV comedy hit to follow up the endlessly repeated Family Guy and American Dad. On the other hand, he has received deserved praise for helping to revive a version of Carl Sagan's great science documentary Cosmos.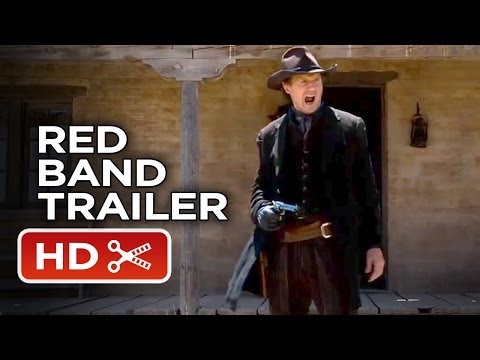 Which brings us to A Million Ways to Die in the West. A comedy western doesn't sound like anybody's idea of a sure-fire box office winner. The Lone Ranger (though underrated by panicky US critics) was a famous flop. Indeed westerns of all sorts have bombed over the past decade or so. The wonderful The Assassination of Jesse James by the Coward Robert Ford, despite starring William Bradley Pitt, somehow managed to take just $3 million at the US box office. That's Mongolian Yak-herder territory.
Anyway, we're assuming that A Million Ways will not be much like that contemplative reverie. What to make of the trailer? Well, it's quite funny. But we'll have to hope that they haven't packed all the best jokes in here. It doesn't exactly have you rocking in the aisles. The notion seems to have been to play up to the title. This is quite a good running gag: virtually everything in rural America during the 19th Century could kill you. So, one fellow gets crushed by ice, another chap dies of a splinter and so on. Funny as it is, however, we would hope for comic pulses in a few more directions.
Another worry is MacFarlane's decision to cast himself in the lead role. He is (whatever your objections to the occasionally misogynist tone) an enormously talented fellow, but he is not rolling in cinematic charisma. By way of contrast, our own Liam Neeson flies about the planet on waves of magnetism. He plays the villain and, happy to relate, appears to be speaking in an even broader version of his own Antrim accent. How's about ye, Liam.
A Million Ways to Die in the West opens on May 30th.