Farewell, Bob Hoskins
The charismatic round-faced character actor leaves us at the age of 71
Let's get one thing straight first. Bob Hoskins wasn't a cockney. He was raised in and around Finsbury Park. That's north London, guv, and don't you forget it. He was, however, properly working class. Nobody could confuse him with a member of the public school and RADA mob. The son of a lorry driver and bookkeeper, Bob left school at 16 and made ends meet as porter and a window-cleaner before a happy accident propelled him into the acting business. The story goes that he was waiting for a friend to finish an audition at the Unity Theatre in Kings Cross and was mistaken for the next actor up. He gave it a go and ended up getting the part for which his mate was trying out.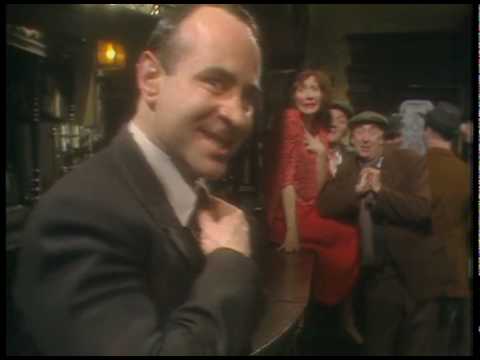 He was then in his mid-twenties. You can spot him in a few small roles for film and telly during the early 1970s. But it was his turn as a depressed music-sheet salesman in Dennis Potter's Pennies From Heaven that really made his name. Indeed, despite his great success and his Oscar nomination for Neil Jordan's Mona Lisa, that series still managed to crop up towards the top of many of today's obituaries. He's hard, but sad. He's angry, but open to sentiment. You saw that character popping up repeatedly in Hoskins's career: the compromised hard-nut in Mona Lisa, the ruthless villain in The Long Good Friday, even the confused private detective in Who Framed Roger Rabbit.
If we were in any doubt that Bob was among the premiere character actors of his generation then such questionings were dispersed by John Mackenzie's The Long Good Friday. Released in 1979, the film competes convincingly for the title of best ever British gangster flick. (Though we could, of course, argue strongly for Get Carter, Brighton Rock and, well, Mona Lisa). The film also proved enormously prescient. Released in the year of Mrs Thatcher's election, it foretold the rise of rapacious docklands development and the escalation of Irish Republican violence. Hoskins was cockily impressive throughout, but his silent resignation in the last scene — confronted by early Pierce Brosnan with a pistol — remains the best thing in the picture. (If you've never seen The Long Good Friday you may decide to ignore the video below.)
After that Bob managed to engineer an ideal blend of earthy British leads and smaller turns in big-budget US films. The best scene in Oliver Stone's tolerable Nixon sees Hoskins's J Edgar Hoover contemplating the state of the nation while racehorses snort symbolically. He's tremendous as a sweary Nikita Khrushchev in the otherwise unimpressive Enemy at the Gates. Also seek him out, among many contemporaries, in Fred Schepisi's Last Orders  and, convincingly Brummie, in Atom Egoyan's Felicia's Journey. We hardly need to mention the sad, dreamy Mona Lisa again.
I met him once and, happy to relate, he turned out to be a good egg. His dad was a communist and Bob harboured a distaste for right-wing snoots throughout his life. In an interview with the Guardian in 2011 he claimed that the person he hated most in the world was Tony Blair because he had "done more damage than Thatcher." These days, we think of 71 as too young to die. That was certainly true in Hoskins's case as he had the sort of talent that could be exploited deep into old age. There were still landscapes to be explored in that characterful face.
Sadly, Parkinson's Disease set in a few years ago and he announced his retirement in 2012. Do they still make hard-boiled (but soft-centred) London actors like him? Probably not. But all the greats are unique. That's what makes them great.