What's the greatest ever Shakespeare adaptation on film?
In tribute to William Shakespeare's 450th birthday, we identify the best film of his work. There was, in the end, no real competition.
I suppose we need to get our definitions straight. Let's rule out those films that merely use the plots of Shakespeare plays and abandon the language. There are many superb films in that category. Akira Kurosawa's Ran, a take on King Lear, and his Throne of Blood, variations on Macbeth, are as good as anything in that immortal director's work. West Side Story is one of many successful reinventions of Romeo and Juliet. Forbidden Planet does astonishing things with The Tempest.  But, given that so much of Shakespeare's work is based on earlier sources, this seems like a bit of a cheat. We need the words (even if they are rendered in translation).
There is no point trying to avoid Olivier. His films of Hamlet and Henry V still stand up very nicely. Richard III contains a fine performance, but it's really just a record of a theatrical production. Hamlet still soars with rough energy. Henry V, juiced up by patriotism and William Walton's score, has a quite extraordinary uplift to it. The later versions of those plays by Kenneth Branagh feel weighed down by anxiety of influence (though Ken's Henry V is impressively grubby).
Many would argue for Grigori Kozintsev and Iosif Shapiro's famous Soviet version of King Lear from 1971. It is an astonishing piece of work. Jüri Järvet is deeply touching as the flawed King and the effective grasp of antique misery suggests that Lear — a perfect Dostoevsky anti-hero — might have been Russian all along.
There are many others we could list. Roman Polanski's Macbeth turned that play into a sexed-up dark-ages horror film. Max Reinhardt's playful Midsummer Night's Dream — featuring the recently late Mickey Rooney as a playful Puck — is always worth rediscovering. Ralph Fiennes' Coriolanus gets at the nature of political violence (and announces Gerry Butler as an unlikely Shakespearean declaimer).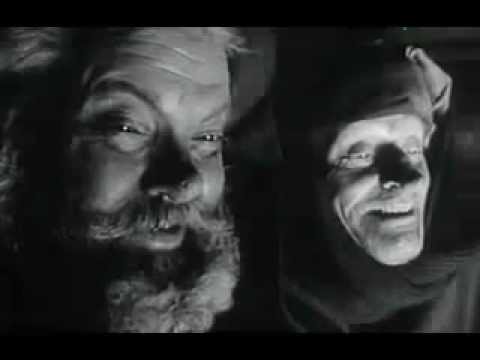 I know thee not, old men. The last word must lie with Orson Welles. His three Shakespeare films, each made in the most difficult of circumstances, are all different sorts of masterpieces. Obviously, his blacked-up Othello would no longer be possible, but its spooky otherworldliness still chills the blood. The accents on Macbeth wobble a bit, but that film could hardly be more existentially windswept. The best of the bunch — the whole blasted bunch — is, however, Chimes at Midnight, his adaptation of Henry IV parts 1 & 2. Though Welles was barely 50 when the picture was released in 1966, he already had the tired gait of a man pressed down by misunderstanding and under-appreciation.  Henry IV stands or falls on its Falstaff and, creased by those disappointments, Welles created a reveller and sage for the ages. "I have more flesh than another man, and therefore more frailty," he says poignantly. He's a terrible, terrible fellow, but he is more loveable than the saints, heroes and geniuses. There really are no weaknesses to Chimes at Midnight. Edmond Richard, who also worked with Buñuel, gives us silvery, shadowy images. John Gielgud brings out the music of Henry IV's sombre speeches. Jeanne Moreau is a properly sad Doll Tearsheet. It may be the best film Welles ever made and, as you may know, many still say another of his movies is the best of all time. What a man.