Punters refuse to rain on Noah's parade
As Russell Crowe fights his way around the world, news reaches us that Noah is already a hit.
Can we already describe Noah as the World War Z of 2014? As you may recall, that zombie film was supposed to be an almighty flop, but ended up turning into a substantial hit. That narrative already seems to have attached itself to Darren Aronofsky's Noah. We are overstating the case a little. The Brad Pitt vehicle had been knocking around in production hell for several years. Noah didn't experience quite so many pre-release crises, but it certainly smelled just a little of turkey. The studio did some nervy recutting. The US press whinged about late press shows. Who the heck was this thing for?
All kinds of people it transpires. Released in a handful of overseas territories last week, unleashed in the US at the weekend, the picture is already well on its way to passing the $100 million mark. I wouldn't bet upon it being a massive hit. But it should certainly make back its substantial budget and save Paramount's rising blushes. This counts as good news for Ridley Scott and his friends at 20th Century Fox. Later this year we get to see Christian Bale in that director's Exodus: Gods and Kings, which really does tell the story of Exodus. If one film based around the Pentateuch had just failed then the team behind the second could be forgiven for getting a little nervous. They can now proceed in a spirit of hopefulness.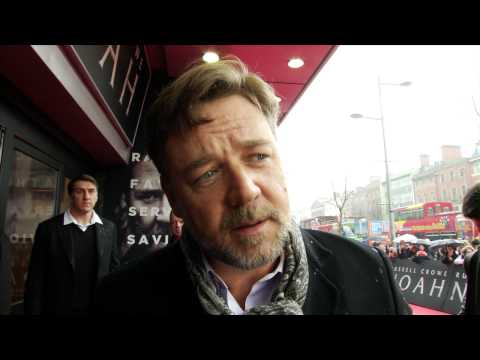 We can't attribute Noah's success to Russell Crowe's whistle-stop tour of the Celtic capitals on Saturday, but it certainly won't do the film any harm in Dublin, Edinburgh and Cardiff. I was at the Savoy  to see him introduce the picture at two o'clock (an hour late). It seemed inconceivable that he would, as planned, be in the Scottish capital for 4.30. But so it transpired. He even seems to have found time for a pint in Fagans on the way out to the airport. Then he did, indeed, then make it to Cardiff for 7.30. How the hell did he manage that?
While in Ireland, he managed to get into a fight with a reporter on the red carpet. It might be overstating it to say the thing had gone viral. But this is certainly a classic bit of Crowology (about which we will politely make no further comment). Most significantly, the incident does allow us to drag out everybody's favourite Crowe parody from South Park. We wouldn't be without him. Would we?