The rise of Lupita Nyong'o is both welcome and complex
It looks like the best woman might win. But it's a shame the red carpet is such a factor.
Let me get this out of the way first. I think Lupita Nyong'o deserves this year's Academy Award for best supporting actor. Jennifer Lawrence is fun in American Hustle. Sally Hawkins was fine in Blue Jasmine. June Squibb was a trooper in Nebraska. Julia Roberts was actually rather better than Meryl Streep in August: Osage County. But Lupita's turn in 12 Years a Slave is in a different class. Her desperation is positively discomfiting. Her degradation is painful to watch.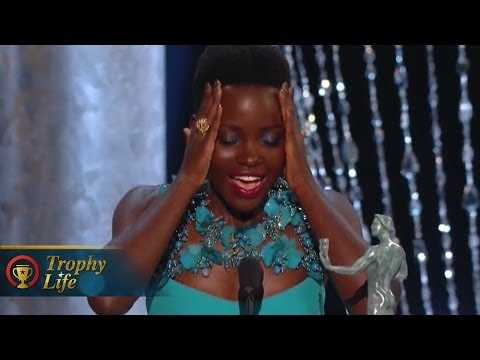 For the first month or so of awards season (which now lasts all year) she looked to be tailing Lawro by some distance. Jennifer won the Golden Globe and, in her endearingly affectless way, managed to come across as a smart woman and a proper movie star. That'll do. But, on that same evening, Nyong'o planted a flag that had fluttered ever more vigorously in the interim. It was nothing to do with her performance (or not her performance in the film, anyway). Lupita achieved victory on much more significant terrain: she won the red carpet. This was partly to with her admittedly fabulous dress: a red affair with a cape that shouldn't have worked, but did. It was as much to do with her patient demeanour while being asked stupid questions on that stupid red carpet.
A week or so later, she won at the Screen Actors Guild and delivered a speech that was well poised, modest and charming. Sod, you, Lawrence. You can forget about becoming the first back-to-back acting winner at the Oscars since Katharine Hepburn. We've got a new queen of Hollywood now.
Last week, Matthew McConaughey told me (clunk! as name drops) that he didn't realise his Golden Globes speech was an audition for the equivalent Oscar oration until he read it in the trade papers. I believe him. When you are caught up in that whirl, it must be very hard to remember which end your feet are at and which end plays host to your head. I'm sure Lupita is doing her best to promote her superb film, but I doubt she is cynically calibrating her charm to lure in as many voters as possible. Nonetheless, she has become a runner in a very peculiar sort of race.
As Matthew noted, the male nominees are under pressure as well. But their appearances are not examined with quite that degree of assiduousness. A decade or so ago, Russell Crowe almost certainly lost the Oscar to Denzel Washington because he manhandled a producer at the Baftas. It seems unlikely any man ever lost because he was wearing the wrong cut of dinner jacket.
Don't get me wrong. If Lupita does win in March then that will be mainly as a result of delivering a transcendent performance. But it was the Red Carpet Olympics that, building on her reputation, nudged her ahead of Lawrence in the Oscar Derby. Her front and centre appearance on the Hollywood edition of Vanity Fair only cements that status. Of course, it was ever thus. Indeed, Hollywood probably treated its women far more carelessly in the era of Gloria Grahame and Marilyn Monroe. But it would be nice if the Oscars were just a little less about empty glamour. Yeah, some chance.
Anyway, I still hope she wins.