Raves for Lenny Abrahamson's Frank in Sundance (and a clip)
Mr Abe's follow-up to What Richard Did has gone down a storm in snowy Utah. Here's a snippet.
It is almost a year to the day since I pottered out to a secret location in County Wicklow to chat with the cast of Lenny Abrahamson's follow-up to What Richard Did. There was Michael Fassbender in a giant papier mâché head. There was Maggie Gylenhaal in a big woolly hat. It was quite a gathering. Loosely inspired by the late Frank Sidebottom, the film tells the story of an ordinary Joe (Domhnall Gleeson) who ends up playing toothbrushes and the like in a an avant garde rock group. Odder things then happen.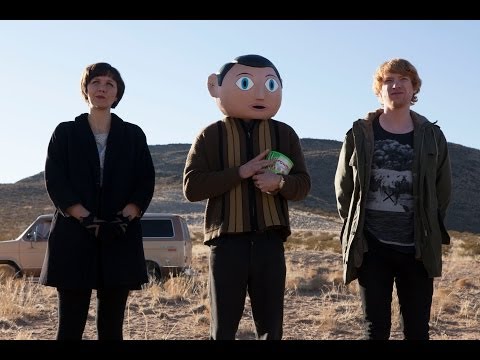 At that stage, Ed Guiney, Lenny's longtime producer, cautiously suggested that they might like to see the film at Sundance in a year's time. So it has proved. Frank premiered in that Utah event on Friday night (see Frank-headed audience above) and, we're happy to relate, the first reviews are very positive. Peter Debruge, chief international critic at industry bible Variety, called the film "a weird and wonderful musical comedy" in his only mildly qualified rave.  The Telegraph delivered a four-star review. IndieWire called it "bizarrely brilliant". Screencrush went for 9/10. (There was one raspberry from the Hollywood Reporter, but we'll let you find that yourself.)  Unfortunately we, in Ireland, must wait until May to see Frank. But appetites have been very satisfactorily whetted.