So what's up with the Oscars?
It's your bumper print-out-and-keep guide to the Oscar race as it now stands
We've left it long enough. The time has come to ponder where we stand in the Oscar race. Last year, we had already seen the lead change three or four times. First it was Silver Linings Playbook. Then it was Les Misérables. Then it was Lincoln. Zero Dark Thirty had its moment in the sun. It wasn't until February that Argo began to emerge as the favourite.
This year's fight for best picture has not been so volatile, but it has been every bit as close. The starting gun sounded — as it so often does — in early Autumn when strong runners were set free at the Venice and Toronto Film Festival. 12 Years a Slave immediately emerged as the one to beat. Gravity also received storming reviews, but it seemed a little too spacey (in a literal sense) for the Academy. Did it not? Those old devils  have always seemed a little suspicious of stuff that looks a little bit like science fiction. (We've already explained that Gravity doesn't quite fit into that genre. So we'll say no more on that here.) But the vigorous box-office for Alfonso Cuarón's thrilling movie and its strong showing with critics strengthened its position in Oscarology department. By late October it appeared to be a two-horse race.
Captain Phillips looks like the kind of film that will get a host of nominations, but win none. Philomena didn't seem as if it would appeal all that strongly to Americans. Inside Llewyn Davis was greatly loved at Cannes, but the Coens are, perhaps, taken a little for granted; they've had their Oscar and they may have to be content with just the one. By that stage, the only two unseen films that seemed likely to challenge the favourites were David O Russell's American Hustle and Martin Scorsese's Wolf of Wall Street. Early reports were positive on both, but the same sorts of thing had been said about Les Misérables last year.
It's not often that the deliberations of a critics body changes Oscar odds. Those sets are seen as being slightly more esoteric in their choices than (to coin a Weinsteinian term) the steak-eaters of the Academy. But the astonishing news that the New York Film Critics Circle had plumped for American Hustle did set tongues a-wagging. (Having now seen it, incidentally, I am more astonished than ever.) If they'd gone for 12 Years a Slave then everyone would have shrugged: that's just the sort of film you expect the Gotham highbrows to favour. If Gravity had won then its star would have risen just a little. But the fact that American Hustle — a light-hearted con romp — had done so well with that particular crowd really focussed attention. It then went on to tie with 12 Years a Slave for most nominations at the Golden Globes and the Critics Choice awards. We know not to pay too much attention to either body. We further note that, with a tiny cast and an iffy script, Gravity is always going to come up short at ceremonies that don't include the full spectrum of technical awards. But, like it or not, Hustle is up with the leading group.
Having said that, I don't see this as a real three-horse race. Okay, it's true to say that, at this early stage, it's hard to see the winner coming from anywhere else. But Hustle is just a little hard to get a handle on. What, exactly, are the Academy voting for here? Also, it's much too like Argo. Can we really imagine two con films rich with 1970s fetishisation winning in successive years? It seems a little fantastic. So, I still see Gravity and Slave as being more or less neck-and-neck here. The Cuarón film seems, however, a more likely winner: a greater number of voters will have seen it; they'll want to award that combination of box-office oomph and artistic innovation.
The acting races also look quite tasty. 12 Years' Chiwitel Ejiofor and All is Lost's Robert Redford vie for best actor. Blue Jasmine's Cate Blanchett is some way ahead of Sandra Bullock for Gravity and Judi Dench for Philomena. In best supporting actor, Jared Leto, strong in Dallas Buyers Club, looks to be a nose in front of Slave's Michael Fassbender. Best supporting actress seems like a three-way tie between Lupita Nyongo for 12 Years, Jennifer Lawrence for American Hustle and Oprah Winfrey for The Butler. (If pushed, I'd nap them in the order just listed.)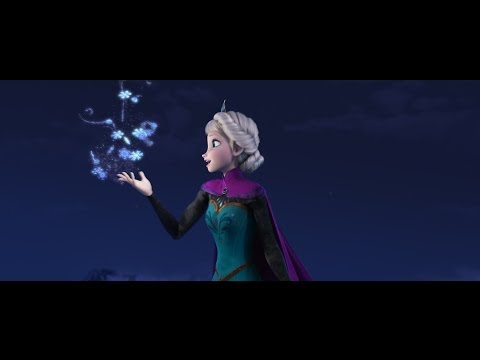 And there we stand. So, are any of the races dead certs? Well, many of the technical categories already seem marked down for Gravity. That's about it. The best foreign language picture should be a straight fight between The Hunt (first premiered two years ago) and The Great Beauty. The Wind Rises could pip Frozen to best animated feature. Oh, hang on. There is, surely, one sure thing. If Let it Go from Frozen doesn't win best original song I'll eat my own foot. Enjoy it above.
Here our current guesses at the best-picture nominees. There can be as many as 10. But, since the rules have been changed, they've gone with nine; so I've done the same here. As ever (as I say five times every year) these are not my favourites. This is what I think the Academy will plump for. If there are 10 then I expect Spike Jonze's Her to make it in. Maybe, I should put in in now. Oh, step back an leave it to the ages.
In order of likelihood…
GRAVITY
We've said it all above. If Cuarón and his team want to worry themselves they need, however, only recall what became of Avatar. A high profile project that fell to a somewhat more downtown production…
12 YEARS A SLAVE
Could Steve McQueen become the first black man to win a best directing Oscar? That's probably slightly less likely than the the film winning best picture. But both are still strong possibilities.
AMERICAN HUSTLE 
With one bound it was in the leading pack. Jennifer Lawrence could become only the third woman to win back-to-back acting Oscars.
CAPTAIN PHIILLIPS
Tom Hanks is also a certain nominee. Paul Greengrass is likely for director. But where do the wins come from? I see it going home empty handed.
THE WOLF OF WALL STREET
Scorsese has had an extraordinarily consistent record of nominations recently. So, the film only had to be moderately good to receive a nod. Initial reports are good.
THE BUTLER
The film has received quite a few setbacks recently. It was, most conspicuously, completely snubbed at the Golden Globes. Forget that. It's the sort of broad-stroke crowd-pleaser the Academy adores.
INSIDE LLEWYN DAVIS
I am swapping this with Saving Mr Banks. That story of Walt Disney got decent reviews, but hasn't picked up much buzz. The Coens film has few enemies and many friends.
PHILOMENA
Stephen Frears's film hasn't made a fortune. But it has Harvey Weinstein behind it and he has already managed to elevate a tussle with the New York Post into a teacup typhoon. That's what he does.
NEBRASKA
The Academy has always loved Alexander Payne and the subject matter — old goat gains redemption — will suit them very nicely. Bruce Dern could yet challenge for best actor.
Out: Saving Mr Banks. In: Inside Llewyn Davis.