Farewell, Joan Fontaine
One of the true Hollywood greats passes away at 96. Her sister, Olivia De Havilland, remains with us.
It's not quite comparable with C S Lewis dying on the same day as John F Kennedy, but it was a little unfortunate that Joan Fontaine's passing at 96 was so overshadowed by the death of spring-chicken Peter O'Toole. It gives some sense of Ms Fontaine's great age (and the fickle nature of Hollywood) to note that O'Toole's proper arrival with Lawrence of Arabia in 1962 coincided with the actress's virtual retirement from the movie industry. Indeed, she made just one more film after that point: Hammer's interesting, but minor, horror The Witches. There were bits of telly here and there. She made a few public appearances. But her time as a proper movie star was over.
And what a star she was. As everybody should know, Fontaine was the sister of the equally glamorous Olivia De Havilland (they were sprigs of the aircraft dynasty that bears that name). Olivia — who, at 97, is still with us — became a major star first in timeless pictures such as The Adventures of Robin Hood and Gone With the Wind. Fontaine secured a contract with RKO, but found herself confined to small parts in big films or big parts in small films. Alfred Hitchcock's Rebecca changed all that in 1940.
The second Mrs de Winter is, in many ways, a thankless part. Whereas an actor playing the fearsome Mrs Danvers, gets to do all that homoerotic growling and ghostly scowling, Mrs de Winter is little more than a frail wraith. But Fontaine made something genuinely touching of the role. Her vulnerability was heightened by poor treatment from Laurence Olivier, who couldn't understand why his wife Vivien Leigh had not been cast. It is the only Hitchcock film to win the best picture Oscar — though Fontaine lost out to Ginger Rogers — and one of the small number of his films that pays respect to its literary source.
Hitch cast her next in the strange Suspicion which, despite its rather laboured Freudian pretentions, contains some of the master's spookiest moments. This time, Fontaine won best actress and beat her sister, nominated for Hold back the Dawn, in the process. Never close, they began a feud which, by some reports, only ended with Joan's death at the weekend. "I married first, won the Oscar before Olivia did, and if I die first, she'll undoubtedly be livid because I beat her to it," Joan said many years ago. (De Havilland did eventually win an Oscar for the ho-hum To Each his Own in 1946.)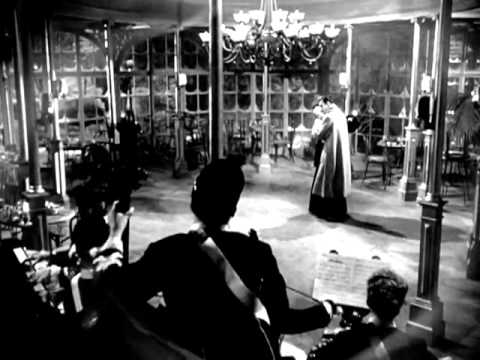 Many obituarists have, understandably enough, pointed readers towards Rebecca, Suspicion and the 1943 version of Jane Eyre. But Ms Fontaine's best performance was, surely, in Max Ophüls's astonishing Letter from an Unknown Woman. Released in 1948, the picture concerned three meetings between a man and an older woman over several years. The film was only a modest success on release, but it has belatedly become celebrated as one of Hollywood's great engagements with Europe. Ophüls arranges some spectacular camera moves. Louis Jourdan (also still alive, interestingly) is worryingly suave as the suitor. And Fontaine very movingly conveys a move from callowness to maturity.
We say this sort of thing a lot. But she and her sister really were the last of a legion. De Havilland is now the second-oldest living Oscar winner. Luise Rainer, at 103, holds the record. She is easily old enough to have been Mr O'Toole's mother. How wonderful to have these folk still among us.