They're making a sequel to It's a Wonderful Life
They really are making a sequel to Frank Capra's spooky classic.
If you told any movie expert in 1946 that there would, at some point in the future, be a sequel to It's a Wonderful Life that person would, almost certainly, have snorted in your big, fat stupid face. The problem, however, would not have been the film's status as a contemporaneous classic. It was not seen as any sort of thing. Frank Capra's really rather spooky morality fable — think of Jimmy Stewart being rejected by his now-destitute mother — received mixed reviews and quite humble box-office returns. "Why would they make a sequel to that thing?" the response may very well have been. (To put this in perspective, the most successful film at the US box office in 1946 was Disney's Song of the South and the best picture Oscar went to The Best Years of Our Lives.)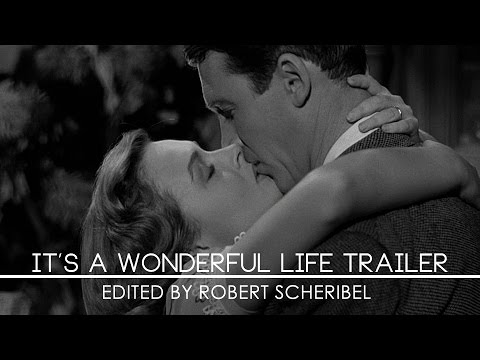 Now, of course, we think very differently. It's a Wonderful Life is a film that appeals across political and social divides. Sure, it argues for a very traditional class of American family life. But it also features a caricature of the robber baron that would not be out of place in a cartoon for the Daily Worker. The film's sentiment is balanced by that very dark streak we mentioned earlier. I remember seeing it as a young child and being totally freaked out by the thing. Here is this decent man cast into an unwelcoming hell decorated with Christmas lights. On reflection, Clarence the Angel was a bit of a bastard. Yes, this inspirational horror deserves its status.
All of which is a way of delaying the awful news that a bunch of hooligans really are planning a follow-up to It's a Wonderful Life. Variety reports: "The sequel, titled 'It's A Wonderful Life: The Rest of the Story,' is being produced by Allen J. Schwalb of Star Partners and Bob Farnsworth of Hummingbird. The duo are aiming to get the movie into theaters for the 2015 holiday season." What are these jerks up to? Well, we know what they're up to. However bad the film is, name recognition will still drag in more than a few punters. Of course, it is almost always a bad idea making a sequel to a classic on this scale. But It's a Wonderful Life is a particularly precious case. The story is a fable. You may as well make a sequel to the Tortoise and the Hare or the Fox and the Grapes. Oh Lord, what have I said. Some idiot is, even now, planning to but the Hare an alarm clock or get the fox a ladder. I'm such a fool.