50 years, 50 films: Dont Look Back (1967)
In our long march forward from 1963 we reach a priceless (though eccentrically punctuated) documentary on Bob Dylan.
Here's a quick trivia question for you. What do Finnegan's Wake and Don't Look Back have in common? You will already have worked it out. Despite what I have done above, neither the James Joyce novel nor the Bob Dylan documentary included an apostrophe in its title. Oh, and they are both among the greatest entities in their field.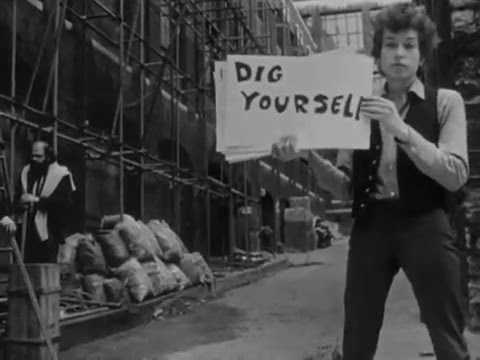 In our cinematic trawl through the last half-century, we could, upon reaching 1967, have picked Belle de Jour, Bonnie and Clyde, Point Blank or Le Samouri. But it seemed a nice idea to revisit the spirit of the summer of love through the medium of music. "What nonsense?" I hear you say. "D A Pennebaker's documentary covers Dylan's traumatic tour of the UK some two years earlier." Continuing your rudeness, you might then go on to point out that, in the 1960s, music changed more quickly than at any time in the 20th century (or, possibly, any other century). I don't think that applies to Bob Dylan. Just consider how many of the psychedelic artists continued to cover his songs. The Dylan of the mid-1960s still seems pretty modern now. His refinement and perfection of post-Beat gibberish poetry remains the model for all contemporary lyricists.
Anyway, Pennebaker's documentary proves — if proof were needed — that Dylan was painfully aware of the contradictions inherent in his supposed alternative to the mainstream. The iconoclast (consider the film's title) had become an unshakeable icon. His response was then — and always has been — to offer a sort of parody of himself. As long ago as the year covered by Dont Look Back, his live performances featured versions of his own songs that, with their exaggerated drawls and throwaway aspirations, seemed to feature a comic impersonation of this thing called "Bob Dylan".
Pennebaker captures that, but, more importantly, he captures Dylan's commentary on the absurd business of being unwillingly placed in charge of the counterculture as it approached its busiest hour. There is so much to enjoy in these conversations. His joust with a confused Time magazine correspondent is hilarious and a little cruel. His treatment of acolyte Donovan is harder to read: is Bob really a fan or is he slightly appalled by this efficient copy? Joan Baez — though a good sport about it today — has every right to be slightly disgusted by the cavalier way she, an early supporter of Bob, is  (sometimes literally) shifted into the wings. Perhaps, only Cracked Actor, Alan Yentob's relatively minor study of David Bowie, catches a more revealing picture of a pop star during his most creative period.
The highlight of it all, of course, remains the opening treatment of Subterranean Homesick Blues. Don't call it the beginning of the rock video. Call it the beginning, the middle and the end. Everything that happened on in the 1980s seemed silly by comparison. That really is Allen Ginsberg prowling in the background as Bob spins through his cards.
It's an extraordinary record of an extraordinary time. But it's also a great documentary in its own right. A lot of guff is written in glorification of the often-dreadful 1960s. This film proves that some of the hysteria is deserved.