Winners at the Japanese Film Festival
Citizens throughout the nation still have time to make it to one the year's most tasty cinema jamborees.
Venues across the nation have continued to celebrate one of the world's most vibrant cinematic cultures as Access Cinema's Japanese Film Festival plays out at the Triskel in Cork and at three locations in the fair capital: The Light House, UCD and DCU. It remains a delight to  see enthusiastic fans defy the dominance of Big Cinema and turn out for films that are unlikely ever to receive a commercial run in Irish movie theatres.
High thumbs up are directed towards the anime community (that crowd constitutes a community, I think). On Friday evening at the Light House, a large contingent turned out in force for The Ticket's screening of Mamoru Hosoda's implausibly moving Wolf Children. Introduced by our own Tara Brady, the picture does amazingly touching things with the story of a woman who marries a class of werewolf and gives birth to a two troubled children. Ten years ago (such are the very bearable trials of the job), I sat through Mr Hosoda's Digimon The Movie and, though impressed by its weirdness, failed to predict that the director would go on to make some of the coming era's greatest animated films.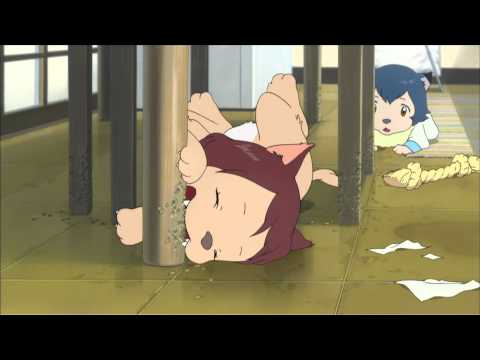 There was also much shouting and hollering at Takashi Miike's Ace Attorney (see mad image above) on Saturday evening. We've seen quite a few adaptations of video games, but few film-makers have attempted to transplant the weird aesthetics of odder handheld games into the cinema. (Console games, often aping cinematic tropes in their cut scenes, have already travelled some way down the road towards the big screen.) Ace Attorney, derived from a Nintendo DS oddity, could hardly be stranger if it was enacted with hand puppets. Miike remains the king of prolific oddness.
Murky deliberations by Daniel Anderson, Nicola Timmins, Brogen Hayes, Tara Brady. Not pictured: Rory Cashin.
Following the closing film, a panel of judges from the Dublin Film Critics Circle gathered in the Light House to discuss the winners. Sure enough, the prize for best anime went to Wolf Children and the gong for best film was handed to Ace Attorney. The good people of Galway will be able to see both films when the festival touches down in that city next week. A further selection will play in Waterford at the end of the month.
Well done, folk. We look forward to next year with enthusiasm.