Glenda Jackson lays into Mrs Thatcher
"A woman? Not on my terms," the veteran actor and MP declares in the House of Commons.
I was very disappointed recently to hear the great Miriam Margolyes, in conversation with Mark Lawson, speak unkindly of our old friend Glenda Jackson. The two had acted together many years ago and Miriam found Jacko rather hard work. That's putting it mildly.  Miriam gave the impression that she simply couldn't stand the more famous star.
I suppose she has always come across as a wee but flinty. Glenda seems, however, to have been on the right side of most arguments. Unlike many pontificating stars, Jackson eventually put her money where her mouth was and got herself elected as the Labour MP for Hampstead (natural home of the middle-class, lovey liberal) in 1992. Not only has she made life difficult for the opposite bench, but she also often clashed with the shiny, neo-liberal avatars of New Labour. On at least one occasion, she demanded that Tony Blair fall upon his sword.
Earlier today, the House of Commons convened to pay tribute to the recently late Margaret Thatcher. It was a very uneasy session. Obviously, various Tories queued up to celebrate the passing of the Grand High Empress. That's fair enough. She was on their side after all. The contributions from Labour were much queasier. Parenthetical sighs and more-sad-than-angry subclauses sat uncomfortably in carefully guarded encomiums. Nick Clegg wore the look of a boy who has been told to go and apologise to the next-door neighbour for knocking a cricket ball through his window. It's hard to see what the point of all this was.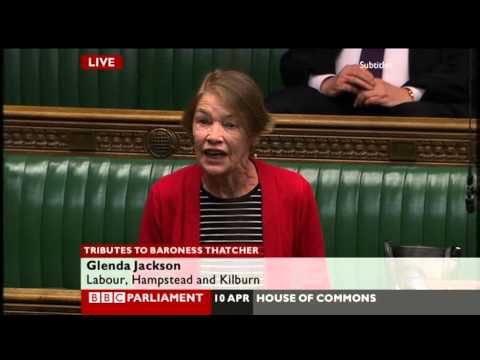 Then Glenda stood up and got stuck into the late Baroness. It was impressively unrestrained stuff and all delivered with the poise of somebody who's torn up the RSC's main auditorium on many occasions. "A woman? Not on my terms," she barked. "By far the most dramatic and heinous demonstration of Thatcherism was where every single shop doorway, every single night, became the bedroom, the living room, the bathroom for the homeless," she said, speaking of the devastation that resulted from the Tories' economic hooliganism. There was a great deal of mooing from the other side, but nothing she said was deemed to be unparliamentary. If the government insisted on staging this farrago then this is what they should have expected.
Jackson has said that she will stand down in 2015. She will then be approaching 80. Not too old to take on a few more biting roles in the movies. She has, today, proved that she's still got the chops.