The trailer for Only God Forgives is awesome
The first promo for Nicolas Winding Refn's latest makes surprising use of Kristin Scott Thomas.
Is there a hipper director on the planet than Nicolas Winding Refn? I would say not. It's been a funny old career. A full 18 years ago, the Danish director delivered the much admired thriller Pusher. Much of the Refn aesthetic was already firmly in place: a blood-red post-Scorsese, post-Michael Powell facade; hip, hip violence; a taste for blank amorality. He had to wait, however, until Drive in 2011 — winner of best director at Cannes — to properly register with international audiences. Bronson was superb, but didn't quite break through. His strange American film Fear X looked a little too much like off-the-peg David Lynch. Drive finally blasted open the door to mainstream acceptance. (Though, depressingly, it should be noticed that it didn't come close to breaking $100,000 at the world box office.)
You'll want to put some Savlon on that, Ryan.
The digital masses are, thus, waiting with eager expectation for Only God Forgives. We know something about the plot. Apparently, hot, hot Ryan Gosling, star of Drive, plays a hood who — driven by a terrifying mother — sets out to avenge the death of his brother in a (we're betting) red version of Thailand. The poster has already attracted interest. It's cooler than anyone could possible have hoped: poor old Ryan seems to have had nine colours of ordure kicked out of him.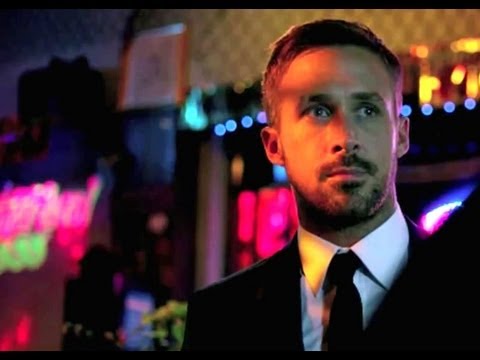 The first trailer lives up to the bubbling hype very satisfactorily. It is, of course, all red and sombre. There are hints of terrible violence. But the real revelation is to do with Kristin Scott Thomas. Now, don't get me wrong. I really like KST. She can handle a withering line better than anybody. When she's allowed, she exhibits good comic timing. But I am sick to death of watching her discussing Daniel Auteuil's sex life in the latest Gallic semi-clever bourgeois dinner-party baffler. It really is time to see her stretch.
Yikes. Just look what Nicolas has done to her here. Yes, that's her with the blonde hair, playing, it seems, a monster mother of Medea proportions. I'm sorry to start this crap already, but I spy a best supporting nomination.
Everyone seems convinced that Only God Forgives will play at Cannes. They're probably right. The film is then due for release in July. We can't wait.