This year everybody is assaulting the White House
White House Down and Olympus has Fallen both see the President under attack from pesky terrorists.
Where did this come from? Every now and then Hollywood fastens on to one particular story and can't let go. You know how these things go. It's all Robin Hood. It's all fairy tales with guns. And so forth.
We don't know if the Tea Party is to blame, but this year the craze is all for films in which the White House is assaulted by one sort of maniac or another. Up first we have Olympus has Fallen from arch time-server Antoine Fuqua. Oh man, that title. It could hardly seem more pompous if it were spoken by Ed Harris impersonating Lord Olivier. Anyway, OHF stars Morgan Freeman, but, somehow or other, fails to cast him as the President (are we sure Morgan Freeman hasn't yet been president in real life?). The role of Potus falls to chisel-jawed Aaron Eckhart. I'm not sure about that. Aaron looks like what Hollywood thinks presidents look like. In reality, they rarely resemble the heroes of 1950s cigarette commercials. Mr Freeman is the Speaker. Gerard Butler is the hitherto disgraced agent who saves the day when maniacs make an arse of themelves.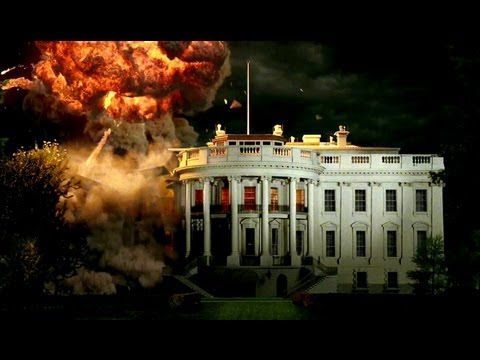 Shortly after that, we get to look at (or, more likely, ignore) Roland Emmerich's White House Down. I can believe Channing Tatum in the Gerard Butler role. Jason Clarke, torturer in chief from Zero Dark Thirty, sounds perfect for the chief hoodlum. But President Jamie Foxx? I suppose anything is possible. The difficulty is that the Foxxster has played one too many sleaze-balls in his time. Besides Morgan Freeman is the president. Isn't he? Get out of here, Foxx.
What exactly is going on? We may, perhaps, detect signs of collective nervous breakdown here. The American people, laid low by economic and political neuroses, now half expect their CEO to be annihilated at any moment. Perhaps, it's a cunning attempt to bring blue states and red states together: the latter fantasise about attacking the White House; the former look forward to repelling any invading Vandals. More likely, it's just a sign that there are only so many stupid ideas left in the world. That sounds more like it.