Mopping up at the Oscar nominations. Untouchable? Non?
Okay, first things first. Some mild crowing is in order. In my annual Oscar prediction post, I got 32 out of 39 picks correct. That works out to 82 percent, which I don't think is at all bad. As far …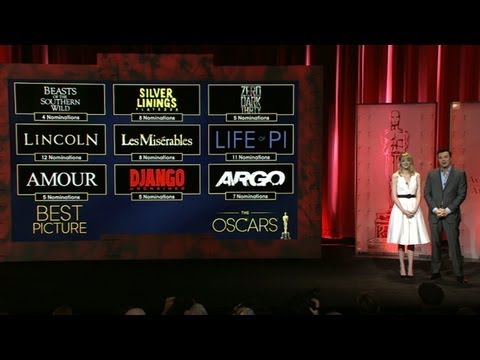 Okay, first things first. Some mild crowing is in order. In my annual Oscar prediction post, I got 32 out of 39 picks correct. That works out to 82 percent, which I don't think is at all bad. As far as best picture went, I correctly predicted there would be nine nominees. The only one not to figure was my ninth pick — The Master — and that was replaced by one of my reserves: Amour. I am happiest about getting all the best actresses right. I suspected that, by picking both Emmanuelle Riva and Quvenzhané Wallis, I was giving into sentimentality. But both the kid and the veteran will be there on February 24th. All in all, Screenwriter had a good day at the office.
The big screw-up was, of course, in the best director race. That was only one of two (more anon) categories in which I got more than one pick wrong. Then again, virtually no pundit on the planet will have got this one all right. Everybody, but everybody, had Ben Affleck and Kathryn Bigelow marked down in this race. Only the wisest felt that eventual nominees Michael Haneke or Benh Zeitlin would make it into the final enclosure. In an interesting analysis, Variety magazine today pointed us towards the Directors Guild of America nominations. That body picked Steven Spielberg, Ben Affleck, Tom Hooper, Ang Lee and Kathryn Bigelow. In the event, only two of those — Spielberg and Lee — received Oscar nominations.  Hold on to your hats. This is the first time since 1970 that there were only two crossovers between these lists. David O Russell, nominated for Silver Linings Playbook, was not a shock inclusion. Haneke and Zeitlin came from beyond left field.
The piece in Variety reminds us of two things: voting was electronic this years and it took place a great deal earlier. Voters who wanted to feel themselves on the winning team would not have had a chance to see the DGA nominations. Also, the electronic innovation may have encouraged greater numbers of  younger, hipper voters (under the age of 70, that is) to step up to the keyboard. Then again, wouldn't that demographic have voted for Bigelow's Zero Dark Thirty? All kinds of theories have been doing the rounds. This is hardly surprising. Many people felt that the three biggest rivals to Spielberg's Lincoln — out ahead with 12 nominations — were Les Misérables, Argo and Zero Dark Thirty. At a sweep, that theory is blown out of the water. No film has won best picture without receiving a director nomination since Driving Miss Daisy way back in 1989. As it stands, Lincoln now looks very hard to beat. Surely (and sadly) neither Amour nor Beasts of the Southern Wild can manage that feat. Of those films to have picked up a directing nod, Only Life of Pi and Silver Linings Playbook have the crossover appeal to go the distance. Let's pretend that's not the case. What a joy it would be to see Amour triumph.
A few more oddities need to be discussed. Almost unnoticed in all the kerfuffle, Silver Linings Playbook achieved something pretty remarkable. David O Russell's picture is the first since Reds in 1981 to clock up acting nominations in all four races: take bows, Bradley Cooper, Jennifer Lawrence, Robert De Niro and Jacki Weaver. I wouldn't whine too much about that. I didn't much fancy the film. But the performances were pretty top notch.
In this place, we have observed, with some sadness, the gradual decline of The Master over the lengthy Awards Season. Back in September, when it opened at Venice, Paul Thomas Anderson's picture looked certain to score heavily. In the event, it missed out on nominations for picture and director. Still, Philip Seymour Hoffman and Joaquin Phoenix won through to take acting nominations. (Let's note that PSH was really a co-lead, rather than a supporting player, and move on quietly). There were — despite Joaquin dissing the Oscars a few months back — no gargantuan surprises there. But here's another thing few people noticed: Jonny Greenwood failed to score a nod for best score. There's more. Dan Romer and Benh Zeitlin also failed to place for Beasts of the Southern Wild. Boo! Boo! These are easily the best two scores among films registering with Oscar voters. Anna Karenina? Skyfall? Get out of here.
Allow me to ponder one more shocker that few others have discussed. We expect the competition for best foreign language picture to throw up surprises, but not this sort of surprise. Two films seemed absolutely certain of a place: Amour and Untouchable. That last film edged out Rust and Bone to become the French nominee and had the fearsome Weinstein Brothers behind it. More to the point, it is exactly the sort of sentimental drama that tends to nudge aside more frightening fare in this odd corner of the Oscars. In my last post, I even suggested that it could beat Amour to the prize. You can't win if you're not at the race. The folk behind War Witch, a well-reviewed French-Canadian film, can, I imagine, hardly believe their luck. Untouchable ends up as a strange beast. It is one of the most successful French films of all time. It did pretty good business here and in the UK (deservedly so; it's delightful), but it didn't exactly set the world on fire. Let's see how the inevitable US remake will fare. It might even win an Oscar. See you here in a year or two's time.