Vertigo takes the title. The Irish Times reveals its favourite films.
The Sight and Sound poll results are in. Vertigo has finally toppled Citizen Kane.
By now you should be aware that, after half a century on the throne, Citizen Kane has finally relinquished the title of The Greatest Film of all Time. Obviously, there is really no such thing. But the closest we have to an accurate measure of cinematic greatness is, surely, the Sight & Sound poll. For six decades, every time the year ends in a "two" the official organ of the British Film Institute has polled the world's critics to discover which films are currently worthy of inclusion in the canon.
Since 1962, Citizen Kane has occupied the top spot. In 1992, Sight & Sound instituted a poll of directors. Orson Welles's film stayed at the head of that list as well. Until today. The directors have now plumped for Tokyo Story and the critics (joined, this year, by a body of programmers) finally dragged Vertigo to the number one spot in the main chart. Here's the skinny…
THE CRITICS' TOP TEN
1. Vertigo (Alfred Hitchcock, 1958)
2. Citizen Kane (Orson Welles, 1941)
3. Tokyo Story (Yasujirō Ozu, 1953)
4. La Règle du jeu (Jean Renoir, 1939)
5. Sunrise: a Song for Two Humans (F WMurnau, 1927)
6. 2001: A Space Odyssey (Stanley Kubrick, 1968)
7. The Searchers (John Ford, 1956)
8. Man with a Movie Camera (Dziga Vertov, 1929)
9. The Passion of Joan of Arc (Carl Dreyer, 1927)
10. 8 ½ (Federico Fellini, 1963)
THE DIRECTORS' TOP TEN
1. Tokyo Story (Yasujirō Ozu, 1953)
=2. 2001: A Space Odyssey (Stanley Kubrick, 1968)
=2. Citizen Kane (Orson Welles, 1941)
4. 8 ½ (Federico Fellini, 1963)
5. Taxi Driver (Martin Scorsese, 1980)
6. Apocalypse Now (Francis Ford Coppola, 1979)
=7. The Godfather (Francis Ford Coppola, 1972)
=7. Vertigo (Alfred Hitchcock, 1958)
9. Mirror (Andrei Tarkovsky, 1974)
10. Bicycle Thieves (Vittorio De Sica, 1948)
The success of Tokyo Story is, perhaps, less surprising. Ozu's untouchable film has been steadily accumulating prestige since its release in 1953. Vertigo's triumph becomes particularly astonishing when you consider that the film must, surely, suffer from a massive vote-splitting problem. What I mean is that many, many critics will feel they must select a Hitchcock film (though probably just one). And there are around 10 or 12 such movies that a voter could, without fear of seeming eccentric, slip into the available slot (plus another 40 or so in a nearby pile). Psycho, The Birds, Strangers on a Train, North by Northwest: we could go on. Moreover, this is a film that was quite poorly reviewed on release and, following Hitchcock's decision to withdraw the prints from circulation, very hard to see throughout the 1970s. Hitch later said that he felt James Stewart was too old for the lead.
For all that, Vertigo seems like a very good pick for the best Hitchcock and a reasonable selection for the best film of all time. Insanely spooky and more than a little inappropriate, it feels a little bit different every time you view it. This time Scotty seems like a victim. Now he comes across as a psychopath. The picture feeds on creative ambiguity. It was was in and out of my list right up until the ballot went in.
On that topic, before getting more deeply stuck into the top 10 — and, an innovation, a top 50 that you can view here — let us reveal (not that you care) The Irish Times' submissions to the Sight & Sound poll. Drum roll, please, maestro. I have placed each film's position (where relevant) on the Sight & Sound top 50 between square brackets.
DONALD CLARKE'S TOP TEN
1. BRIDE OF FRANKENSTEIN (James Whale, 1935)
2. STALKER (Andrei Tarkovsky, 1979) [29]
3. THE LIFE AND DEATH OF COLONEL BLIMP (Michael Powell, Emeric Pressburger, 1943)
4. SWEET SMELL OF SUCCESS (Alexander Mackendrick, 1957)
5. THE APARTMENT (Billy Wilder, 1960)
6. THE SEVENTH SEAL (Ingmar Bergman, 1957)
7. REPULSION (Roman Polanski, 1965)
8. THE GHOST AND MRS MUIR (Joseph L Mankiewicz, 1947)
9. ERASERHEAD (David Lynch, 1977)
10. THE PASSION OF JOAN OF ARC (Carl Theodor Dreyer, 1928) [9]
In the letter that Nick James, editor of Sight & Sound, sent out to voters, he made it clear that we could interpret "greatest film" pretty much any way we wished. This was both helpful and unhelpful. On the one hand, there were few rules; on the other, well, there were few rules. It seemed reasonable to do one's best to come up with films that, after applying a critical slide rule, could be scientifically proven to be better than the competition. Then again, one couldn't entirely ignore the eccentric, individual obsessions that fire one's cultural synapses. James Whale's Bride of Frankenstein brought, for me, those two mildly conflicting drives together. The picture appeals to my love of windy, camp gothic. But it is also acts as a rather brilliant cinematic demonstration of how high art (all those expressionistic sets) and low art (Ernest Thesiger's music-hall leers) can be merged without passing through the dreaded middle-brow interzone. It figured nowhere in the top 50. Oh, well.
TARA BRADY'S TOP TEN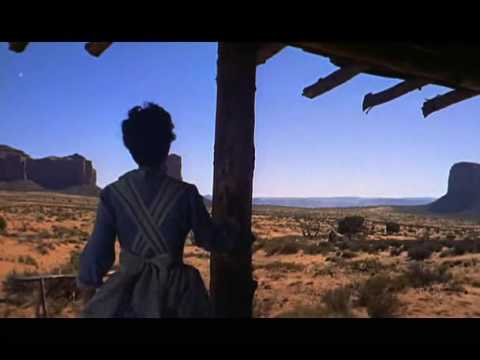 1. THE SEARCHERS (John Ford, 1956) [7]
2. ANDREI RUBLEV (Andrei Tarkovsky, 1966) [26]
3. MAGNIFICENT OBSSESSION (Douglas Sirk, 1954)
4. AU HASARD BALTHAZAR (Robert Bresson, 1966) [16]
5. HARD BOILED (John Woo, 1992)
6. MESHES OF THE AFTERNOON (Maya Deren, 1943)
7. ALL ABOUT EVE (Joseph L. Mankiewicz, 1955)
8. BRANDED TO KILL (Seijun Suzuki, 1966)
9. HIS GIRL FRIDAY (Howard Hawks, 1940)
10. THE VIRGIN SPRING (Ingmar Bergman, 1974)
Ms Brady muses on her choices:
"No Ghibli. No Je T'aime, Je T'aime. No Hitchcock. No Vertov. No Ozu. No Carnival of Souls. No Peckinpah. No Fassbinder. No Night of the Living Dead. No Lynch. No Murnau. Boo!
"Imagine gathering together the world's most beautiful things, then chucking them away until only ten remained. To vote in the BFI's 10-year poll alongside one's movie heroes is an honour, but it's also a wrenching business. Assembling a shortlist of 50 was painful; culling further was practically martyrdom. It hardly matters if somebody quibbles with one's final selection. No amount of heckles could be worse than months of thinking 'I should have included that' or 'I could have swapped those around' or 'I'm going to hell for not listing Mizoguchi'.  At least I can stand over The Searchers. Everyone has a quick-pick favourite film, the one you rattle off when asked, and Ford's masterpiece is mine. The other nine aren't bad either…"
Well put. I too found it a mildly painful business. I could not, in the end, find space for a Hitchcock movie. Torn between Now Voyager, The Ghost and Mrs Muir and Goodbye Mr Chips, the weepie place went to the most respectable of the three: Mrs Muir. Was that cowardly? Maybe so.
To my delight I find that some of my votes have actually mattered. Without me, The Passion of Joan of Arc (65 votes), Carl Dreyer's religious fever dream, would have tied for 9th place with 8 1/2 (64). Take that, Fellini! Tara kept Andrei Rublev (41) ahead of Mullholland Dr (40). I'm sure David Lynch won't mind.
Enough petty aggrandisement. What does the top 50 tell us about the current status of this or that auteur? Keep one thing in mind. In previous years, the organisers applied a rather weird rule whereby votes for The Godfather and The Godfather Part II were added up and the film was treated as one entity. They are now two films again. Read nothing into the fact that The Godfather is no longer in the top 10. If the old rules applied the combined beast would sit between 2001 and The Searchers at number six.
But there are some interesting developments. In 1952, Chaplin had two films in the top 10. Now he is very nearly a goner. City Lights just creeps in at number 50 (tied with Chris Marker's La Jeteé, a nice tribute to that great director, who died earlier this week.) This, despite the fact that there are more silent films in the top 10 than ever before.
To my great chagrin, Bergman is no longer the force he used to be. Obviously, he will suffer from vote-splitting, but only one film, Persona, in the top 50? That can't be right. My selection of The Seventh Seal is, I know, now fiercely unfashionable, but I would have expected to see Fanny and Alexander or Cries and Whispers in the running.
I'm sure other anomalies and peculiarities will strike me as the days wear on. But one outrage must be mentioned. There is not a single Michael Powell film in the top 50. And this in a poll organised by the British Film Institute! Madness, madness, madness. Mind you, I am happy that the overblown, psychologically screwy Lawrence of Arabia doesn't make the grade either. Never has so much effort been exerted to say so little in such grandiose fashion.
Some will view the list as unbearably staid and elitist. As I explain in a piece for Saturday's arts pages, those people have plenty of other places to go for their satisfaction. So they can just be quiet. Let's leave the last word (for now, there'll be more on this) to our old chum, Michael Dwyer. Here is his top ten for the 2002 poll in alphabetical order. Feel free to post your own.
MICHAEL DWYER'S 2002 TOP TEN
BARRY LYNDON (Kubrick)
BONNIE AND CLYDE (Penn)
CITIZEN KANE (Welles) [2]
FANNY AND ALEXANDER (Bergman)
IT'S A WONDERFUL LIFE (Capra)
DAY FOR NIGHT (Truffaut)
RAGING BULL (Scorsese)
THREE COLOURS TRILOGY (Kieslowski)
VERTIGO (Hitchcock) [1]
THE WILD BUNCH (Peckinpah)